The Metaphase Sound Machine is a kind of homage to the ideas of the American physicist Nick Herbert who in the 1970s has created both Metaphase Typewriter and Quantum Metaphone (a speech synthesizer). These were some of the first attempts to put the phenomenon of quantum entanglement in practice and one of the first steps towards the creation of a quantum computer. The experimental devices, however, had not confirmed theoretical research, and Herbert's obsession with metaphysics resulted in the publication of several of his works on the metaphysical in quantum physics, that have led to a serious loss of interest to the ideas of quantum communication. One day, in a course of his experiments, Herbert has hacked into an university computer trying to establish a contact with the spirit of illusionist Harry Houdini at the day of the centenary of his birth.
In his device Herbert in order to achieve a quantum entangled state used as a source radioactive thallium, which was controlled by the Geiger radiation counter. The time interval between pulses was chosen as conversion code. Several psychics had participated in the experiments. They tried to influence the endless stream of random anagrams arising from a typewriter or cause "the ghost voice" to be heard out of metaphone. Scientists also have conducted sessions to bring about the "spirit" of a colleague who had recently died, and who knew about this typewriter. In 1985 Herbert wrote a book about metaphysical in physics. In general, his invention and articles quite severely compromised the ideas of quantum communication in the eyes of potential researchers and by the end of the XX century no any substantial progress in this direction was observed.
The Metaphase Sound Machine is an object with 6 rotating disks. Each of the discs is equipped with acoustic sound source (a speaker) and a microphone. Each of the microphones is connected via computer and the rotary axis to the speakers on the disks. Also in the center of installation a Geiger-Mueller counter is set, that detects ionizing radiation in the surrounding area. The intervals between these particles influence rotation velocity of each of the disks. Essentially the object is an audio- and kinetic installation in which a sound is synthesized based on feedbacks, produced by microphones and speakers on rotating discs. Feedback whistles are used as triggers for more complex sound synthesis. Additional harmonic signal processing, as well as the volatility of the dynamic system, lead to the endless variations of sound. The form of the object refers to the generally accepted symbolic notation of quantum entanglement as a biphoton – crossing discs of the orbits.
more info – vtol.cc/filter/works/metaphase-sound-machine
FREE DOWNLOAD: http://mcrow.net/free-reaktor-ensembl…
FM Radio is a free Reaktor Ensemble by Musicrow.
FM Radio will make your audio tracks and music sound as if they are played on the radio, including the typical reception disturbances, noises and sounds of switching between stations.
"FM Radio will make your audio tracks and music sound as if they are played on the radio, including the typical reception disturbances, noises and sounds of switching between stations. FM Radio produces new and beautiful lo-fi effects, and can be used as a unique lo-fi filter, swapping between clean and distorted radio sound."
Main Features:
An authentic radio effect
Unique tool for sound designing
New and beautiful lo-fi effects
Transition between 13 stations, each with its own special tone
Determine the radio noise level and the radio
Video clip from Dolan's Cadillac (2009).
All synths and drums from multi-tracked MeeBlip SE. Used Ableton Live for tracking and effects / mixing.
I'm doing a track for a compilation where every song is a single synth, multi-tracked. This was my first attempt for the MeeBlip.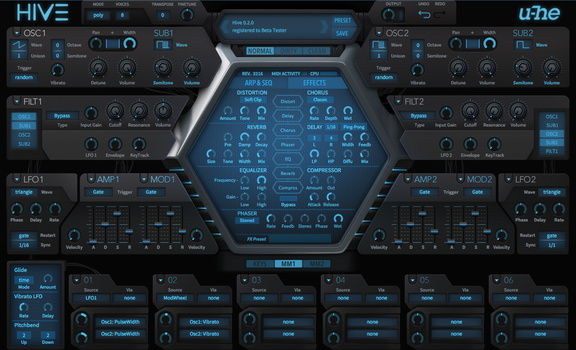 Urs Heckmann of u-he has posted a screenshot of the upcoming Hive synthesizer instrument for Windows and Mac.
While all of u-he previous synths found homes working in the world of dance music production, Hive was created specifically with dance music producers in mind.

The single page streamlined interface is packed with features and options to help you get your sound just right (or wrong in just the right way). Best of all, Hive uses very little CPU.
Hive is currently in private beta.
The BOSS DR-220E is a little programmable digital rhythm machine. This is the "E" version – it means E-DRUM sounds (very Simmons-like). The DR-220 has a twin brother with acoustic drums sounds – the DR-220A.
Although the DR-220 is from 1986, it lacks MIDI – but it has SYNC IN and OUT. It has nice Simmons-like eighties drums! It is similar to the Korg DDM-110/DDM-220, but it has better sounds in my opinion.
A consumer level DX synth that sounds just like the DX100 – thin and brittle. Following the DX model this synth also uses FM synthesis which is difficult to master. You will need to program this synth to get better sounds because the presets are only moderately useful. It's capable of a good string, bass and droney-pad sound as well as industrial sound-effects and metallic like sounds.
Still it makes a better option than a DX27 or DX100 because it has the capability of layers and splitting the keyboard and there is a chorus effect. Portamento and a Unison Mono-Mode are also nice features for screaming lead synth performances. For a cheaper source of DX sounds with moderate programmability, check out the DX21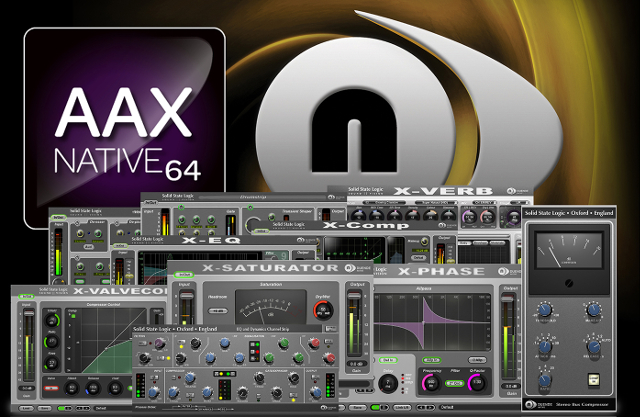 The release of new AAX (Avid Audio eXtension) versions makes SSL's Duende Native plug-ins compatible with any 32-bit or 64-bit system running Pro Tools®/Pro Tools HD® 11 software. The continued compatibility with VST, AU and RTAS systems means that SSL plug-ins are available to almost all DAW users.
The new versions are available to download now from the SSL web site and are free to all existing owners. SSL is celebrating the release with 14 day introductory pricing on the Duende Native Essentials bundle at £99/$169/129€ (offer ends 25th Nov 2014. Terms and Conditions apply. Available online from the SSL web store only).
SSL Duende Native plug-in collection delivers SSL's renowned signature superior audio quality, sophistication and benchmark performance to inside-the-box DAW audio producers. The Duende Native range has grown to the current portfolio of 10 different beyond benchmark quality processing tools. The EQ & Dynamics Channel plug-in provides an EQ & Dynamics processing solution with all the power, precision, flexibility and signature tone of a SSL 9K and later SSL console channel strip.
The legendary Stereo Bus Compressor plug-in gives you the classic SSL stereo master bus compressor that brings power and punch to your mix without compromising clarity. Drumstrip and Vocalstrip are 'task specific' plug-ins which each gather together a set of carefully selected and lovingly crafted processing tools to get you straight to outstanding Drum and Vocal sounds quickly and easily.
X-EQ and X-Comp are both mastering grade processors that deliver superb balance of precision and tonal character. X-Verb is an incredibly powerful and flexible processor which brings beautiful hardware standard reverb to your DAW. X-Valvecomp and X-Saturator are both new plug-ins designed to inject some analogue style saturation into your digital DAW. X-Phase also a new release is designed to help you fix awkward phase issues with our high-precision frequency-specific phase control toolkit.
more info at www.solidstatelogic.com/duende
The clip is only a patch demonstration. I used some MFOS to modify this VL-1.
Go to the tumblr to see the audio-voltage signal path.
Showcasing just 3 programs of the Prophet '08 PE