DevoBots is here. DEVOBOTS is a DEVO-authorized iOS app that is a combination robot maker and synthesizer. Users will be able to create their own DEVO-inspired robot characters from a library of 10,000 robot parts. The designs can be applied to apparel, posters, and other merchandise. The synthesizer app will allow users to create their own music from sounds taken from the DEVO archives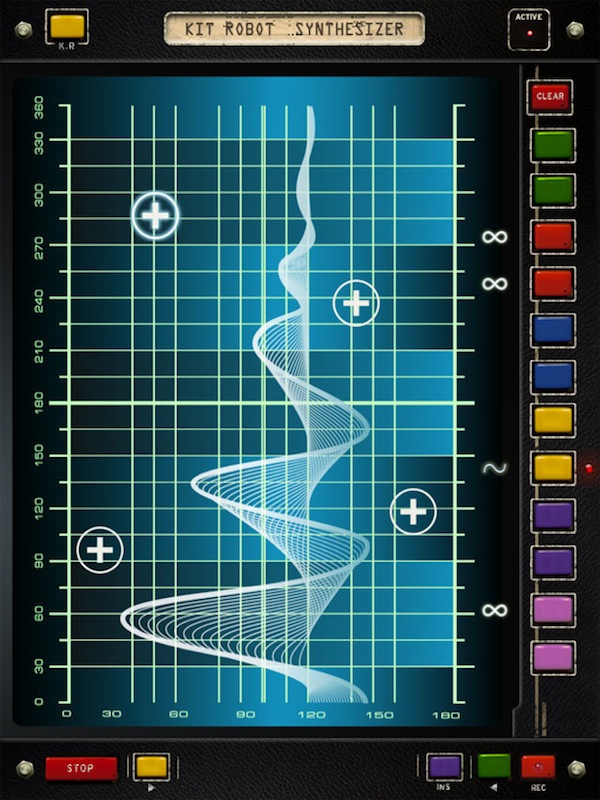 available on iTunes: https://itunes.apple.com/us/app/devob…
Music by Devo from the App DevoBots.
A revised version of David Bowie's Space Oddity, recorded by Commander Chris Hadfield on board the International Space Station.
With thanks to Emm Gryner, Joe Corcoran, Andrew Tidby and Evan Hadfield for all their hard work.
Captioning kindly provided by CHS (www.chs.ca)
Find out more:
Twitter: twitter.com/Cmdr_Hadfield
Facebook: www.facebook.com/AstronautChrisHadfield?
­­fref=ts
Google+: plus.google.com/113978637743265603454/po­­sts/p/pub
Covering the basic creation of a new pattern using the Quicksilver 303 CPU upgrade for the TB-303. Notice that the pattern can be programmed while the sequencer is running, which wasn't possible on the original 303.
More info: http://bit.ly/12pRSK6
In this video tutorial, DJ Kiva explores the creative possibilities of midi sync and audio routing between Dave Smith Instruments' Tempest drum instrument and Ableton Live.
The Dave Smith Instruments Tempest is an analog drum machine that was created by two of the top minds in the industry: Dave Smith and Roger Linn. Together they have developed an instrument that takes the traditional drum machine into new realms of sound and control. While exploring the instrument in our studios, Dubspot Ableton instructor DJ Kiva recorded this tutorial in which he syncs the Tempest with Ableton Live and records the Tempest's multiple outputs as individual audio tracks in Ableton. To finish off the session Kiva plays back the recorded parts and adds his own custom delays through send channels in Ableton Live.
The original Polysix is a six-voice synth from the early 80s most notable for its affordability and fabulously warm analogue sound. The iPad version again ticks both of those boxes, comprising not one but two synth engines, as well as a six-track drum machine that uses sampled Polysix sounds as source material. And while it might be quite expensive for the App Store, it's excellent value for money in terms of sound, features and the amount of work that's clearly gone into it.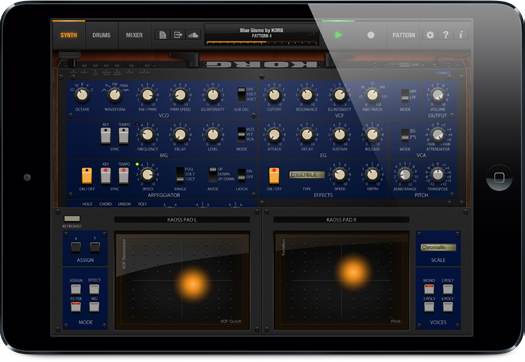 iPolysix is an analog polyphonic synthesizer that's been carefully designed to take full advantage of the 7.9-inch display of the new iPad mini as well as the iPad. Bringing together a sequencer, drum machine, and even a mixer, it transforms your iPad or iPad mini into the ultimate analog synth studio. Pack an amazing set of early-'80s analog equipment into your iPad, and time-travel back to the dawn of polyphonic synthesizers!
❮Highlights❯
● The world-wide best-selling Polysix polyphonic synthesizer, fully replicated on your iPad
● Use the newly developed Polyseq polyphonic step sequencer to control the Polysix
● A music production environment including two Polysix units, a drum machine, and a mixer
● Dual Kaoss Pads with chordal support make it easy for anyone to play analog synth sounds
● Polyshare powered by SoundCloud lets you publish, share, and remix songs with iPolysix users
Background video description:
I normally stop recording upon taking a new step like when Saving or extending the Sequence Step Length..this Tutorial will show a continuous workflow while Recording in Sequence Mode,Automating,extending Step Length,adjusting Gate,changing sounds, Saving while in record and showing useful tips along the way…
Steinberg product specialist Sebastian Mönch continues to show you how to work with the Chord Track.
Here is a demonstration of the sound and functionality of the operators of the Yamaha DX7.
http://www.youtube.com/watch?v=_7CKJj…
One of the most popular digital synths ever was the DX7 from Yamaha, released in 1983. It featured a whole new type of synthesis called FM (Frequency Modulation). It certainly is not analog and it is difficult to program but can result in some excellent sounds! It is difficult because it is non-analog and thus, a whole new set of parameters are available for tweaking, many of which seemed counter-intuitive and unfamiliar. And programming had to be accomplished via membrane buttons, one data slider and a small LCD screen.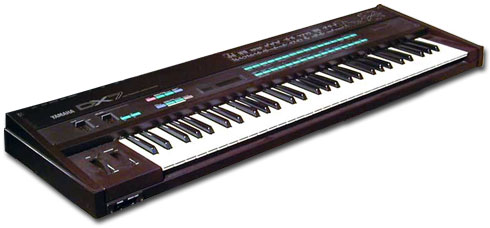 Still the sounds it shipped with and that many users did manage to create were more complex and unique than anything before it. Percussive and metallic but thick as analog at times, the DX7 was known for generating unique sounds still popular to this day. The DX7 was also a truly affordable programmable synth when it was first released. Almost every keyboardist bought one at the time making the DX7 one of the best selling synths of all time! It also came with MIDI which was brand new at the time – Sequential had already released the first MIDI synth, the Prophet 600. Roland had just released the JX-3P with very basic MIDI implementation, and wouldn't get around to adding full MIDI for another year with the Juno-106, and it would be three years before Roland can counter the popularity of the DX7 with a digital synth of their own, the D-50.
Korg's first digitally controlled analog synth hybrid; 8 sampled digital waveforms, analog resonant filter with separate VCF and VCA ADBSSR envelopes. Parameters can be altered in real time via a single programmable slider. 6 voice polyphony in two modes, or one monophonic mode with all six voices stacked. 12 digital oscillators (2 per voice) with 8 simple to complex waveforms, 1 de-tunable and with programmable interval. 64 presets that can be reprogrammed by the user.
Awesome fat basses, lovely warm sounding, pulsing strings, and hard, nasal leads. Some wonderful swirling effects can be found. Imagine a Poly 800 with 8 waveforms instead of 2, and you get the picture.
Due to reliance on sampled waveforms, it does not sit well through distortion, and some waveforms do not go well in a mix when used as a pad. Overall, an exceptional and underrated bass and lead machine with some nice pad sounds to boot.
The DW-6000 was quickly surpassed by the DW-8000: it expanded it to 8 notes polyphony, 16 sampled waveforms, a velocity sensitive keyboard with programmable aftertouch, auto-bend, a simple arpeggiator and a digital delay unit.
very underrated synthesizer – the presets are quite 80′s trying to do DX7 of the time —but with the correct programming can sound huge fat and very vintage analogue — I prefer it to the similar Rolands —i.e. juno and jx3p. The resonant VCF filter is awesome and very expressive. No external effects —just the pure sound of the korg—sometimes using the stereo chorous for sting like sounds –I find a mono out with no chorous best for punchy bass like sounds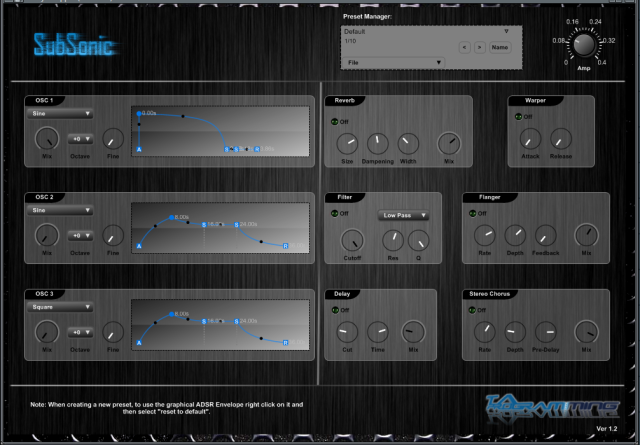 TA Programming has released a new free subtractive software synthesizer, SubSonic.
Features:
3 Oscillators (Sine, Sawtooth, Triangle, Square, Noise) with detune
Graphical ADSR Envelope
Multiple filter selection: Low Pass, High Pass, Band Pass, Band Reject, and Peaking.
Fully customisable reverb module
Delay Module for standard Echo delay effects.
Stereo Chorus
The Flanger module is versatile and powerful, combining overall sound of the 3 oscillators and using a sine wave to phase invert the sounds before adding feedback. This can give 'unearthly sci-fi like textures'.
The Warper: This module is an envelope modulator. Aviss notes that some 'wacky timbres can' be made using this.
Amp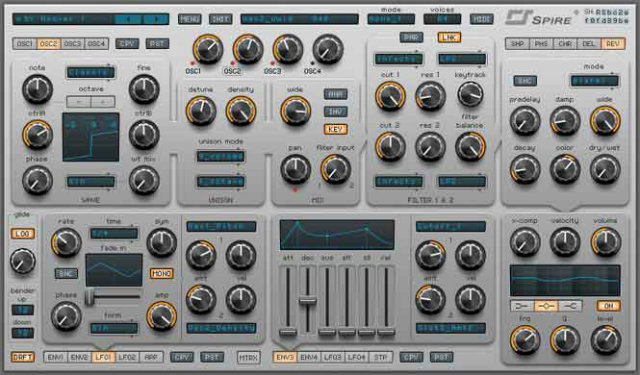 Reveal Sound tell us that they are a company founded by musicians and programmers in 2009 for creating first-class audio plug-ins. They say that the purpose of their company is to prove that the sound of soft-synths can be amazing and that they are constantly improving their algorithms to achieve the perfect result.
Their first product is Spire, a software polyphonic synthesizer that they say combines powerful sound engine modulation and flexible architecture with a graphical interface that  provides unparalleled usability.