volca arranged by BakaOscillator.
Use, KORG volca Bass X2, Betas.
テンポ(分解能)を半分にしてフレーズを簡素化し、なんとか雷電ができないものか試み­る。
LA Industrial duo Youth Code juxtapose human and animal suffering in "Consuming Guilt," the lead single from extended play A Place To Stand (2014). Directed by Grant Singer (Sky Ferreira, DIIV).
Warning: this video contains graphic images of animal testing.
Director : Grant Singer
Video Commissioner : Kevin Kloecker
Executive Producer : Sarah Boardman
Director's Rep: Egg & Chips
Producer : Ryan Curtis
Cinematographer : Frank Mobilio
Editor: Brook Linder
Undercover Investigation footage provided by PETA
Stylist: Sara Bevilaqua
Production Designer : Carlos Laszlo
Art Director: Natalie Ziering
PA: Anthony Reese
PA: Zach Hughes
Starring: Alexandria Venegas, George Lesage
Thanks: Escarpment
'Consuming Guilt – Written by Sara Taylor & Ryan George | 2014 | 27 Tigers (ASCAP)
'Performed by Youth Code | Recorded by Josh Eustis | 2014 | Dais Records
The Moog Sub37 & DSI Pro2 together with the GrooveAgent (Cubase)
I don't wanted to show wich one is better – but how good they play together

this was a special wish from someone of the german forum for better comparing the two…
Strom for iPad, 'an incredibly fun sampler' for the iPad that offers tight integration with the Elektron Analog Rytm.
This video focuses on using Strom, independent of the Analog Rytm.
STROM is available now in the App Store for US $4.99. Rytm Upgrade is an In-App-Purchase. Elektron Analog Rytm is a hardware instrument which must be purchased separately. A USB-Lightning Camera adapter is required for the MIDI connection.
The Memorymoog from 1982 is a fantastic sounding polyphonic vintage synthesizer. A true piece of art. This track is created with Memorymoog sounds only by Mr Firechild www.firechild.se
Klevgränd Produktion has introduced Vandelay – a new audio effect, for iOS and Mac, that offers three separate delays in as many frequency regions.
Each delay has an LFO that modulates the pitch of the audio stream. Together with tempo based delay times and feedback control, you can create a rich sound from almost any source. 
Features:
Full Audiobus 2 compatibility including state saving.
Inter App Audio (IAA) compatible.
Unique pitch modulation.
Delay times are tempo based and can be quantized using the snap function.
All parameters are visible and editable in one screen, wrapped in an intuitive user interface.
Load / Save presets
Vandelay is available in the App Store for US $2.99. The free Audio Unit (AU) version of Vandelay is available via the developer's site.
These tracks were created entirely on the Korg Electribe MX. They will be included in an album of all original songs created using only hardware. The outputs of the EMX were routed to an Elektron Octatrack and recorded as 24-bit files using the sample recorder. Loudness was achieved using the tube gain and a small amount of compression/limiting on the Octatrack. No computers were used to process the track.
"808" | The heart of the beat that changed music.
Film & Soundtrack Coming 2015
"808" features appearances and commentary from: Arthur Baker, Pharrell, David Guetta, Phil Collins, Lil Jon, Afrika Bambaataa, Norman Cook (Fatboy Slim), Rick Rubin, Diplo, Goldie and more.
Produced by You Know Films in association with Atlantic Films
Directed by Alexander Dunn
Executive Producer: Alex Noyer
Producers: Alex Noyer, Craig Kallman & Alexander Dunn
Producer & Co-Executive Producer Arthur Baker for Re-Covered Content Ltd
Written by Alexander Dunn & Luke Bainbridge
Follow 808 online:
Site: http://808themovie.com
Facebook: http://fb.com/808themovie
Twitter: http://twitter.com/808themovie
Instagram: http://instagram.com/808themovie
http://youknowfilms.com
http://atlanticrecords.com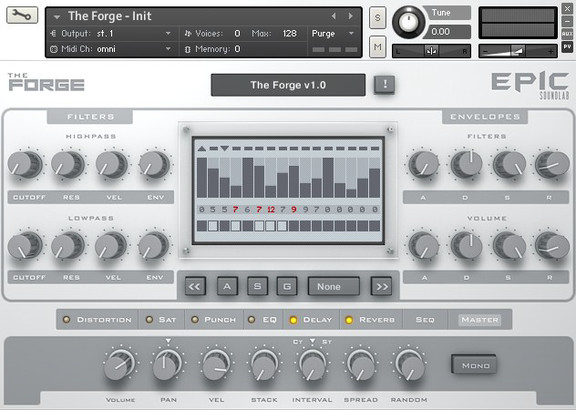 Epic SoundLab has launched with the release of The Forge, a hybrid scoring instrument library for Native Instruments Kontakt.
The Forge is a powerful yet intuitive sample library aimed at Film, TV and Games composers.

It is designed to offer a flexible environment to customize every sound and making your own.
The Forge features
Advanced User Interface.
Arpeggiator.
Polyphonic Sequencer.
Rhythmic Gater.
Unison / Voices Stack.
Resonant Delay.
Dual Engine Reverb.
Over 200 Kontakt patches.
Over 3GB of open WAV files.
MIDI Files.
Customize your own samples.
The Forge is available for purchase for the introductory price of $149 USD/119 EUR/£95 GBP until November 1st, 2014 (regular $189 USD/149 EUR/£119 GBP). Requires full version of Kontakt 5.1 or higher.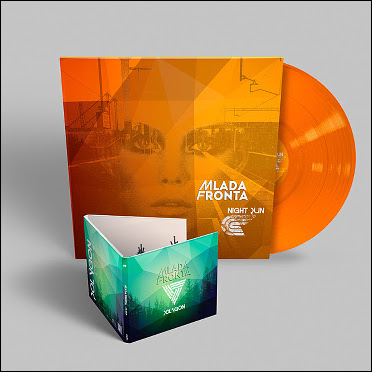 Mlada Fronta, aka French artist Remy Pelleschi, will see its first new material in nearly a decade released via Artoffact Records this Fall and Winter. The album "Polygon" sees Mlada Fronta experimenting with new sounds including influences from Digitalism to Gesaffelstein. The vinyl edition, available right here on both black and orange vinyl, offers exclusive remixes from the album sessions.
Mlada Fronta signed with Toronto's Artoffact Records in 2013 and since then released a career-spanning 10CD boxset ("Every Thing") which collected all the project's output to date. That box is available right here.