Background video description:
My first Octatrack Tutorial is made with the newcomers in mind. It's a deep machine, with a LOT of possibilities. It can be overwhelming before you get into it. Perhaps this little video can help you get started?

Animoog is doing pad duty, sequenced by iPad / Genome MIDI.
Various inversions of Dm, Fadd6, FM7sus2, Gadd2, Fadd2
Boomstar is doing bass, CV controlled from the A4.
A4 = leads, Machinedrum = kick,snare,hat
"Opus" was produced at the Riga musical instruments factory.
The instrument consists of 4 sections: piano, that synthesizes piano's soundings of 3 timbres, string organ, that plays organ's sounding with soft attack and with the possibility to control release, with the pereodically repeated beat-fading sounds. There is a bass section, that is controlled by 2 lower octaves, that contain three 8′ and two 16′ registers. It plays sounding of the bass drum.
We take a look at the new Odyssey reboot from Korg – smaller and comes with a lovely case.
If you feel the urge, we made the end jam available via Bandcamp. https://soniclab.bandcamp.com/track/o…
Producer Butch Vig (Nirvana, Smashing Pumpkins, Garbage, Foo Fighters) demos the Butch Vig Vocals plugin, created in collaboration with Waves.
Butch Vig Vocals Plugin:http://www.waves.com/plugins/butch-vi…
Waves has released the Butch Vig Vocals plugin, created in collaboration with ProducerButch Vig (Nirvana, Smashing Pumpkins, Garbage, Foo Fighters).
Features:
Old Grit – A Collection of Filthy Patches for the iVCS3 – patch demo, details below:
I'm giving away a library of presets I made for the iVCS3. This collection embodies my love for imperfect, dirty, slightly ugly sounds that are both edgy and warm reminiscent of old tape recordings. Some presets are variations of one matrix patch, and not entirely unique, created for the convenience of switching from tone to tone without dialing in different settings each time. Don't forget to read the performance notes to get a better understanding of each patch's controls. Have fun and go crazy with it! Drop me a line if you find these patches useful in any way.
Disclaimer: Some patches are softer than most. When using these super soft patches, please do not forget to turn down your device's output volume before switching to the next patch. This would prevent damage to your hearing and/or equipment. Use these patches at your own risk. I shall not be held liable for any damage to property or hearing resulting from the use of these patches. Safety first! The iVCS3 can get very loud in an instant. Keep your device's audio output at moderate levels.
Download Link here: http://wp.me/p4zJft-2A
Scotsman Ken Macbeth was the inventor of the probably biggest analogue synthesizer of nowadays, his model M5. His latest masterpiece – the ELEMENTS as introduced 2014 on the european Musikmesse in Frankfurt is now nearly done and will be finished with some first models at least in 2015. Here he is giving a statement of the status of production and a few examples of the sound for this smart desktop synth. it will be produced probably in very limited numbers as all of his products and will end up as a luxury smart synthesizer with lots of Character. Get an impression now.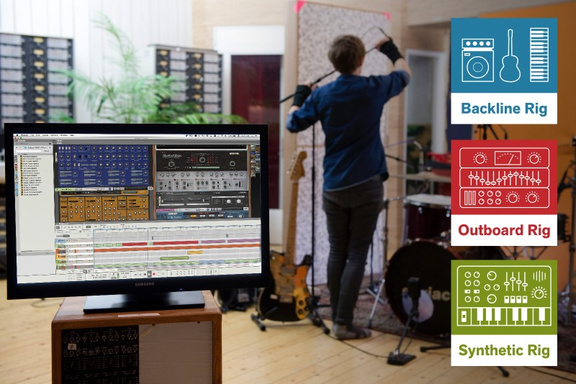 Expand your rack with hand-picked bundles of the top instruments, effects, and sample packs, made by leading developers such as Propellerhead, iZotope, Softube, Korg, Rob Papen, and more. Each bundle is designed specifically for the style of music you make and contains over $750 of Rack Extensions and ReFills for the unbeatable price of $199 each.
New Rig series collection
Backline Rig: Beef up your instrument collection with the Backline Rig bundle! Aimed at songwriters looking for playable, organic-sounding instruments and effects, the Backline Rig comes packed with guitars, electric bass, vintage keyboards, drums, and vintage effect units, all at a fantastic price.
Synthetic Rig: Add an outstanding collection of electronic instruments and effects to your Reason Rack. Tailored for electronic music producers, the Synthetic Rig bundle comes with a variety of synths, beatboxes and effects from leading Rack Extensions developers.
Outboard Rig: Perfect your mixes with this super-priced collection of outboard FX gear! With the Outboard Rig bundle, you get a fantastic collection of high quality studio outboard effect Rack Extensions from leading developers.
The bundles are available for purchase for $199 USD/159 EUR each.
Made of MFOS Mini synth Mark 2 + Single BUS Keyboard
The telephone dial is a "tremolo". Signal cut device.
A revolution is underway: Mixfader is the first connected crossfader provided with a dedicated DJ app that dematerializes the classic turntables on any smartphone and tablet. Anyone can now mix and scratch anywhere and anytime.
Designed by sound engineers in collaboration with professional turntablists, Mixfader is both an intuitive and powerful solution that meets professional requirements.
Control your crossfader as a pro to create perfect sound cutting and original compositions through returning movements.
Create your own routines by reinventing scratching and mixing techniques. You have never been so close to become the next C2C.
Facebook: https://www.facebook.com/Mixfader
Google+: https://plus.google.com/u/5/110485939…
Website: http://www.edjing.com/mixfader