Nord Lead A1 – analog modeling synthesizer
Produced by UK distributor Sound Technology Ltd
http://www.soundtech.co.uk/nord
All music was created using solely Nord Lead A1(no added effects or instruments).
Music by Rob Wallace.
For detailed product information and specifications, visit
http://www.nordkeyboards.com/products…
Follow us on Facebook, Twitter and Instagram @nordkeyboards
"Glitch Robot" is a robotic music instrument dedicated to glitch sounds. Sounds from the in-between of error and prediction, little sounds that are amplified, small sounds made big. The installation uses old hard disks, metallic tongues, relays and other mechanic devices to create sound textures that are used in electronic music – with robots!
Dates of release: Sept. 2014.
Crew: Moritz Simon Geist (Concept + Realization), Sebastian Piatza, Claudia Lill.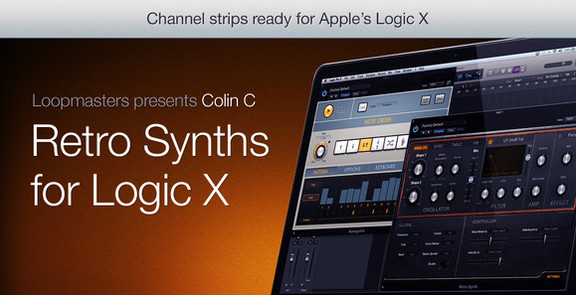 Loopmasters has released Retro Synths for Logic X, a new collection of Logic X synth presets and mix ready channel strips by Colin C.
Essential Retro Synth is a brand new collection of 100 synth presets and 50 bonus channel strips tailor made by Logic expert Colin C which showcases a broad range of rich, lively tones perfect for all electronic producers working within the Logic X environment wanting to get the most from the Retro Synth plugin that come bundled with Logic X.

"Retro Synth" is a powerful new software plugin included with the Logic X package that aims to emulate the synthesis types and sounds of legendary synthesizers from Yamaha, Moog and Korg. With four unique operating modes of synthesis including Analog, Sync, Wave Table and Frequency Modulation, Retro Synth is capable of a huge palette of sounds ranging from classic warm analogue tones to loud digital crunchiness and everything inbetween.

Within these 100 presets you'll find Deep and Warm Basses, Elegant Leads, Rich Evolving Pads, and Killer FX including white noise risers, tonal twists suitable for many electronic productions including Deep House, Drum and Bass, EDM, House and Ambient.

Also included are 50 bonus Channel Strip settings, complete signal processing designed by Colin C. who's been mixing and engineering music with Logic Pro for nearly a decade, and boasts credits to not only numerous EDM labels, but also TV and Film including NBC, FOX, Showtime and Lionsgate Films.
The Retro Synths pack is available for purchase for £19.95 GBP.
This Rhythm Wolf performance video features Richard Devine – acclaimed sound design guru, synth aficionado, and artist. Watch as he integrates two Rhythm Wolf drum machine/bass synthesizers into his sci-fi grade synth rig to create a brooding, hypnotic soundscape.
Even more, you can check out an exclusive interivew at \\ http://bit.ly/1rGUyk7 //, where Richard talks about the appeal of analog, and what makes Rhythm Wolf DNA so unique.
Curious about Rhythm Wolf? Go wild at \\ http://bit.ly/ANALOGBITE //
More about Richard Devine at \\ http://bit.ly/1vXdQ7N //
Like Richard Devine on Facebook at \\ http://on.fb.me/1t9cEth //
Follow Richard Devine on Twitter at \\ http://bit.ly/1ql1KSY //
Analog Bite
Rhythm Wolf combines a drum machine, bass synthesizer, and step sequencer into one rugged device with a fierce, 100% analog signal path.
Take the beat off the leash with fully tweakable kick, snare, open and closed hi-hat, and accent percussion sounds. Use the oscillator with selectable waveforms – sawtooth/square wave – and analog filter to create bass sequences that squelch and growl. Gate Trigger In/Out, USB MIDI, and 5-pin MIDI In/Out enable Rhythm Wolf to join your inner-circle of vintage and modern gear to integrate with hardware synthesizers, sound modules, DAWs, and more.
Into the Wild
A 32-step standalone sequencer and six custom-calibrated MPC-style pads are onboard for extensive programming and finger drumming. Mute/solo, intro/fill and sequence A/B switches give you the space to roam with complete control over your beat.
Torn into Parts
Carve out the perfect drum textures with continuously variable volume and tuning for each part. The kick drum attack and decay are adjustable for transients that hang, bang, and crush. Snare and open hi-hat also feature decay controls for unique sound design while the adjustable accent percussion can be modulated to click, punch, knock, "shush" and more.
The Face of Bass
Make menacing basslines with a tweakable, onboard bass synth. Envelope, filter and waveform controls let you design low-end that goes from liquid-smooth to bone-crushing and everywhere in between. Filter Resonance and Cutoff add distinction and movement to live or studio performances, while the step-sequencer keys let you program parts across a 3-octave scale.
Trigger Happy
Rhythm Wolf mates with your collection of synths that support Gate Triggers to create exclusive sonic offspring. Use it with supported homebrew hardware, classics or modern machines and infuse Rhythm Wolf DNA into all of your creations.
Let it Howl
Get your hands dirty with a custom noise, grit and distortion effect completely unique to this breed of instrument. The Howl knob lets you mangle the music into all-new textures, transitions and progressions that snarl, bark and howl. Use it as an effect or a part of your signature sound that stands alone on the food chain.
Outputs:
5-Pin MIDI Out/Thru
USB MIDI
1⁄8-inch Gate Trigger Out
1⁄4-inch Bass Synth Out
1⁄4-inch Main Out
Inputs:
5-Pin MIDI In
USB MIDI
1⁄8-inch Gate Trigger In
DC power In
Join the conversation!
http://community.akaipro.com
http://www.facebook.com/akaipro
http://www.twitter.com/akai_pro
http://www.instagram.com/akai_pro
http://www.youtube.com/akaiprovideo
Assemblage 23 played a well visted concert in Sweden on August 30th and we took the opportunity to meet up with the band back stage a couple of hours before they were due on stage. And without us asking it is clear that A23 enjoys playing in Sweden – "One of our favorite places and the girls are nice"…
Assemblage 23, aka Tom Shear, has always walked his own way on the electronic music scene, avoiding falling into the monotone EBM trap that characterize many of the bands of the same era. Being experiemental is perhaps a too strong a word, but Tom is definately more into brining in alternative sounds into his music paired with a stronger focus on the melodies. This does not mean at all that A23 does not flirt heavily with the EBM scene, one strong evidence of this is A23's side project Surveillance, you can listen to the recently released remix album on Bandcamp.
According to Tom he always keep a hefty sized "ideas folder" on his computer, both containing material for upcoming A23 albums, but also a lot that does not fit. The ideas that had more of a Nitzer Ebb and Front 242 flavor actually ended up being the foundation for Surveillance Oceania album. An album and project that actually started out as a crowd funding project and did so nicely. We asked A23 on the interest of making more collaborations with other artists, but Tom made it clear to us that it would not be fun to collaborate with Tom: "I have very strong ideas and quite stubborn".
Read the full interview here >>
Playing around some EBM oldschool beats with sounds from "Monark", "Battery" and "Absynth" (KOMPLETE 9) on the MASCHINE STUDIO.
"They're really good robots, and I've had a lot of problems with ones before that weren't very good"
This is the stream of 'minipops 67 [120.2][source field mix]' from Aphex Twin's 'Syro', available from Bleep – http://smarturl.it/syro
This is the first Aphex Twin dong fore 13 years between the publication of the first a formal music.
If you have preordered Syro on iTunes or Bleep, log in to your account to download 'minipops 67 [120.2][source field mix]' immediately. The song is also available for individual sale.
Bleep – http://smarturl.it/syro
iTunes – http://smarturl.it/syro-itunes
Amazon – http://smarturl.it/syro-amazon
Google Play – http://smarturl.it/syro-googleplay
Beatkart – http://smarturl.it/syro-beatkart
http://syro2eznzea2xbpi.com/?utm_sour…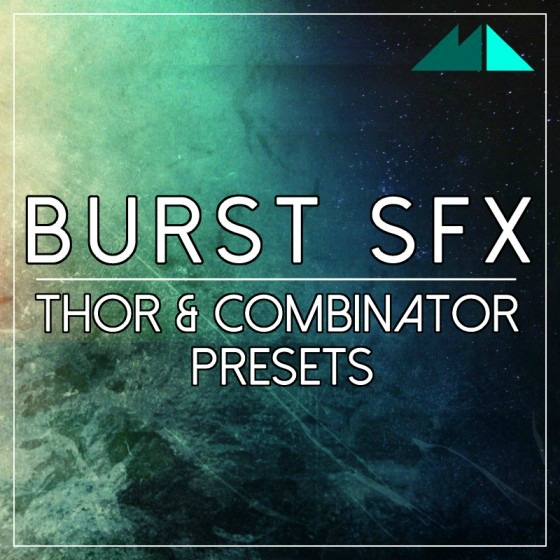 ModeAudio says that Burst SFX – Thor & Combinator Presets injects some serious SFX and sound design expertise straight into your Reason projects.
"With a wealth of sound types delivered in both Combinator and Thor formats, prepare for the sparks to fly across the dance floor! Featuring 40 precision-designed Thor presets and 15 Combinator patches, this release offers a wealth of SFX potential in the form of Explosions, Impacts, Falls, Risers, Sub Drops, Reverses, Bleeps and Accelerations. To cut a long story short, this is a devastating sonic collection of all types and flavours!"

Pack Details:
55 presets for Reason's Thor & Combinator instruments
sounds range from explosions, impacts and sub drops to risers, falls, reverses & more
all available macro controls assigned for maximum control
100% royalty-free
Pricing and Availability:
£12 / $19.75 / €15.02
Nord has released a new sound bank for the Nord Drum 2 by Swedish electronica legend Andreas Tilliander, which they say concentrates on bring out the electronic soul of the machine in 25 amazing kits.

Andreas Tilliander is a man of many aliases such as his most recent creation TM404, but perhaps you also have heard of Svaag, Skitus, Mokira, Lowfour or Rechord? TM404 made it's live debut at Berghain, Berlin during the CTM Festival in January 2013. Since then there's been sweaty gigs in lots of countries and places. Tokyo, Nagano, Taipei, Shanghai, New York City, Bern, Venice have all witnessed TM404 and his analog hardware live sets. Richie Hawtin is a fan and has invited the man behind TM404 twice to his Enter experience at Space, Ibiza. Andreas Tilliander is releasing three new records autumn 2014 as TM404, Mokira and Svaag. 

Pricing and Availability:
Free download (requires Nord Drum 2 OS v3.00 or later)
Korg has introduced Cliphit– a new system that lets you turn anything into an electronic drumkit.
Korg says that Cliphit is designed for 'casual playing'. That means some 'pro' features, like MIDI out, are left out.
Instead, Cliphit focuses on fun, letting you clip sensors to just about anything, plug them into the battery-powered sound module and play electronic percussion in a unique way. 
To use Cliphit, you attach the clips, with their internal sensors, to a magazine, desk, or almost any surface, transforming it into a snare, hi-hat, or cymbal. You can also attach these clips to practice pads. And you can use them to play drums or programmed EFX sounds, which include things like dog sounds, cat sounds and hand clapping.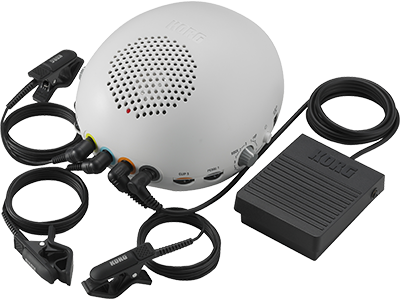 Features:
A high-tech drum kit with three clips that trigger onboard drum samples
Includes one footswitch to control kick sounds, with the ability to add one more for control of hi hat open/close
Eleven kits are provided including hand percussion and sound effects kits
2W output, 3-inch speaker, and bass-reflex design deliver great-sounding tone
Perform sounds by striking the CLIPHIT itself with your hand
AUX IN jack lets you connect external sound sources such as an MP3 player to jam along
Headphone jack for private practice
Compact design
Two-way power supply allows for battery operation

Connections include: CLIP Input x 3, PEDAL Input x 2, AUX IN (Stereo mini jack), DC 9V jack, Headphone (Stereo mini jack)
Official pricing and availability info for the Cliphit is to be announced.