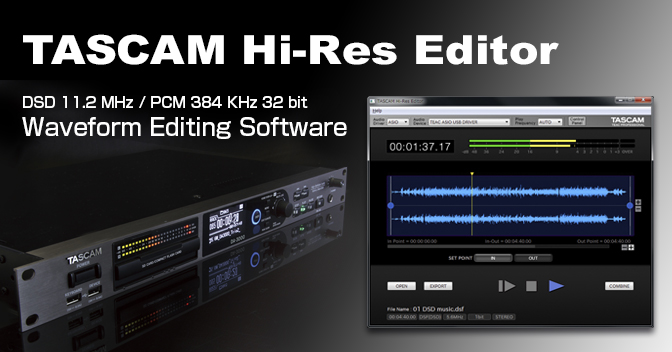 TASCAM has released TASCAM Hi-Res Editor – a free audio editing application for Windows that supports editing files up to 11.2MHz DSD files or 384k WAV.
The software allows playback and export of DSD files without intermediate conversion to PCM audio.
DSD Audio can be played natively through USB devices that support it, such as the TEAC UD-501 and HA-P90SD. In cases where a PCM interface is used, or even the computer's built-in audio, the software automatically plays DSD back through the interface at any available sample rate. A section of the DSD file can be exported as a new file, either in DSD or WAV format, to separate one long recording into individual tracks.
Ideal for users of TASCAM's hi-resolution recorders like the DA-3000, this free Hi-Res Editor software is currently one of the few ways to edit native DSD master recordings.
Features:
Native DSD audio editing and playback, at sampling rates from 2.8MHz to 11.2MHz
WAV file editing and playback support up to 384kHz/32-bit
Uses standard ASIO 2.1 audio drivers
Set in and out points with waveform audio display for trim/export
Set overall gain of file (PCM files only)
Split long files into multiple tracks
Combine function joins two audio files into one
Convert audio files from DSD to PCM or vice-versa
Convert PCM sampling frequency and bit depth
Runs on Windows (using Windows Standard audio driver or ASIO 2.1)
Free download from TASCAM.com
See the TASCAM site for details.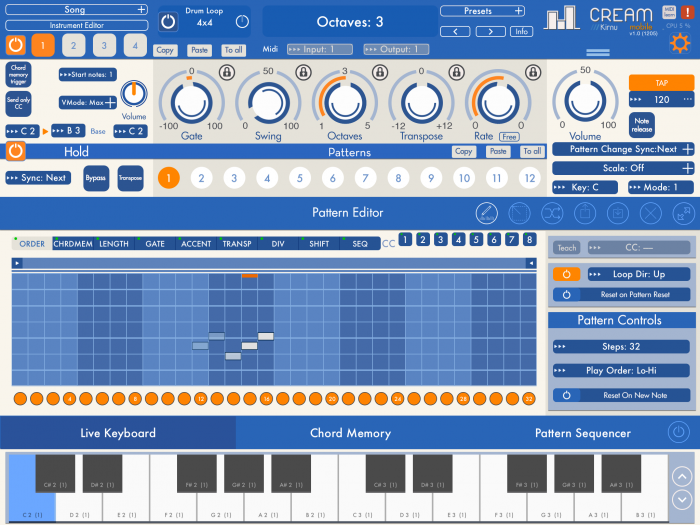 Kirnu has announced Cream Mobile, a new arpeggiator application for iPad devices.
Cream Mobile is an arpeggiator intended to be used with external keyboards or sequencers to control its internal synth or external synths.

Cream Mobile can also be used as a scratch pad for creating new songs using arpeggios and phrases.

It is described as a very powerful application with very precise audio/MIDI engine. It includes all necessary technologies every music app should have these days: Audiobus (generator), network, virtual MIDI ports, MIDI sync with host and slave mode, MIDI learn.
Cream Mobile features
4 independent tracks which can be assigned to different key range and MIDI in/out.
12 patterns per track.
Drum track with 50 high quality drum loops from Sample Magic.
Very powerful internal 2 OSC synthesizer for every 4 tracks.
Two different views: Classic and quick edit view.
Control Zone for changing most important parameters via external keyboard or MIDI events.
Many different scales to choose from. When scale is chosen every note played belongs to that scale.
Free rate tweaking. Now rate can be changed also in hertz.
Chord memory with 16 independent memory slots.
Pattern sequencer for automated sequencing.
Sample accurate MIDI engine.
MIDI learn for all knob controls.
Note release functionality which enables more smooth live playing.
Copy/paste functionality.
Easy to use note hold mode.
Presets are compatible with the plugin version.
Pattern step data section:
Tool section enables easy data editing.
All data sections are independent from each other.
Data sections can be looped with several different loop modes.
Chord memory section enables different chords to be used in every step.
Sequencer section enables sequencing the notes.
Accent, order, gate, accent, transposition, note divide, note shift.
8 CC controls in each pattern.
And lots of more…
The app is scheduled for release in Q3 2015, priced at $10.99 USD / 10.99 EUR
Yamaha is teasing a new synth product. In this video a couple of musicians reveal what they think of it:
It's reminiscent of 'one of the main synthesizers in techno';
It's a keyboard synth that feels 'like a piano player made the keys';
The Yamaha Reface is 'a new take on a classic concept'; and
It has some connection with the classic Yamaha CS synths of the 70s.
The new IAMX song 'Happiness' from the upcoming sixth IAMX album 'Metanoia'
Buy on iTunes http://smarturl.it/Happiness_sg
Metanoia Tour 2015 dates and tickets http://www.iamxmusic.com
10.6 Costa Mesa/CA U.S.A – Constellation Room
10.7 San Diego/CA U.S.A – The Casbah
10.9 Los Angeles/CA U.S.A – Fonda Theater
10.10 San Francisco/CA U.S.A – Great American Music Hall
10.12 Portland/OR U.S.A – Wonder Ballroom
10.13 Seattle/WA U.S.A – Neumo's
10.16 Salt Lake City/UT U.S.A – Urban Lounge
10.17 Denver/CO U.S.A – Marquis Theater
10.19 Minneapolis/MN U.S.A – Varsity Theater
10.20 Chicago /IL U.S.A – Bottom Lounge
10.22 Detroit/MI U.S.A – The Shelter
10.23 Toronto/ON, CANADA – Lee's Palace
10.24 Montreal/QC, CANADA – Virgin Mobile Corona Theater
10.26 Boston/MA U.S.A – Brighton Music Hall
10.27 Philadelphia/PA U.S.A – Underground Arts
10.29 Washington/DC U.S.A – U Street Music Hall
10.30 New York/NY U.S.A – Webster Hall
Released by Metropolis Records in US/CAN and Orphic Music outside US/CAN.
Cover pic by Laurence Demaison http://www.laurencedemaison.com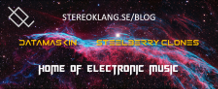 Demonstration of the third version of Rhythmicom built by Leon Theremin at Moscow State Conservatory in early 1960-s. The first Rhythmicon was developed by Leon Theremin for Henry Cowell in 1932. It was the first rhythm machine ever built.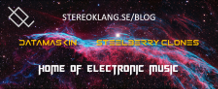 This video features Jean-Michel Jarre discussing his upcoming collaboration with the late Edgar Froese & Tangerine Dream on a new EP, Zero Gravity
Music video by Jean-Michel Jarre, Tangerine Dream performing Jean-Michel Jarre with Tangerine Dream Track Story. (C) 2015 Music Affair Entertainment Ltd. under exclusive license to Sony Music Entertainment Germany GmbH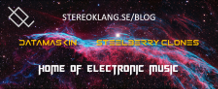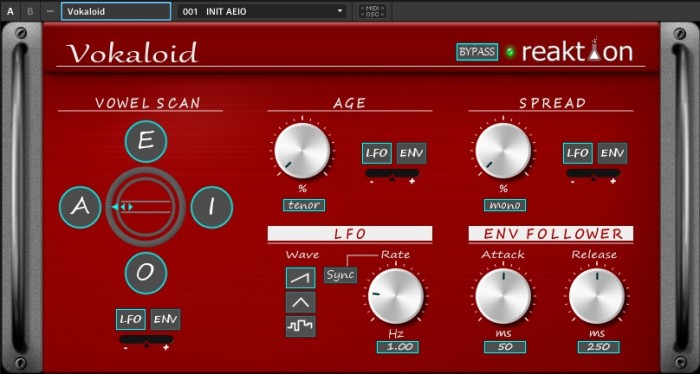 Reaktion has released Vokaloid, a format filter ensemble for Native Instruments Reaktor.
Vokaloid is basically a Formant Filter – a special kind of filter with fixed frequencies in the spectrum (formants) that simulate the sound of vowels of the human vocal tract.

In each circular box you can select a different vowel sound and smoothly scan through them with the "Scan" parameter.
You can vary the timbre with the "Age" parameter and control the stereo widening with the "Spread" parameter.
You can use an LFO or an Envelope Follower as a modulation source for all these parameters.
Vokaloid is available for purchase for 9 EUR.
TC-Performer is a multi-touch synthesizer with over 150 available patches to explore. I put a few of them together to highlight some of the different textures.
The only sounds not produced by TC-Performer in the video are the drum beat and final bass line (trying to channel Zia Geelani there).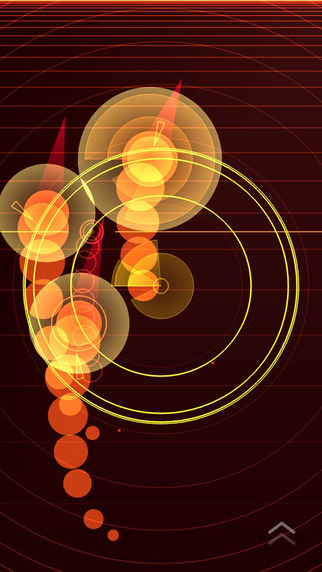 Here's what they have to say about TC-Performer:
Explore unreal synthesis with the most unique performance control on iOS! TC-Performer presents a multi-touch performance environment unlike any other synthesizer. Simply touch the screen; there are no buttons, keys, or sliders to hit. The sounds are generated entirely by your touch movements.
Each patch has a unique method of control. Pull, tap, drag, twist, and stretch your touches on the screen. There is no wrong way to play! Every instrument is a new landscape of sound creation. Pads, leads, effects, and indescribable oddities await.
You can download more patches in packs inside the app. There is also a transposition section available to change the key of the patch to fit your song, and Audiobus compatibility to record via inter-app audio.
TC-Performer is a free download.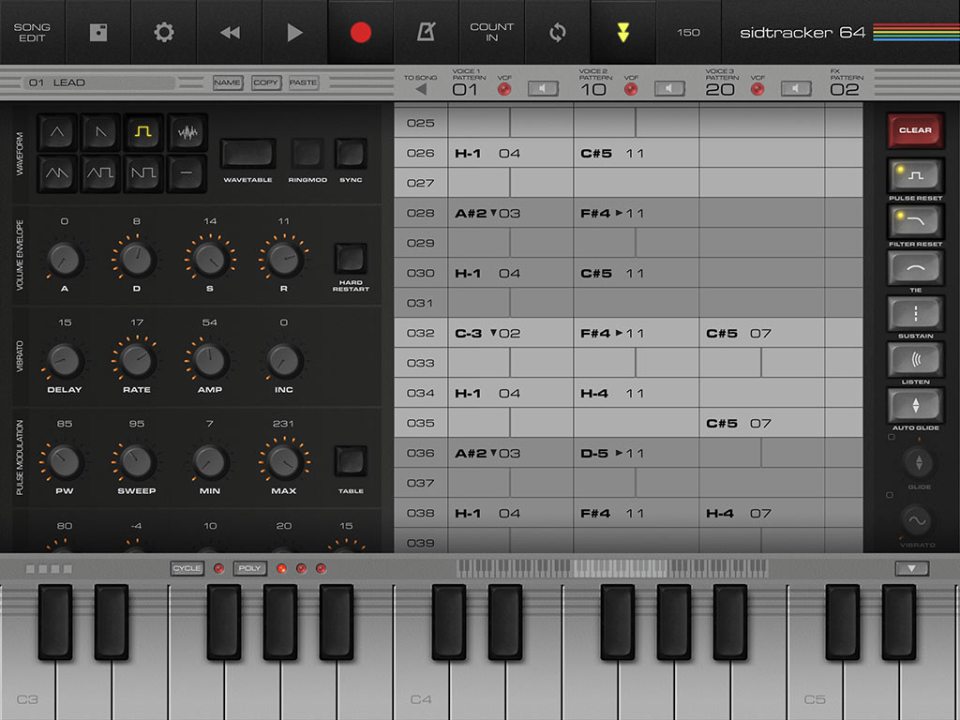 SidTracker64, a new app that turns your iPad into 'the ultimate chiptune production package tool'.
SidTracker64 emulates the classic SID sound chip from the Commodore 64. The app is a retro-style music creation tool and synthesizer, combined with modern features such as MIDI keyboard and controller input, Audiobus 2 and Inter-App Audio for recording in your favorite DAW-app.
MIDI clock in lets you sync to other apps and hardware drum machines and synthesizers.
SID synthesizer engine specs:
Fully emulated SID 8580 R5 chip.

3 separate voices

8 waveforms – tri, saw, pulse with pwm, noise, trisaw, tripulse, sawpulse, nowave

Wavetable editing

3 volume envelopes

Dedicated vibrato controls

1 multimode filter LP/BP/HP (12/6/12db) with sweep envelope

Filter table editing. Change filter cutoff and modes up to 1/240

Hard sync and Ringmod per voice

PWM sweep envelop

PWM table editing

Hard restart

Variable emulation speed from 25-240hz (standard 50)

32 instruments per song (copy/paste/rename)
Tracker (sequencer):
3 voice patterns

Mute voices on/off

Change instrument per step

FX pattern – change volume/filter/speed per step

Loop pattern

Song building

Live or step recording

Metronome / count in

Follow mode

Note effects (Glide/sustain/vibrato/filter & pulse reset/tie)

Song mode with transpose
Midi:
Keyboard input 1-3 voices (mono, duo and polyphonic)

CC-assignable synth parameteras

Modulation wheel vibrato

Pitch bend

Midi Clock in

Selectable input channel
Export:
.s64 – native SidTracker 64 file

.m4a – audio

.sid – for use in sidplayer

.prg – exports play data for a real Commodore 64
Hurts – Some Kind Of Heaven (Official Audio)
Some Kind Of Heaven is available now at http://smarturl.it/SomeKindOfHeaven?I…
Stream: http://smarturl.it/HurtsStrm?IQid=YT
Subcribe to Hurts: http://smarturl.it/HurtsYT
Follow Hurts:
Official Website: http://www.informationhurts.com
Facebook: https://www.facebook.com/hurts
Stream: http://smarturl.it/HurtsStrm?IQid=YT