To mark the release of Erasure's 'Make It Wonderful' single Tonya Hurley takes us behind the scenes at the 'Snow Globe' video shoots, and talks us through the making of the stop-motion animated videos for both 'Gaudete' and 'Make It Wonderful'.
Buy Dr. Blankenstein's devices here: http://goo.gl/WB9m49
This is a quick demo of the Endeavor, Illumiringer, and APC2600 (with a little reverb sometimes). Enjoy!
Dr Blankenstein's "Endeavour Space Line Generator" Analog Synth / Sequencer w/ Theremin Controls
Back from a long video uploading break with a new prototype demo… and many more to follow. What we have here is a 10 step analog sequencer, running a square wave oscillator. Each step of the bass line can be tuned via the 10 main sequence knobs. This unit is intended as a stand alone sound creation device, at has NO sync out or in… hence why it should be considered a "space line generator"
Oh, and for added fun.. there is an ILLUMIRINGER put on the end of the signal chain for epic tweaking!
All of this is controlled via the 3 sections at the top of the unit… each section has the option to be either controlled via a knob, light sensor or pair of touch points (at the bottom of the unit.) First, we have the "SPEED" which will control the tempo of the sequence. Next, there is the "PITCH" controls.. and finally the "FILTER" which is tied into the effects section. The filter fx can be turned on and off via the switch to the left of the Knob / Sensor control switch on the right most control section.
The touch points are set up in pairs… from left to right… 1st Speed, 2nd Pitch, 3rd Voltage Drain, 4th Effect. They can be used in pairs OR in different configuration to get some really exciting expression out of the piece.
The light sensors on this thing are SICK! Massive range… super sensitive! So many way to jam on them… I couldn't include all of them in the video there were SO MANY… so use your imagination.
Unit can be turned on via a mission impossible style key start… or big red momentary button. 9v Power adapter power for maximum juice'ness (this thing is a bit of a beast). This is a solid PCB design, not perf board etc… so I would expect to see a few of these popping up on the website / eBay in coming days.
Background video description:
"This has been around for a while now, but I use this app all the time for chilling out and relaxing, for me this is the best way to just chill."
Ototo is an all-in-one musical invention kit which allows you to make an instrument any way you want.
Ototo has got everything you need to make sound interactive: it's a synthesiser, it's got 12 onboard touch sensitive inputs and a range of different sensors which can be connected to 4 sensor inputs.
You can make sounds straight out of the box by touching the keys to trigger notes. By connecting conductive materials or objects to the keys on Ototo you can make them react to touch; turning anything you can imagine into an instrument. The keys on the Ototo are arranged like one octave of a musical keyboard. When you connect an object to a key using crocodile clips, you can trigger that note on your object.
Take the KORG Gadget master quiz or get in shape with fundamentals.
SECRETS provides a clear, no-nonsense guide to making any sound on any synthesizer. Starting with the fundamentals of sound creation, it progresses through such advanced topics as programming FM synths like the DX-7. Valuable insights are offered into stage and studio performance techniques which are applied to a variety of makes and models so that you will derive benefit from this video no matter what kind of equipment you have. A 130-page manual is included, making this a complete course on electronic keyboards.
Steve DiFuria is the narrator and featured performer on this video. He is a highly respected consultant in synthesizer design and a Keyboard columnist who has programmed for Frank Zappa, Stevie Wonder, and Lee Ritenour.
DCI Music Video, Inc. 1985.
FAIR USE NOTICE: This Video may contain copyrighted (©) material the use of which has not always been specifically authorized by the copyright owner. Such material is made available to advance understanding of ecological, political, human rights, economic, democracy, scientific, moral, ethical, and social justice issues, etc. It is believed that this constitutes a 'fair use' of any such copyrighted material as provided for in section 107 of the US Copyright Law. In accordance with Title 17 U.S.C. Section 107, this material is distributed without profit to those who have expressed a prior general interest in receiving similar information for research and educational purposes.
www.facebook.com/theprimeministeroffunk
All sounds from the 1978 Roland Jupiter-4 analog synthesizer. One of the best sounding analog poly synths ever built.
The first Jupiter synth. It was among one of the first poly synthesizers (4 individual voices which could be synced together for one fat monophonic lead), it had a pitch wheel that could be assigned to the VCA, VCF, VCO or all together, there are 8 memory locations and a cool arpeggiator – the arpeggiator can be heard in the Duran Duran classic, "Rio". It also has a very slow LFO for those ever-so-long filter sweeps. Pretty good for 1978!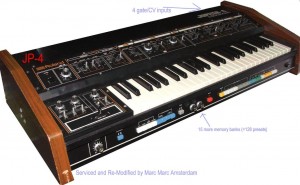 Not so cool however, are the 10 preset sounds which sound nothing like the piano, brass or strings they claim to be. The placement of all the preset buttons below the keyboard can be inconvenient, especially while playing it. And as with most old analog synths, the Jupiter-4′s tuning can go out often. Still it is a nice analog synth for creating weird trippy analog sounds.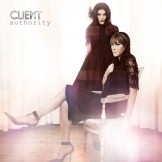 "Authority" will be released on March 21st via Out of Line.
Tracklist
01. Authority
02. Design
03. XXX Action
04. You Can Dance
05. The Shining Path
06. Refuge
07. After Effect
08. Faith
09. Artificial
10. Obsession
11. Quarantine
12. Nocturnal Eyes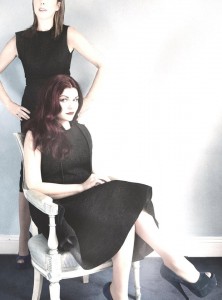 Here's their teaser video:
Enjoy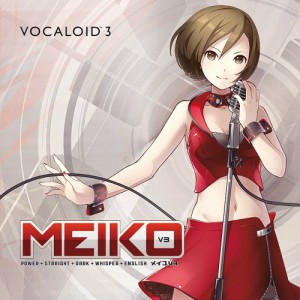 Best Service has released MEIKO V3. Here's all the details in their own words…
MEIKO V3 is futuristic singing voice synthesizer software. It is the brand-new version of Cryptons first released Vocaloid. The new MEIKO V3 features a beautiful female voice that fits a wide range of music genres from rock to electronic music. With its high sound quality and resemblance of a real voice the software lets you incorporate MEIKOs voice immediately into your music production.
MEIKO V3 features 4 carefully produced Japanese voice banks with various voice tones and moods, and an additional English voice bank for your production with English lyrics.
This all-in-one package includes vocal editor Piapro Studio VSTi, PreSonus Studio One Artist Piapro Edition, and over 200 virtual instruments for your immediate music production.
Easily edit Vocals in your music production environment
A vocal editor that allows you to easily operate and modify Meiko´s voice, Piapro Studio works as a VSTi and AU plugin, and therefore performs at a high compatibility with main music production applications (PreSonus Studio One, Ableton Live, Steinberg Cubase, Apple LogicX, Garage Band etc.).
Database (Voice Bank)
The database is based on a human voice, carefully recorded in a high-standard studio environment. Every sound was edited and optimized for the VOCALOID engine in order to create this database. With parameters such as gender factor or brightness, you are able to modify the voice and customize it to exactly fit your sound.
Features
Supported VSTi / AU plugin by all main music software applications
Piano Roll Editor: Easy to use note & lyric editing. Enter the notes you want Meiko to sing via the easy-to-use sequencer window, then type in the lyrics corresponding to each note
Control Effects via Automation: Dynamics, breath, velocity, gender and other vocal characteristics can be manipulated simply with a pencil tool
Vocal parts editable while playback
Chorus: You can add up to 15 voice tracks simultaneously
Leads VSQ, VSQX, MIDI
Import MIDI Files as Input: You can import a standard MIDI file and use the notes as the basis for Vocaloid tracks
Save/Export Vocal Parts as .wav files
Interface Language: Japanese, English, Chinese
Display of multiple Automation Tracks
Automatic Update (requires Internet Connection)
Bundled Software
MEIKO V3 comes in an all-in-one package for your own music production of songs! The product contains MEIKOs English and Japanese singing voice database, vocal editor Piapro Studio and the music production application Studio One Artist Piapro Edition coming with over 200 virtual instruments (guitar, piano, drums, and various other synthesizers). All applications can be synched with each other which enables you to easily produce whole musical compositions.
Studio One
With Studio One Artist, you can not only create rhythms and melodies, but also add all kinds of effects on Meikos voice! The softwares intuitive operation interface allows easy editing, mixing and mastering of your musical creations.
PreSonus Virtual Instruments & Sounds
Studio One Artist Piapro Edition comes with over 200 instruments, enabling your creativity to explore and compose for a wide range of music genres. [Instruments] Guitar / Bass / Keyboard / Drum / Strings / Woodwind / Percussion and more!
Additional Software included:
Tiny VOCALOID™3 Editor (for Windows only)
MUTANT VSTi Version (for Windows only)
SONICWIRE Bonus Samples
Pricing and Availability:
£125 /  €149
SECTOR – stochastic sample slice sequencer, for iPad.
Wish List:
Maintain pitch while changing bpm.
Choose probability (as is) OR a definite 1 in X jump OR warp.
Ability to rotate the 'wave form ring' to match the slots better.
Import individual samples into each slot.
Set custom lengths for each slot (perhaps by merging slots): – select when the 'jump' would take place. – enable polyphony or x-fade to continue the sound after the 'jump'
Be a midi controller.