Oraison, composed by Olivier Messiaen in 1937 for six Ondes Martenot, transcribed for Buchla 200e synthesizer and Haken Continuum Fingerboard controller and performed by Richard Lainhart in 2009.
From the time I first touched the Haken Continuum, I'd wanted to use it to play a composition by Olivier Messiaen called "Oraison". I first heard "Oraison" years ago as a student of electronic music, and had fallen in love with its simple, beautiful harmonies and profound sense of mystery.
"Oraison" is not only a lovely piece of music, but has historical interest too – it may be the first piece of purely electronic music written expressly for live performance. Also of note is that Messiaen re-arranged "Oraison" for cello and piano and used it for the fifth movement of "Quartet for the End of Time", which he composed in a German prisoner-of-war camp in 1941; the "Quartet" is one of the great classics of 20th-century music.
"Oraison" ("prayer") is from a suite of pieces for six Ondes Martenot called "Fete des Belles Eaux" ("Celebration of the Beautiful Waters"), composed for the Paris International Exposition in 1937. The Ondes Martenot was among the first electronic instruments, and is still among the most expressive. The Continuum's own expressive qualities seemed at least the equal of the Ondes Martenot's, while allowing for polyphony and the possibility of performance of the work by a single player. I transcribed "Oraison" for my Buchla 200e/Continuum system, programmed the modern system in homage to the sound of the Ondes Martenot, and now offer this performance to you.
Jonathan Bates, aka Big Black Delta, takes you inside the studio for an up-close look at how he uses Rhythm Wolf's sounds, pads, and sequencer in his work.
Music by Big Black Delta, available on iTunes: http://smarturl.it/bbdalbumitunes
Curious about Rhythm Wolf? Go wild at \\ http://bit.ly/ANALOGBITE //
Analog Bite
Rhythm Wolf combines a drum machine, bass synthesizer, and step sequencer into one rugged device with a fierce, 100% analog signal path.
Take the beat off the leash with fully tweakable kick, snare, open and closed hi-hat, and accent percussion sounds. Use the oscillator with selectable waveforms – sawtooth/square wave – and analog filter to create bass sequences that squelch and growl. Gate Trigger In/Out, USB MIDI, and 5-pin MIDI In/Out enable Rhythm Wolf to join your inner-circle of vintage and modern gear to integrate with hardware synthesizers, sound modules, DAWs, and more.
Into the Wild
A 32-step standalone sequencer and six custom-calibrated MPC-style pads are onboard for extensive programming and finger drumming. Mute/solo, intro/fill and sequence A/B switches give you the space to roam with complete control over your beat.
Torn into Parts
Carve out the perfect drum textures with continuously variable volume and tuning for each part. The kick drum attack and decay are adjustable for transients that hang, bang, and crush. Snare and open hi-hat also feature decay controls for unique sound design while the adjustable accent percussion can be modulated to click, punch, knock, "shush" and more.
The Face of Bass
Make menacing basslines with a tweakable, onboard bass synth. Envelope, filter and waveform controls let you design low-end that goes from liquid-smooth to bone-crushing and everywhere in between. Filter Resonance and Cutoff add distinction and movement to live or studio performances, while the step-sequencer keys let you program parts across a 3-octave scale.
Trigger Happy
Rhythm Wolf mates with your collection of synths that support Gate Triggers to create exclusive sonic offspring. Use it with supported homebrew hardware, classics or modern machines and infuse Rhythm Wolf DNA into all of your creations.
Let it Howl
Get your hands dirty with a custom noise, grit and distortion effect completely unique to this breed of instrument. The Howl knob lets you mangle the music into all-new textures, transitions and progressions that snarl, bark and howl. Use it as an effect or a part of your signature sound that stands alone on the food chain.
Outputs:
5-Pin MIDI Out/Thru
USB MIDI
1⁄8-inch Gate Trigger Out
1⁄4-inch Bass Synth Out
1⁄4-inch Main Out
Inputs:
5-Pin MIDI In
USB MIDI
1⁄8-inch Gate Trigger In
DC power In
Join the conversation!
http://community.akaipro.com
http://www.facebook.com/akaipro
http://www.twitter.com/akai_pro
http://www.instagram.com/akai_pro
http://www.youtube.com/akaiprovideo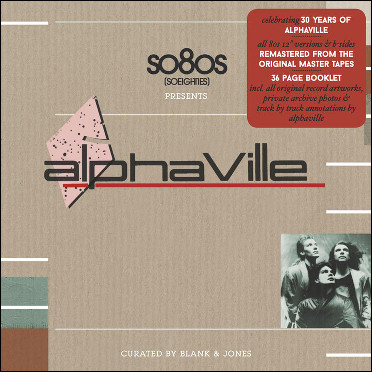 Celebrating 30 years of Alphaville, all 1980s 12″ versions and B-sides have been remastered from the original master tapes and collected on a 2CD set. This new "SO80S" collection is curated by Blank & Jones and features a 36 page booklet including all original record artworks, private archive photos plus track by track annotations by Alphaville.
Note that the B-sides included show an Alphaville experimenting with sounds and structures. You can get this set right here.
Efxs box
Dion Lee NYFW.
Long but really interesting and important talk by Moby why music really make a difference to people.
"Brumes d'automne" (1928) – Re-scored by Plastikman (2014)
Subscribe for the latest videos: http://bit.ly/1ftTGvn
Plastikman re-score of Dimitri Kirsanoff's silent film "Brumes d'automne" (1928). Commissioned as part of Bertrand Bonello's 'Résonances' exhibition at the Centre Pompidou in Paris, September 2014.
"I'm pleased to present the score I produced for the the silent film "Brumes d'automne" (Dimitri Kirsanoff, 1928). It was premiered on September 19th at Centre Pompidou in Paris as part of the Bertrand Bonello exhibition 'Résonances'.
Bertrand asked me to be involved after he began to question how we would view the film differently if there were to be different music to accompany it. The 1920's movie is a 12 minute collection of breathtaking and poignant scenes that uses its music to convey what words can't. It was originally scored by Paul Devred and features his Kirsanoff's wife Nadia Sibirskaia who played the lead in many of his films.
It was a great honour to be asked and to be involved in the premiere evening which featured performances from the legendary Ingrid Caven (wife of Yves Saint Laurent), and also a screening of the short film 'Where Are You, Bertrand Bonnello?'"
-Richie Hawtin
Video of the full premiere evening can be viewed here: http://www.centrepompidou.fr/id/c4b7X…
The exhibition runs until October 19th, 2014 (free entrance).http://www.centrepompidou.fr/en
CONNECT
Richie Hawtin
Web: http://www.richiehawtin.com
Facebook: http://www.facebook.com/RichieHawtin
Twitter: http://www.twitter.com/RichieHawtin
Instagram: http://www.instagram.com/RichieHawtin
Vintage Synths at Arturia HQ in France – 15th anniv.
The Producer Packs combine Bitwig Studio's unprecedented workflow possibilities with Arturia's premium hybrid keyboard controllers: the KeyLab 25, 49, and 61. Also included are the legendary Arturia Mini V and Analog Lab virtual synths. The Producer Packs are a complete solution offering maximum control for sound design and production.
Together, Arturia and Bitwig have combined their strengths to raise the bar in keyboard design quality alongside the deep integration of hands-on control and rich virtual content with the workflow of Bitwig Studio.
THE PRODUCER PACKS are available in 3 versions
Arturia Keylab 25/49 or 61
Bitwig Studio full version including the installation DVD and a printed manual
Arturia Mini V Virtual Synth
Arturia Analog Lab
THE PRODUCER PACKS bundle are now available in limited quantities through Arturia's network.
More info:
http://www.arturia.com/products/produ…
"Bitwig Demo Song by David Westbom for Overclock, Inc." (http://overclockinc.com)
Glen Darcey, VP Product Management, takes you on a tour around the KeyLab and Bitwig integration.
Sampler using analog filters like EMU Emulator I, II, III, Emax, Prophet 2000, 2002, 3000, Studio 440, DSS 1
Here you can download first wholly brand new software to be written for the Ensoniq Mirage, for something like 20 years:https://github.com/gordonjcp/miragetools