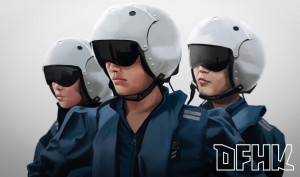 Decay Force Hong Kong aka DFHK is a brand new Hong Kong based synth pop act formed in 2014. The trio (Jet Dongguo, Nicolas Wong & Zhang Yi) make dark synth pop music and have now readied a first EP, "The Demos", to be released this fall. 7 out of 9 the songs were mixed by the band and mastered by Chris McCormack of Blacklisted Mastering, UK. It will be released this fall.
The band's debut release will be accompanied by several video clips, the first one is for the self-titled song "Decay Force Hong Kong" which you can view below. Mind you, if you suffer from Epilepsy, it's not advised to watch this video, the same for people suffering migraines and this due to the flashing images.
Demonstration showing the Modal Electronics 001 controlling a modular synth and being controlled by a modular synth.
www.ModalElectronics.com
The Modal 001 offers 4 CV inputs and 4 CV outputs, which allow for flexible CV interfacing with other gear. It also offers two audio inputs, enabling audio processing from the VCF onwards.
The combination lets you use the 001 to control your analog gear and vice versa, or use a combination, as Maddox demonstrates in the video, to expand your sonic possibilities.
The Modal Electronics 001 has a street price of about $2,000. See the Modal site for more info.
Heavyocity has announced it has partnered with Icebreaker Audio to release C-Tools, a trinity of retro synth sounds for Native Instruments Reaktor.
Inspired by the future aesthetic of the 70's and 80's, C-Tools is three distinct instruments: Capsule (drums), Coil (bass) & Clique (keys). From nostalgic strings to archetypical pulsing rhythms, C-Tools is the framework for building the vintage synth sound of yesterday, today.

"C-Tools was really built out of necessity," says Icebreaker Audio Founder Adam Hanley. "Personally, I wanted an all-in-one tool that I could use, right out of the box, to produce the kind of retro synth sounds I use most often, without being restricted to a single piece of vintage hardware. And C-Tools does just that."
C-Tools features
Capsule: the C-Tools Drum Machine, featuring eight drum channels and a built-in sequencer. Complete with thumping kicks and kitschy hand claps, Capsule takes a mostly analogue approach to its synthesis engines. Also with an additional effects chain crafted specifically for drums, including a gated reverb.
Coil: a hybrid monosynth designed especially for bass sounds. It uses digital FM and analogue subtractive synthesis techniques to produce a rich sound palette – from biting and percussive, to deep and throbbing, and all spaces in between.
Clique: a combination of string machine and combo organ – two instruments that used similar frequency division techniques to produce their polyphonic sounds. Added is a split keyboard routing mechanism, which allows you to assign different parts of the synthesizer to the upper, lower, or both halves of the keyboard.
C-Tools is available for purchase for the introductory price of $29 USD until July 28th, 2015 (regular $59 USD). Requires Reaktor 5.9.2 full version. A one week bundle offer of $59 USD is available for purchasers of C-Tools and BitRate II & MonoBoy.

Matthieu Brucher has announced the release of ATKSidechainCompressor, a free dual channel compressor with side chain plug-in for Windows and Mac.
I'm happy to announce the release of a side-chain stereo compressor based on the Audio Toolkit. It is available on Windows and OS X (min. 10.8) in different formats.

This stereo compressor can work on two channels, left/right or middle/side, possibly in linked mode (only one set of parameters), and can be set up to mix the input signal with the compressed signal (serial/parallel compression). The side chain channels can be used to steer the gain stage (the same setup will be used, right/left or middle/side).
The plug-in is available for download for Windows and Mac (VST/AU).
A very quick look inside the MOOG Sub 37 to see if it has the capability of a CV Output.
"Apologies for the Shaky Camera"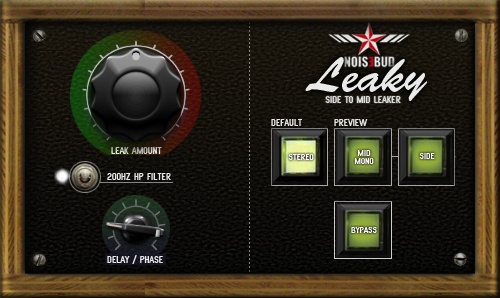 Noisebud has released Leaky, an effect plug-in that leaks the side information into the mid.
Leaky will let you leak the side information into the mid channel. It can be useful while mastering if parts of the audio almost disappear in mono.

REMEMBER: Taking the track back to the mix should be your number one choice, tricks like this should not be used if not absolutely necessary!
The plug-in is available for download for Windows (VST) as donationware, with a minimum donation of $9.90 USD.
Takete – Refined Stochastic Technology – $79.99
Takete Lite – Refined Stochastic Technology – Free – Takete Lite contains the functionality of Takete, with editing disabled.
Takete is an advanced audio visual performer featuring a unique set of tools for musicians and artists. Based on the phenomenon of synesthesia, Takete offers fine control between audio and visual elements to create immersive and tightly integrated AV works.
Combine audio and video loops with granular synthesis, drum machines, modular inline/send FX and extensive programmable and flexible behavior.
Recommended for iPad Air 1 or equivalent.
Alex gives you a step by step instruction on how to create a simple monophonic bass sound on the WMD / SSF Monolith.
The Monolith is a 37-key keyboard, with 104 hp Eurorack rails loaded with the wmd/ssf collaboration line of modules. complete with power supply and 25 patch cables of assorted lengths.
The monolith is designed to be a fully functional, completely customizable modular synth with a wide palette of tones that the user can patch from scratch. The system includes 15 modules: two spectrum oscillators, a pole zero filter, two adsrvcas, an amplitude discrete vca, an s.p.o. scaling polarizer and offset, the ultrafold wavefolder, the blender four channel crossfading mixer, a quad attenuator, the toolbox utility module, a mini slew function generator, as well as a custom keyscan module with aftertouch, velocity, and midi (in, out, and thru).
Also included are a buffered multiple, a lvls output module and open 16 hp worth of space, filled with blank panels, so you can customize it.
The Monolith is available now for $2,600. See the WMD site for more info.
Sequential Session with the Moog Little Phatty and Slim Phatty.
WALDORF MICROWAVE rev. B in Multimode. The 2 sound are routed to the LR sum Outs of the Microwave. The 2 channels are triggered with different sequencer lines of ARTURIA BEATSTEP PRO which is doing a great job here. The sound is enhanced by the stunning ENSONIQ DP/PRO and a bit of Mackie EQ in the mixing desk.