Here's a performance demo of the Meng Qi Rollz-5! It's almost impossible to explain without touching it or going to into metaphors about mushroom planets, so I've done the next best thing.
From the 1981 album "Sex" and with lyrics co-written by Ron Mael
Taken from the album Electric Dreams (2013). Buy the album from iTunes.
ELECTRIC DREAMS – - New Album by Dan Lacksman
- – (Album Release 17th of May 2013)
Mac or PC – Live Performance @ Botanique – - (Les Nuits 2013)
Musicians: Dan Lacksman / Alice Lacksman / Ad Cominotto
Live Sound Engineer : Hassan Chaïdi (Beatracks Production)
Video made by Floris Erbuer
Camera : Clement Nourry – John Erbuer – Floris Erbuer
Native Instruments has released a series of videos that look at Maschine workflows. 
In this first workflow-video, learn how to quickly create an inspiring drum beat with MASCHINE.
The features explored in this video are available on all MASCHINE STUDIO, MASCHINE and MASCHINE MIKRO hardware controllers.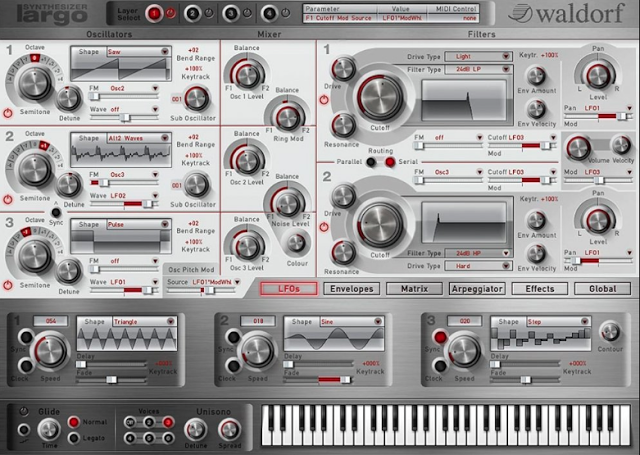 The long awaited 64-Bit version of Waldorf Largo is now available. You'll find the Largo download page here, and the general overview page here which has some new demos.
Largo offers three fat oscillators, two of them with sub oscillators. These oscillators include models of classic analog waveforms as well as a selection of waves from the PPG and Waldorf Wave stored in two Wavetables. All these run through two Waldorf multimode filters with steep cutoff, resonance up to self-oscillation and a drive stage to add even more punch and grainyness to the sound. Ultra-fast envelope generators and flexible LFOs as well as an easy to understand, yet extremely versatile modulation matrix make for a sound designer's dream.
The filters have always been a core part of any Waldorf instrument. With outstanding expertise in both analog and digital synthesis, our developers took utmost care in developing the filters. And you can hear a significant difference when working with a Waldorf filter – they just sound right! Use the comb filters for plucked, stringed or blown sounds. Band pass, high pass, low pass and notch filters are all available with 12 dB and 24 dB slope. All of them sound extremely accurate and add pure sonic quality to the sound of your music.
Largo contains a flexible arpeggiator with 16 freely programmable steps as known from the exclusive Q synthesizer line plus an array of high quality effects such as Chorus, Flanger, Phaser, Overdrive, Delay and Reverb.
This is a modular system in a wooden case with black vinyl liner, cover and aluminum front plate:
3 identical VCO 4 waveforms, PWM, sync and CV in
VCF low pass filter 24dB
SV variable filter 12dB simultaneous outs lp, bp y hp
3 ADSR
2 VCLFO 5 waveforms, PWM y CV in (frequency control)
VCEcho time, feedback y volumen controlados por voltaje
VCS&H sync and CV in (frequency control)
2 log VCA
2 lineal VCA
2 mixer 5 channels
Noise source 4 simultaneous outs
4 CV buffer
Gate buffer
Power supply AC 100-260V
More information at:
hardmod dot tmblr dot com
Twitter @hardmod_
Facebook hardmodelectronics
This is the front view:
hardmod.tumblr.com/image/91573094220
Sistema modular con 22 modulos MFOS, case de madera con forro de vinil, tapa protectora y panel frontal de aluminio:
3 VCO con 4 formas de onda, PWM, entrada sync y entradas CV
VCF low pass filter 24dB
SV variable filter 12dB salida simultánea lp, bp y hp
3 ADSR
2 VCLFO con 5 formas de onda, PWM y entradas CV (control de frecuencia)
VCEcho time, feedback y volumen controlados por voltaje
VCS&H entrada sync y entrada CV (control de frecuencia)
2 log VCA
2 lineal VCA
2 mixer cada uno con 5 canales
Noise source 4 salidas simultaneas
4 CV buffer
Gate buffer
Power supply AC 100-260V
Korg has introduced the SDD-3000 Pedal, a new delay pedal, based on the classic 80′s SDD-3000.
The SDD-3000 PEDAL packs all of the SDD-3000?s functionality into a convenient pedal unit. Featuring a pre-amp with ample headroom, a filter circuit that modifies the feedback sound, and modulation waveforms that allow a diverse array of delay effects, it covers all of the SDD-3000′s important elements.
In addition to specifications that will satisfy SDD-3000 users, it provides many new functions such as eight delay types, long delay times up to 4,000 milliseconds, selectable modulation waveforms, stereo input/output, and MIDI compatibility. The user interface has also been updated for dramatically improved ease of use.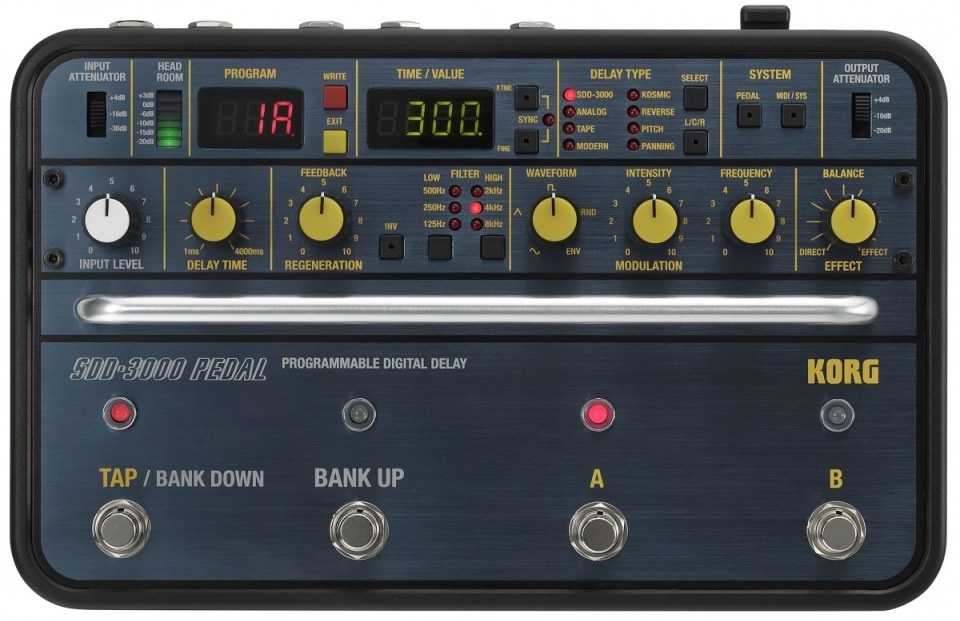 Features:
All features of the SDD-3000 digital delay, packed into a pedal unit.
Eight distinct delay types including SDD-3000, Analog, Tape, Modern, Kosmic, Reverse, Pitch and Panning.
The preamp that defined the sound of the SDD-3000 is faithfully reproduced.
Selectable filters that alter the sound of the delay repeats.
Choose from five types of modulation waveforms that modulate the delay time. You can also create waveforms that interpolate between two types, and make fine adjustments to the waveform.
Use flanging, chorus, vibrato, doubling, and Doppler effects.
A wide range of delay times is available, from 1 millisecond to long delays with a maximum of 4,000 milliseconds.
Sync mode lets you specify the delay time in terms of 11 different note values ranging from whole notes to 32nd notes.
A total of 80 programs (40 banks x 2 channels) can be saved.
LCR function lets you create multi-tap delay effects.
MIDI connectors are provided, allowing you to trigger program changes from an external device, or to transmit program data as a bulk dump to and from other units.
Seamless bypass and program changes allow you to retain the reverberant sound when switching sounds.
Reliable true bypass design.
An optional expression pedal can be used to control multiple effect parameters simultaneously.
The SDD-3000 Pedal is available now, with a street price of around US $400. See the Korg site for more info. 
Background video info (Googlish):
The purchase …
http://www.nintendo.co.jp/3ds/eshop/j …
http://www.detune.co.jp/korg_dsn12_jp …
Nintendo 3DS download software analog synthesizer KORG DSN-12. For those of you "I bought, but if I do …" and "? Can be any play on earth", series video Sano electromagnetic Inc. DETUNE is a producer director to convey the fun, the first times are.
KORG DSN-12 series for the first time
https://www.youtube.com/playlist?list …
ご購入は…
http://www.nintendo.co.jp/3ds/eshop/j…
http://www.detune.co.jp/korg_dsn12_jp…
ニンテンドー3DSダウンロード用アナログシンセサイザーソフトKORG DSN-12。「買ってみたけどどうしたらいいのか・・・」「いったいどんな遊び方が­できるの?」という方のために、プロデューサーディレクターである株式会社DETUN­Eの佐野電磁がその楽しさをお伝えするシリーズ動画、第1回です。
はじめての KORG DSN-12 シリーズ
https://www.youtube.com/playlist?list…
Vintage synthesizer demo track featuring the Juno-106
all synthesizer sounds: Roland Juno-106 analog synthesizer (1984)
drums: Roland TR-707 (1985)
recording: multi-track
fx: a bit reverb and delay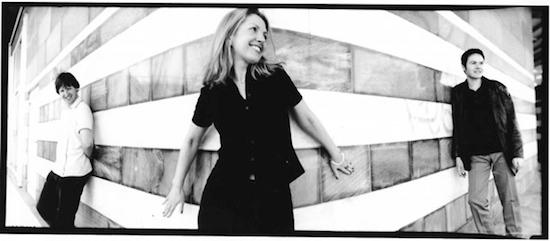 Band's Bob Stanley confirms that he's set to start work on a precursor to Yeah Yeah Yeah
Bob Stanley has confirmed that Saint Etienne are set to writing new songs. Stanley said: "We're going to play the How We Used To Live soundtrack live a couple more times. Me, Pete and Sarah are going to start writing some new songs – it's been a fair old while since we last did that, so we're going to start doing that this summer." Prior to producing the soundtrack to How We Used To Live, Paul Kelly's film about post-war London, the band's last studio album was 2012′s Words And Music By Saint Etienne; watch the video for 'Tonight' from that record at the foot of the piece.
Stanley also said that he was ready to start work on a new book, which would cover pop music in the first half of the twentieth century, forming a pair with last year's 50s-00s pop history Yeah Yeah Yeah. "[It]'s basically a prequel to Yeah Yeah Yeah, about the birth of pop music – recorded music from the turn of the twentieth century up to the rock & roll era," Stanley told us. "Again, there are a lot of books about the period – to me it's sort of the same as Yeah Yeah Yeah, there are thousands of books on popular music to the year 2000, but I couldn't think of one that looks through the whole period and tries to make sense of it all without snobbery and within one book, so I'm going to try and do the same for the first half of the 20th century. It's going to take me a while! Having never written a book before, I really enjoyed doing Yeah Yeah Yeah and it was obviously a lot of work and a lot of research, but if you get a structure sorted out up front and you know exactly where things are going to slot in, it's not that different to writing 200 separate features! You just have to link everything together and make sense of it."
A musical demonstration of using a external gate in jack with the Moog Werkstatt-01 hackable analog synth.
1st modification of my werkstatt: adding an ext gate IN jack. All info on it is here:http://laurentidesynthworks.blogspot….
effects used: moogerfooger MF-104M Delay & Electro Harmonix Cathedral Reverb