This gives a quick demo of using Propellerheads Reason and the Ohm64 using the custom Remote script. Every Reason device is mapped to the Ohm64′s vast control surface, including some clever keyboard tricks that will make making music much easier.
2 broadcasts, dedicated to the release of "swedish electro vol2″.
All songs will be played – before the compilation will be released – and you will get many informations about the artists and their songs.
Part 1: Tuesday, 10.12.2013, 21:00 – 23:00 CET
Part 2: Saturday, 14.12.2013, 21:00 – 23:00 CET
The moderation will be in German! Here's a link to the channel and more info >>
And of course there will be a release party coming up: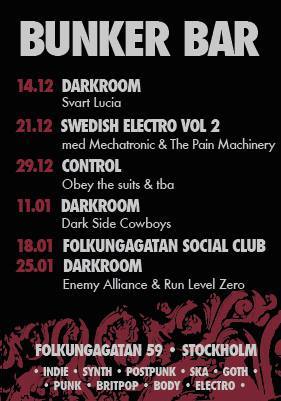 And with modesty we are of course delighted to announce that Steelberry Clones will be part of this album and featured on this radio broadcast event, with our new track "Deep down below"
the compilation will be available for free downloading!
it will be out on 15 December 2013 at 5:00pm (Athens) 4:00pm (Stockholm) 3:00pm (London)
Latest updates can be found here >>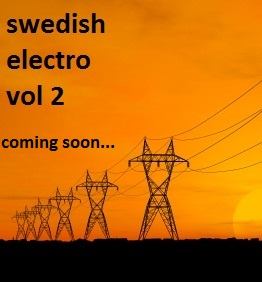 it will contain tracks from:
#366: A life lived
https://www.facebook.com/366alifelived?fref=ts
Andy Planck
https://www.facebook.com/andyplanck?fref=ts
Arachnophobias
https://www.facebook.com/pages/Arachnophobias/106830736076844?fref=ts
Art Fact
https://www.facebook.com/artfactmusic
Atari Cowboy
https://www.facebook.com/AtariCowboy
Chaos all stars
https://www.facebook.com/ChaosAllStars?fref=ts
Cryo
https://www.facebook.com/pages/Cryo/278251140549?fref=ts
Denormal
https://www.facebook.com/Denormal?fref=ts
DJ Man-Machine
https://www.facebook.com/dj.man.machine.swe?fref=ts
Dpoint
https://www.facebook.com/dpoint.sound.system?fref=ts
Electro act
https://soundcloud.com/electroact
Frontadero
https://soundcloud.com/frontadero
Henric de la Cour
https://www.facebook.com/HenricDLC?fref=ts
International
https://www.facebook.com/intlmusic?fref=pb&hc_
Kite
https://www.facebook.com/KiteHQ?ref=ts&fref=ts
Libra
https://www.facebook.com/Libramusik?fref=ts
Neueliebe
https://www.facebook.com/kire.nilsson?fref=ts&__rev=1024226
Machinista
https://www.facebook.com/machinistamusic?fref=ts
Mechatronic
https://www.facebook.com/pages/Mechatronic/276209142393782?fref=ts
Neurobash
https://www.facebook.com/neurobash?fref=ts
Nude librarians
https://www.facebook.com/pages/Nude-Librarians/300581350015272?fref=ts
Optic
https://www.facebook.com/Opticalism?fref=pb&hc_location
Radiant
https://www.facebook.com/pages/Radiant/123585621079010?fref
Ro 13
http://ro13.bandcamp.com/
Sad Sad Zoo
https://www.facebook.com/SadSadZoo?fref=ts
Sine city
https://www.facebook.com/sinecitymusic?fref=ts
Social ambitions
https://www.facebook.com/socialambitions?fref=ts
Steelberry Clones
http://stereoklang.se/
https://twitter.com/SteelberryClone
That secret
https://www.facebook.com/MyFrenchNerves?fref=ts
The pain machinery
https://www.facebook.com/thepainmachinery?fref=ts
The Phistols
https://soundcloud.com/the-phistols
Train to Spain
https://www.facebook.com/pages/Train-To-Spain/252355014792419?fref=ts
Vladimir from vostok
https://www.facebook.com/rugbert
Vogon Poetry
https://www.facebook.com/vogonpoetrymusic?fref=ts
Wolf dragonard
https://soundcloud.com/wolf-dragonard
Official video for Delayklinken "Air". Written by Svenson/Fyrek/Sokoleski
Copyright Control 2013 – Progress Productions.
Web: http://www.delaykliniken.se
Label: http://www.progress-productions.com
Produced by: Humorisma
Learning more about the philosophie around Origin, their own description below:
Origin is the most powerful synthesizer on the market.

As a matter of fact, it goes beyond the traditional definition of synthesizers. It is a hardware DSP system that houses several synthesizers in one machine. Some of these synths come from the past, such as the Minimoog, some are totally new and innovative.

Loaded with modules extracted from the best synthesizers of all time, Origin lets you combine these modules and take advantage of the additional possibilities put onboard. The result: a new type of sound accessible through an extremely intuitive interface.
Arturia has also uploaded a whole range of video tutorials on the Origin, go here check them out >>
This one example
Ade Fenton produced the current Gary Numan album Splinter – its Numan's first top 20 Uk success since 1983. Not only did Ade produce the record, but he also put together the tour. We caught up with him backstage last week at the penultimate gig at Brighton's Dome theatre to chat and take a look at what powers the show. Edd Butterworth interviews
Can't wait to see them live on December 9th

Deeper Bass…. "Sea of Sin (Tonal Mix)" are the main 7″ versions. "Original" versions were never released, or rather, these mixes are the regular versions, according to interviews and the official website.
'The Swamp Behind My House' is the closing track of Dorit Chryslers "Avalanche EP" on Trentemøller's very own In My Room-label. A deep and cinematic slice of electronic grace, which along with the rest of the EP, is sure to win over a new audience to Dorit's immense charms that is accompanied by truly intense pictures and quivering colours here.
Shot by Zack Richard feeling inspired by Dorit Chryslers work he approached her with this amazing short film right after it was shot. But let him explain his idea and inspiration in his own words.
"The idea came from an actress who I had worked with. She wrote a tweet saying she wished she had gone to model in Asia. I then had the idea of a model going abroad and using her beauty to taking advantage of local businessmen. Dorit's song really brought the film to life and added a dark and surreal layer. I love her sound, its from the present and the past all at once. I am also trying to make films that are hard to pin-point exactly when they were made. I wanted to do a video that felt like a mixture of a Won Kar Wai and a Micheal Mann film."
And so he did.
Enjoy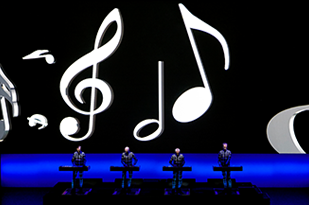 German electronic music pioneers Kraftwerk will play eight 3-D concerts at Walt Disney Concert Hall, March 18-21, 2014 to launch the LA Phil's Minimalist Jukebox Festival. These will be their first L.A. dates since 2005.
They will perform eight of their albums, spread across eight performances.
KRAFTWERK – THE CATALOGUE 1 2 3 4 5 6 7 8 is a chronological exploration of their work. Starting with Autobahn, each performance will cover one of Kraftwerk's studio albums in full and in order of their release:
Autobahn (1974), Tuesday, March 18, 7:30 PM
Radio-Activity (1975), Tuesday, March 18, 10:30 PM
Trans Europe Express (1977), Wednesday, March 19, at 7:30 PM
The Man-Machine (1978), Wednesday, March 19, at 10:30 PM
Computer World (1981), Thursday, March 20, at 7:30 PM
Techno Pop (1986), Thursday, March 20, 10:30 PM
The Mix (1991), Friday, March 21, 7:30 PM
Tour de France (2003), March 21, 10:30 PM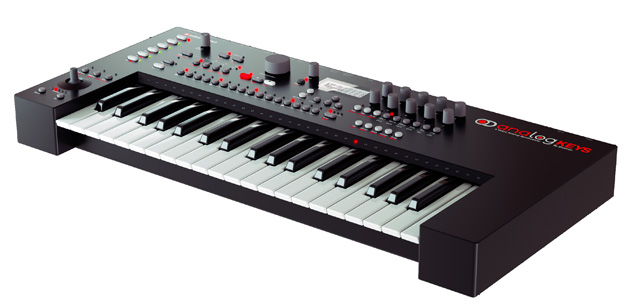 The Analog Keys is a four voice flagship analog synthesizer, conceived with the modern artist in mind. Fully analog signal path, digital controls, and unprecedented playability make it an instrument for the expressive musician.
Premium analog synthesizer
The Analog Keys is a four voice polyphonic analog synthesizer, capable of generating the finest basslines, chords, leads, and sounds imaginable. The warm and deep tone represents the pinnacle of analog synthesis and the acclaimed Elektron sequencer stands ready to arrange and warp the analog sounds in real-time. Complete the experience by treating the four voices with incredibly well-crafted master effects. A new world of sounds awaits.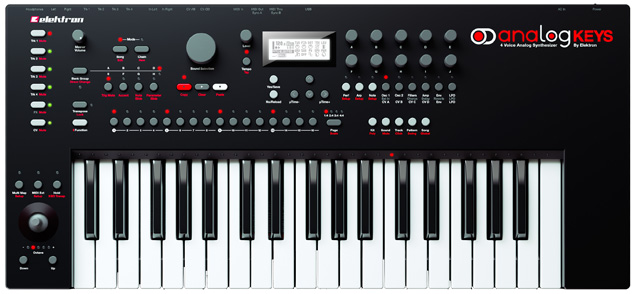 Performance optimized
The Analog Keys is tailor-made for the stage. The 37 semi-weighted keys of the keyboard give instant fingertip control of the analog tones. The special performance mode offers direct access to user-defined parameters, and the joystick, capable of controlling up to fifteen parameters, allows for extreme morphing of sounds. Improvising when playing live has never been this easy.
Heart of the rig
Compatibility with other instruments is well catered for. Simply press a button to transform the Analog Keys into a MIDI keyboard, ready to control external MIDI gear. Thanks to the dedicated CV sequencer and the CV/Gate and DIN sync outputs, analog instruments of both today and yesteryear can be played, sequenced, and controlled with precision. Use the multitude of control options to breathe new life in vintage and modern rigs alike.
Highlights
*100% analog signal path
*Four voices, each with 2 analog oscillators, 2 sub-oscillators, dual analog filters, analog overdrive per voice
*37 key semi-weighted keyboard with aftertouch
*+Drive storage hosting up to 4096 Sounds (+Drive Sound Library)
*Elektron sequencer with CV/Gate sequencing
*Parameter assignable joystick
*Extensive modulation possibilities
*Supervoid Reverb, Saturator Delay, Wideshift Chorus send FX
*Polyphonic, multitimbral, unison modes
*Dedicated MIDI controller mode
*1x headphones output, 2X main outputs, 4x stereo separate track outputs
*2x audio inputs
*MIDI IN/OUT/THRU with Din sync out
*2x dual CV/Gate outputs
*USB 2.0 port
The Analog Keys goes on sale December 5. Shipping starts Dec 9. List price: 1849$/1749?/1449£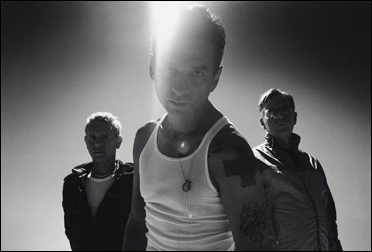 A new Depeche Mode live DVD is in the planning and it will be Anton Corbijn directing the whole thing. Both of the nights in Berlin will be shot to complete the DVD.