Access Virus C | Synth Session 05 : Voice to Spirit
About the Virus C: A brand new and ever more powerful strain of the Virus was released in 2002 to replace the entire B Series line-up. First up is the flag-ship desktop module, the Virus C. Polyphony is expanded from 24 to 32 voices! Otherwise the synth engine is virtually the same as the B series. Three oscillators, one sub osc., two independent multi-mode filters, two ADSTR envelopes, three LFOs, 16 arpeggiators, 32-band vocoder, five FM synthesis modes and 16 part multitimbrality. The C series offers an expanded mod matrix with 6 source and 9 destination slots, 98 effects, wood side panels, and more! A new 3-band EQ section is available as well as an Undo/Redo function. The operating systems can be easily upgraded via MIDI and there is a free SoundDiver Virus editor/librarian for Windows and MacOS systems available.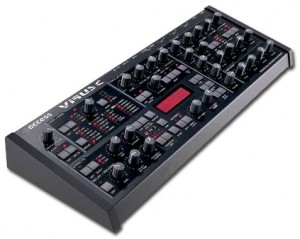 It has been used by Nine Inch Nails, KMFDM, and Max Graham
In this video:
Voice to Spirit : Synth Session 05
Showcasing the Access Virus C as the main pad.
The low bass comes from my Synthesizers.com Modular.
Using the Roland Juno (Junior ) 106 as a controller the Virus.
Filmed with the Canon EOS Rebel T3i w/ 18-135mm lens.
The first progression heard is for a new song that's a work in progress called 'Grace & Love'. Hear a sample here: http://voicetospiritmusic.com/blog/?p=650
Roland Junior 106 here: http://voicetospiritmusic.com/blog/?p=13
Comments