Best of Rammstein in de luxe metal wrapping
German industrial rockers Rammstein has released a new best-of collection "Made in Germany",  just in time for Christmas.
The collection contains remastered versions of the most and the best between 1995-2011 and comes in addition to the regular single disc edition (in digipak) in a double-disc edition ** and in a limited deluxe edition *** in metal box with bonusdiscen, three DVDs and a 240-page booklet. The bonusdisc ** includes remixes by Laibach, and Lite and Scooter, but also heavy metal acts as Faith No More, Tiamat and Clawfinger. The three DVDs contain, in turn, a complete video catalog, including the making-of videos.
Beyond this, both versions features the new song "Mein Land," whose music video directed by Jonas Åkerlund and Swedish premiere on 11 November.
"Made in Germany" is released December 6 by Universal Music / Vagrant Records.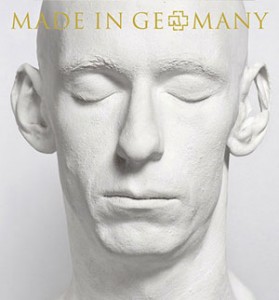 Track listing:
Engel
Links 2 3 4
Keine Lust
Mein Teil
Du Hast
Du Riechst So Gut
Ich Will
Mein Herz Brennt
Mutter
Pussy
Rosenrot
Haifisch
Amerika
Sonne
Ohne Dich
Mein Land
CD 2 **
Du riechst so gut '98 – Remix by Faith No More (1998)
Du hast – Remix by Jacob Hellner (1997)
Stripped – Remix by Johann Edlund – Tiamat (1998)
Sonne – Remix by Clawfinger (2001)
Links 2 3 4 – Remix by Westbam 2001)
Mutter – Remix by Sono (2002)
Feuer Frei! – Remix by Junkie XL (2002)
Mein Teil – Remix by Pet Shop Boys (2004)
Amerika – Remix by Olsen Involtini (2004)
Ohne Dich – Remix by Laibach (2005)
Keine Lust – Remix by Black Strobe (2005)
Benzin – Remix by Meshuggah (2005)
Rosenrot – Remix by Northern Lite (2005)
Pussy – Remix by Scooter (2010)
Rammlied – Remix by Devin Townsend (2010)
Ich tu dir weh – Remix by Fukkk Offf (2010)
Haifisch – Remix by Hurts (2010)
DVD 1 ***
"Du Riechst So Gut" (1995) – Album "Herzeleid" + Making of "Du riechst so gut"
"Seemann" (1996) – Album "Herzeleid" + Making of "Seemann"
"Rammstein" (1997) – Album "Herzeleid" + Making of "Rammstein"
"Engel" (1997) – Album "Sehnsucht" + Making of "Engel"
"Du Hast" (1997) – Album "Sehnsucht" + Making Of "Du Hast"
"Du Riechst So Gut '98″ (1998) – Album "Herzeleid" + Making Of "Du Riechst So Gut '98″
"Stripped" (1998) + Making Of "Stripped"
DVD 2 ***
"Sonne" (2001) – Album "Mutter" + Making Of "Sonne"
"Links 2 3 4″ (2001) – Album "Mutter" + Making Of "Links 2 3 4″
"Ich Will" (2001) – Album "Mutter" + Making Of "Ich Will"
"Mutter" (2002) – Album "Mutter" + Making of "Mutter"
"Feuer Frei!" (2002) – Album "Mutter" + Making of "Feuer Frei!"
"Mein Teil" (2004) – Album "Reise, Reise" + Making Of "Mein Teil"
"Amerika" (2004) – Album "Reise, Reise" + Making Of "Amerika"
"Ohne Dich" (2004) – Album "Reise, Reise" + Making Of "Ohne Dich"
"Keine Lust" (2005) – Album "Reise, Reise" + Making Of "Keine Lust"
DVD 3 ***
"Benzin" (2005) – Album "Rosenrot" + Making Of "Benzin"
"Rosenrot" (2005) – Album "Rosenrot" + Making Of "Rosenrot"
"Mann gegen Mann" (2006) – Album "Rosenrot" + Making Of "Mann gegen Mann"
"Pussy" (2009) – Album "Liebe ist für alle da" + Making Of "Pussy"
"Ich tu Dir weh" (2010) – Album "Liebe ist für alle da" + Making Of "Ich tu Dir weh"
"Haifisch" (2010) – Album "Liebe ist für alle da" + Making Of "Haifisch"
"Mein Land" (2011) – Album "Made in Germany 1995-2011″ + Making Of "Mein Land"
Comments