Björk introduces 'Biophilia'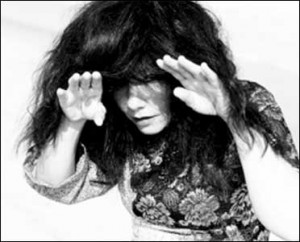 This summer, Björk introduces 'Biophilia', a project which she describes as being 'extraordinary immersive' and her 'most ambitious work to date'. The multi-media endeavour encompasses her music, installations and live shows. Expect lots of modern technology powered via the internet.
The project aims to explore ideas like how sound works, the infinite expanse of the universe, from planetary systems to atomic structures. Expect the unexpected…
The world premiere of Björk's 'Biophilia' live show will be held at the Manchester International Festival during a three-week residency and across 6 'intimate' shows in the Campfield Market Hall for audiences of 1800.
For these 6 special shows, Björk will be performing new tracks from the forthcoming "Biophilia" studio album. Expect a small group of musical collaborators who will be playing on a range of specially conceived and crafted instruments, among them a bespoke digitally-controlled pipe organ; a 30 foot pendulum that harnesses the earth's gravitational pull to create musical patterns and a one-off pin barrel harp.
The 'Biophilia' live show will travel to major cities around the world following the Manchester premiere.
Comments