Classic Punk hits turned into Electro/Synth tracks by Leading Swedish electro acts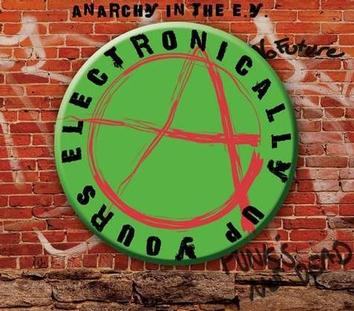 Lim. Ed. 500 copies in Gatefold cardboard sleeve.
Todays synthpop – minimal- electronic artists doing classic 1977 punk songs in their own version. ( original artists in brackets ) Compiled and managed by Eddie Bengtsson of Page, Sista mannen på Jorden etc.
1- Biomekkanik – Young Savage ( Ultravox )
2-     12th House – No More Heroes ( Stranglers )
3-     The Future – Nervous Wreck ( Radio Stars )
4-     Counterfeit – Set Myself On Fire ( XTC )
5-     Sista Mannen På Jorden – Action Time Vision ( Alternative TV )
6-     Den Där Killen – Fan Mail ( The Dickies )
7-     Clark Gable – Ready Steady Go ( Generation X )
8-     Compute – Hong Kong Garden ( Siouxsie & the Banshees )
9-     Arachnophobias – London Girls ( Vibrators )
10-  Steelberry Clones – Watching The Detectives ( Elvis Costello )
11-  Amusik – God Save The Queen ( Sex Pistols )
12-  Dvala – Problem Child ( Damned )
13-  Angaudlinn – Just Thirteen ( Lurkers )
14-  AlphaKenny-1 – Ever Fallen In Love ( Buzzcocks )
15-  319T – Dont Push Me Around ( The Zeros )
16-  DJ Man-Machine feat Sleezy – Gary Gilmores Eyes ( Adverts )
17-  Mr Doonut – The KKK Took My Baby Away ( Ramones )
18-  Independent State – Borstal Breakout ( Sham 69 )
19-  Page – Commando ( Ramones ) less
Comments