Eager to test the Cakewalk Sonar X1?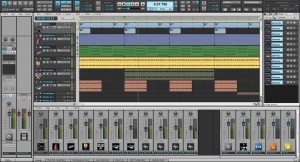 Want to try Sonar X1 with no strings attached? Now you can do just that with the free Cakewalk Sonar X1 Trial, now available for download at cakewalk.com.
The free Sonar X1 Trial is a fully-functional, 30-day version of the Sonar X1 DAW. Sonar X1, the latest version of Sonar software, offers new tools and features not found in previous versions of Sonar, such as the Skylight Interface that streamlines workflow.
The trial provides the full capability of the Sonar X1 Producer edition, including the Pro Channel console strip, which provides two types of compression, musical equalization, tube saturation, and flexible routing options. For a whole month, you can use the trial version to do just about everything possible with the full version — you can save projects (a major plus) and use most of Sonar X1 content minus a few synths, processors, and other features that ship with Sonar X1. It's free, so don't complain. Plugins included in the trial are the V-64 Vocal Strip, PX-64 Percussion Strip, and Rapture LE.
What you need to know about the Sonar X1 Trial:
It's a fully functioning version of Sonar X1 Producer
Works for up to 30 days if registered
Includes ProChannel, Rapture LE, VX-64 Vocal Strip, and PX-64 Percussion Strip
Lets you experience the new Skylight Interface
Trial version download is 612 MB
Tutorial content download is 624 MB
For Windows PC only
The Sonar X1 Trial is a fully functioning version of Sonar X1 that will work for up to 30 days if registered. To download the trial version, visit cakewalk.com and fill out the necessary information. Valid download links will be emailed to you. Note that there are two installers — one for the application and one for the optional content.
Comments