Morrisey celebrates 25 years with new DVD/Blu-ray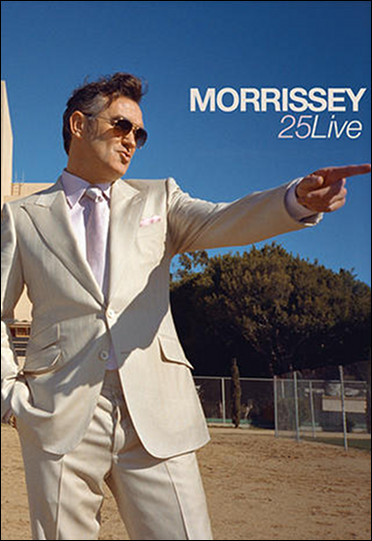 Out on 21 October is Morrissey "25 Live" on DVD, Blu-ray and Visual Digital Formats. The concert release marks 25 years of the solo career of Morrissey. It's the first Morrissey live concert video for 9 years and features tracks from across his career as you can see below.
The footage was shot during Morrissey's show at the Hollywood High School in Los Angeles on 2 March 2013. Before the concerts starts you'll have to wade through fans talking about their 'unwavering devotion' to the singer.
Bonus features on "25 Live" include 4 tracks recorded in a studio session: "The Kid's A Looker", "Scandinavia", "Action Is My Middle Name" and "People Are The Same Everywhere". There's also a mini feature shot behind the scenes at Hollywood High plus also a segment entitled "Grissle Bandage Present Lord Mudslide" which features Russell Brand's introduction to the Hollywood High School show.
Tracklisting:
Alma Matters
Ouija Board, Ouija Board
Irish Blood, English Heart
You Have Killed Me
November Spawned A Monster
Maladjusted
You're The One For Me Fatty
Still Ill
People Are The Same Everywhere
Speedway
That Joke Isn't Funny Anymore
To Give Is The Reason I Live
Meat Is Murder
Please, Please, Please Let Me Get What I Want
Action Is My Middle Name
Everyday Is Like Sunday
I'm Throwing My Arms Around Paris
Let Me Kiss You
The Boy With The Thorn In His Side
Comments