New album from Ultravox
Following Ultravox's return to the live arena in 2009/10 with their "Return to Eden" tour and their signing with Universal Records, the band now announces new material. The band has been working on an album since Autumn 2010. Here's some explanation from the band.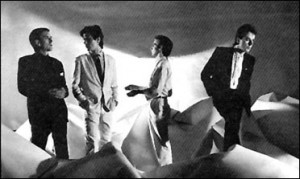 "We've had such a great time performing our old songs over the last two years that we just didn't want it to end! There's an immense satisfaction in looking across the stage and seeing those familiar faces playing the songs that we wrote as a unit. When we sat down to attempt to write some new songs we found that the ideas just kept coming and so a new album became not just inevitable, but something we really wanted to do together. Once again the whole has proved to be greater than the sum of the parts."
And that's not all because Ultravox will also be releasing a live EP, "Moments from Eden", due to be released by Eden Recording Ltd on February 21st. The 4 track CD is also being released as a Limited Edition 10″ vinyl disc and features "New Europeans", "White China", "Love's Great Adventure" and "Herr X". The last song is a special version of "Mr X", with Warren Cann vocalising in German.
Short background:
Ultravox is a British New Wave rock band. They were one of the primary exponents of the British electronic pop music movement of the early 1980s. The band was particularly associated with the New Romantic and New Wave movements.
Until 1979, the frontman of Ultravox was John Foxx who left the band to embark on a solo career. Following Foxx's departure, Midge Ure took over as lead singer, guitarist and frontman, and he helped to steer the band to commercial success.
Ure left the band in 1987 after establishing a solo career and the group disbanded for a while. A new line-up, led by sole original bandmember Billy Currie, was formed in 1992, but without success.
The band's most well known line-up of Currie, Cross, Cann and Ure reformed in 2008 and have toured together since then.
Via SL
Comments