Reaktor User Library Harvest week 49
Reaktor week 49 by Stereoklang Produktion
Replicant by Shohei Sato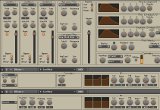 This is a subtractive synthesizer with 3 oscillators and 2 filters (serially-cascaded high-pass and low-pass filters) with two multi effects, two eq's a compressor and a limiter. Each oscillators uses BLIT method to prevent aliasing, and the filters offers a selection of vintage models. Modulation is not extensive but does the job and more. There are no explanations or instructions however this is a pretty straightforward analog emulation. 6 snapshots are included with a few bass sounds.
YVocoder by Jan Brähler
This is a vocoder optimized to be offer custom number of bands (equal to the number of voices)
keeping the frequency-response near linearity. Core of the vocoder are redesigned (slightly modified) Butterworth-bandpasses (2p, 4p and 8p). (Used filterbank tool is in the zip, but it is very chaotic).
There is also the possibility to switch to 2pole module-filters to make use of hundreds of bands without the cpu being eaten, but in this case the resonance has to be adjusted manually. No guiding text so unless your familiar with vocoders some trial and error are needed and B view offers quite a few parameters ;-). But 14 snapshots are included to get you going. Remember to adjust the voice numbers in the inspector pane – it really changes the sound character!
SpaceDrone and Metaphysical Function adaption by 33 Tetragammon
Two of the drone ensembles provided by NI are here modified to include snapshot morphing and a new gui. SpaceDrone inludes a bunch of snaps but Metaphysical Function has no snaps and no samples so you need to add that beeefore it makes any sound.
Rmtx4 by Thomas Henneb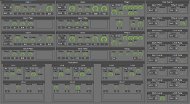 Rmtx4 is a FM synth which features 4 classic oscillators (saw, square, sin, tri), with 4 ADSR envelopes. Each oscillator can modulate the frequency of the 3 others, allowing you to create your own FM algorithm. The sound goes through 2 parallel multimode filters with waveshaping, then to a filter delay. The modulation section consists of 6 lfos and 3 envelopes that can be assigned to 16 destinations.
The fm possibilities combined with the amount of modulators allow quite a wide range of sounds although no mouse over text. 33 snapshots are included and if you like snap titles like "Gilip Phlass" and "Bored of Canada" then this is for you!
Link to previous Reaktor Harvest reports.
Comments