Will EBM act AND ONE survive this?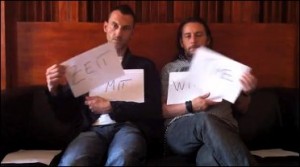 Chris Ruiz and Gio van Oli have left And One. Here's a translation of what they posted on Facebook: "We made a decision. After years with AND ONE we, Chris and Gio, will run another path. In the end the attitude towards music and life were too different. If all is only about being replaceable and functionless, we can't work with that. We see AND ONE as something different as it currently is. We want and have to move. We are not mainstream – we are EBM!"
The two musicians have now formed the Berlin based band PAKT, which according to the statement above probably will be a pure EBM act with the baseline 'Two simple guys just wanna play with you'. You can find PAKT on Facebook at www.facebook.com/PAKTofficial .
Along with the link to their new project the duo also posted a goodbye video on YouTube. You can watch it here or after the jump. Notice that the song played on this goodbye video is And One's "Playing Dead".
And One in the meanwhile started the Unheilig support tour today with Rick Shah and Joke Jay returning to join Steve Naghavi on stage.
Via SL
Comments