HOCICO
Exclusive radio interview with industrial act Hocico at ElectriXmas 2011
We continue our reporting from this year's electronic music event in Sweden – ElectriXmas. This time Steelberry Clones had an interview with Hocico, the agrressive industrial electronic act from Mexico (although they live in Germany today). Backstage we asked the lead singer of Hocico everything ranging from the new album, how it is to play in Russia and their take on iOS synth apps.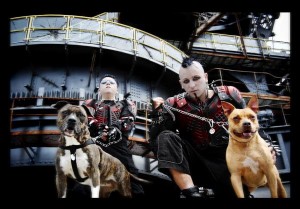 The duo was officially formed in 1993 by Erik Garcia a.k.a Erk Aicrag (lyrics and vocals) and Oscar Mayorga a.k.a. Racso Agroyam (Programming), but both cousins had been experimenting with electronic music, mixing industrial and EBM, since they were fifteen years old. Their music can be described as electro-industrial. Erk Aircrag and Racso Agroyam incited to express their feelings through technology. Given the influence of varying currents of electronic music (mainly Skinny Puppy) they began their trajectory in 1989 in a project called "Niñera Degenerada". Their lyrics are both in Spanish as well as English. The Spanish word hocico means snout, and is used in Mexico as a dis-respective way to describe someone's comments coming out of their mouth.
Racso Agroyam has a side project called Dulce Liquido.
Erk Aicrag has a side project called Rabia Sorda.
Bite me! Video clip produced by "Crazy Clip TV", Album "Tiempos De Furia" Out Of Line Music 2011
Find out more about ElectriXmas by clicking the logo below: