Celluloide Beats
Review: Massive beats from Nuclues SoundLab – Celluloide Beats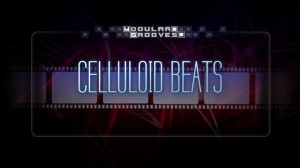 Time again for a review here at Steelberry Clones – this time we have taken a closer look at Nucleus SoundLabs' new Reason Refill called Celluloide Beats.
To begin with Celluloide Beats consists of around 50 or so Combinator patches and associated sounds recreated as REX-files. Due to the way they are built they may easily be run in anything from 60/70 BPMs up to 270 > or so BPMs – it will still sound great. To get an overview of what you are getting I would loosely categorize it as multi-sampled drums, beats and percussions into a massively unique and powerful mix of rhythms and sounds that would easily fit into dubstep, electro, house, techno type music, but I would not limit it to that since there are several intriguing ambient type sounds with a real sci-fi / cinematic approach to them.
A good thing with the CMBs are that they are very easy to work with, partly because each CMB is more or less a full mix in itself with limited need for further mixing and mastering, and partly because they are using fairly common rhythms meaning that the tempo and the sequenced beats are not overly experimental. Each Combinator patch in a Celluloid Beats contains 8 loops – 1 original loop and 7 creative loop remixes. This is achieved, according to Nucleus, by using the Slice Edit Mode on Dr. OctoRex to change filtering, decay, volume and more on a per-step basis for each loop. Going farther than that, unique FX are added to each patch which are used to effect specific loop slices – so each slice in a loop can have a different distortion, filtering or delay. The resulting loop remixes sound incredibly complex, but they certainly aren't complicated to use.
Celluloid Beats ReFill Demo – Lewis Osborne by Nucleus-SoundLab
So what does it sound like: Well several of the CMBs and REX-loops have strong reminiscent of modern day Kraftwerk type sounds with metallic type sounds and beats, while others reminds a whole lot of what you would probably find on a new album from Daft Punk (one CMB could almost classify itself as a Daft Punk rip-off, although with several more layers to it). In general there is a wide variety of sounds and beats in this Reason Refill and as mentioned it would surely trigger your inspiration if you are producing music in any of the genres mentioned above. At some points though I might have wished for a little more breadth to the Refill, but on the other hand each CMB included is in general powerful enough to be the base for a new song. The REX-files I treat more as a bonus if you want to have it the easy way and not make any additional tweaking to the CMBs.But the fact that you have the REX-files raw users can easily load these loops into other sampler, such as Kontakt, Ableton Live, Battery and more without any hassles.
40 24-bit 44khz REX2 loops form the base of Celluloid Beats
280 loop remixes using all 8 loop slots on Dr. OctoRex
Each patch built exclusively for Reason 6
All REX2 loops included outside the ReFill, for use in other samplers
Detailed PDF documentation on the creation and operation of the ReFill
Recommendation:
If you are into electronic beats, regardless of genre, this Reason Refill is definitely worth checking out

Click here to view more details
Nucleus SoundLab unveils the first ReFill in its new Modular Grooves series – Celluloid Beats