Steve Jansen (Japan)
Worlds in a small room – interview with Steve Jansen (former member of Japan)
Steelberry Clones had the great opportunity to talk to Steve Jansen during his recent visit to Sweden. Steve Jansen was former percussionist in the legendary 1980's new romantic act Japan (also featuring David Sylvian, Richard Barbieri and Mick Karn). After the band decided to quit in 1982 Steve has embarked on a long and successful journey, some times in collaboration with his brother David Sylvian on his solo albums, sometimes in more unknown appearances together with Japanese artists like Yukohiro Takahashi (YMO), but also driving more pop orientated endeavors with the Dolphin Brothers, which he started together with Richard Barbieri. Steve Jansen has at many occasions been dubbed as one of the most important percussionist of his time, and the characteristic sound that gave way for their all time selling album Tin Drum, has provided him with the opportunity to play with most of the leading artists since then. I wanted to know more on what has happened since then, his views on today's music scene and the evolution of electronic music, as well as discovering his more recent works in the border lands between pop, ambient, arts and experimental music.
Today's music scene
Steve Jansen is a highly productive musician, if it is not something on his own doing you will certainly find Steve in collaborations with David Sylvian, John Foxx, or as part of the band on tour with Ryuichi Sakamoto in Japan. So I asked Steve to give me an update on what he is up to right now and his collaboration with Sugizo.
Most recently Steve has been involved in finalizing Mick Karn's new Dalis Car album, partly to keep his spirit alive, but also as a fund raising initiative for his relatives. Steve has therefore been active both as a mixer and performer of the new album and engaged in the process of reworking some of the new tracks. The yet untitled album is due out in the October – November time frame. As most of you know Mick Karn died recently and one of things that Mick Karn was doing at the time was to produce a new Dalis Car album. Dalis Car's first album "The Walking Hour" released in 1984 was an interesting album where the borders between various musical styles were mixed to create a very unique album at the time. With Sugizo Steve recently contributed a rhythm track to a new recording, a track also featuring Mick Karn on bass.
With some thirty years as a musician, working across most prominent genres – as a new romantic pop star as part of Japan, to exploring the fields of ambient electronics and jazz fusion, to bridging the gap between modern art visuals and experimental music, it is highly relevant to ask Steve's view on today's music scene. Steve says that today's scene is of course in many ways very different from back when he started his career. The power of the record companies put a lot of constraints and pressure on the bands to deliver on time, but also to make music in line with what they and the fans were requesting – "pleasing the record label almost became a means to an end", Steve says. Today you have much more freedom to explore and the artists does not work under the same pressure. So although it is harder to make a living you are the one in control. With modern music technology you almost have endless possibilities to manipulate sounds and craft your own ideas – inside your head.
Back to Japan
You really cannot write about Steve without touching on the subject of Japan, both as a band and as the country where both David and Steve over the years has continued to find inspiration, collaborations and a solid fan base. When Japan ended as a band in 1982, (doing their last tour in Japan, followed by a live album), the band members ended up doing several projects on their own or in collaborations with each other.
I wanted to know how this fascination with Japan as a country came to shape their music going forward. Steve tells me that it has probably been more that they have all individually made their own subjective interpretations of the music. And although it was a strong influence on the Tin Drum album, Steve says that more recently it has been more important for him to embrace modern rhythms and electronic sounds, although that he has in his collaboration with Sugizo  been working to incorporate the sounds of traditional Japanese Taiko drums.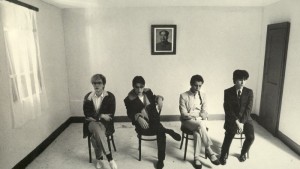 Steve and David Sylvian have over the years done several highly acclaimed albums where they have been exploring the boundaries of ambient, electronic and jazz. As a listener you can easily picture late night improvisations where Steve and David together with other musicians like Harold Budd and Robert Fripp, would jam together beautiful ambient landscapes. I wanted to know if this was an accurate image of the music production process and how the songs took their shape. Steve directly jumps to the time of the Rain Tree Crow album, which in his mind was the best album they ever produced. "The four of us has always been very much drawn to the experimental side of things and it has also been very important that everyone in the team gets their freedom in the music production process", Steve says. It is also clear from what Steve tells me that the atmosphere is essential, since it is often a very long process from the first sessions to a complete album. For the Rain Tree Crow album they embarked themselves into Jack Lucier's estate for a couple of months. Steve continues saying that when they were working on the Nine Horses album it was truly a laborious work where all the pieces gradually developed and evolved from exchanging audio-files over a long period of time. So even though jam sessions are a natural part of their creative process and far from always so successful, the real treat comes from the "accidents" that occur during these sessions.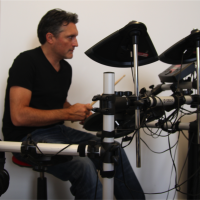 "During a session we would typically record everything and afterwards when going through the material we would find something that triggers our imagination and we will use these samples to create a library of sounds", says Steve. The "accidents" will then be loaded onto a PC to be further manipulated either in ProTools or Digital Performer, the latter a DAW that has followed Steve for a long time. "It is a very stable and reliable system", Steve says. The sounds will be looped in such a way that it captures your ear. I came to ask Steve if he had any favorite plug-ins for the mixing and mastering side of things, but he says that it is very time consuming to enter the realms of plug-ins – "I prefer putting together a jigsaw puzzle of the raw samples", says Steve.
Borders between pop music and experimental
Steelberry: "You have been moving back and forth between pop music (Japan, Dolphin Brother etc) and ambient music for quite a long time. Where do you feel most at home, where is your stage today?"
Steve tells me that he does not go in the pop direction anymore, Dolphin Brothers were more or less a one off event in his career. Some collaboration has taken place over the years that are more pop orientated, but it is not a scene Steve personally seeks to explore. "I don't set out to be radio friendly – my comfort zone would definitely be outside the pop zone", says Steve. Steve rarely sings, despite the fact that he has a fairly good voice, so I asked Steve where the vocals went – and Steve tells me that he himself has never thought of himself as a good singer and that Dolphin Brothers was a one off event, but that it was an interesting exercise in itself to write "favorable" pop songs.
Although pop music is a thing of the past for Steve the legacy of Japan as the kings of the New Romantic era continues to linger on. Japan started out as glam rockers, but later converged into a style that took large inspirations from other acts at the time, like Roxy Music and David Bowie. The connections to Roxy Music was inevitable says Steve, "we had the same producers, we were in the same field of electronics and so forth – and it wasn't until "Gentlemen take polaroid's" and the Tin Drum album we really started to push our boundaries into new directions".
Since then Steve and the rest of the Japan crew has deliberately moved away from the traditional pop scene, only to re-emerge in the form of the Rain Tree Crow constellation to which Steve comments: "The only piece worth listening to today".
On his own with SLOPE
Steelberry: "If you look at the SLOPE records you seem to be doing everything; string arrangements, drums, computer programming etc. Can you tell us a little about the concept of SLOPE and what your ambitions with SLOPE are?"
Steve tells me that SLOPE is his first solo album and it took a long time to get there. Originally the tracks were aimed to be part of the Nine Horses album, but apparently came to form the basis of his solo venture. Interesting to note is that the entire album was done virtually sending files back and forth, a mode of working that Steve truly enjoyed. The album features several prominent guest vocalists like Tim Elsenburg, Anja Garbarek, Nina Kinert and David Sylvian. "The album really required people who could deliver and it was an album that never could have been done in a studio setting", says Steve.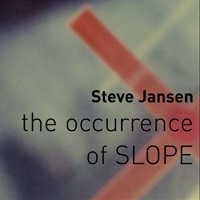 Steve has more or less always been part of a team in the music creation process, so I asked Steve what is was like to do a solo project. Steve replies that of course it was intriguing to be in full control of the material and the creative process; you really had the opportunity to take the music in your own direction, without compromises – Steve ads. "It was more challenging, more responsibility and more pride involved – it represents you", Steve says. "It had to be an accurate representation."
SLOPE clearly follows in the musical direction that all the former band members of Japan has pursued over the years and we came to discuss two of my favorite experiences where Steve has had a leading role "Worlds in a small room", by Jansen/Barbieri and "Kinoapparatom", which both takes a stab at merging experimental music with modern arts and visuals. I asked Steve how these albums came about and the fascination with Man With a Movie Camera? "Our intention was to add sounds to visuals, since you get such an immediate reaction – a drama where visuals help you interpret the audio", says Steve. "Kinoapparatom" can, depending on who is watching and what audio you add to it, appear dark, powerful, happy and your perception changes depending on what you see and the sound will affect your impressions.
Remaining on the niche scene
Today you will find thousands of videos on Youtube and Vimeo featuring advanced electronic installations, augmented audio experiments, modular synthesis, computer generated noise to name but a few. We came to discuss whether this would remain as a niche scene or if we can see these alternative art forms emerge on the front stage. Steve says that it is a necessary part of the evolution of electronic music, a form of expressiveness that sometimes tends to be very non-musical. Some of it could very well be commercialized, but in general it is clear that going for mass-appeal for a broader audience often is not so adventurous. "The pop formula is very recognizable", says Steve and ads that the underground niche scene not necessarily needs to be mainstream going forward.
Drums from the past
The Simmons SDS V, SDS5, or Simmons Drum Synthesizer was the first viable electronic replacement for acoustic drums. During the Japan era Steve was using the Simmons 5 so I asked Steve what he enjoyed with them and why he abandoned them after Tin Drum? Steve tells me that he actually only used them live and that they were actually a torture to use. Due to some strange plastic wrapping they did not have any real sensitivity to them and few modes of elaboration, thus extremely hard to play. But the good thing was that they always sounded the same and they looked good, Steve says with a smile (probably also remembering his soar arms and hands after each gig).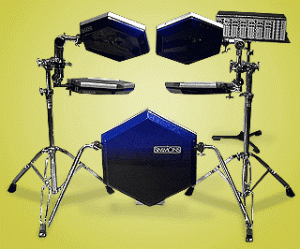 Steve is very much an acoustic person, he mentions owning a Roland V-Drum kit, but only uses it for rehearsals. "I tend to record stuff instead or use other sources", Steve says. Steve uses a lot of samples that he puts straight into Reason's ReDrum with minimum of effects. Steve enjoys the raw sound of the original samples. Steve admits that he is, just like Richard Barbieri, a Reason fan within reason. "I mixed Richard's latest album and everything was running live in Reason, not at all my way of working – I like to have it all recorded". Steve has always been a highly acclaimed drummer and I asked whether he had any specific tricks up his sleeve, but he says that it is probably not so much any specific tricks or sounds that has made his sound unique but rather the unexpected placement of the sounds in the mix. "Later in the studio I can choose to humanize or de-humanize the sound as I please", Steve says.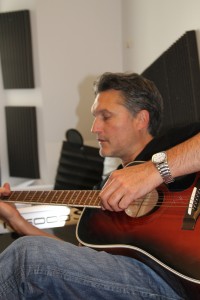 Explosion of new gear
Steelberry: "Today we have an explosion of soft synths, samplers and iOS/tablet type electronic instruments – is this a pure positive thing or are we loosing our roots in what music creation is all about. " Steve says that you still got the traditional format, you only got more options today – "and I am all for it", Steve says. By saying that, it is clear that Steve is not a retro gear collector and what really count in Jansen's world are natural sounds from real instruments. However, he mentions that for example Electric Keys is a natural part of his ensemble today, paired with various samplers. "What really matters is how you organically interact with an object or instrument – modern electronic devices can never replace the real instrument – there always have to be a physical act involved. The Garageband way of making music, the drag'n'drop style, really makes the creative thought process go away.
For more info: