Lustans Lakejer
Diamonds are forever – Interview with Johan Kinde, Lustans Lakejer
Stereoklang got an exclusive interview with the legend in Swedish new wave, glam rock, and synth pop – Mr. Johan Kinde. The frontman behind the cult band Lustans Lakejer (in English it would be something like "the lackeys of lust"). LL has been around since the early 1980's and there music has always dealt with the passions in life, at least from a male perspective; women, champagne, love, dreams, passion, forbidden fruit, but at the same time with a glimpse in the eye and you can sometime sense that there is a backside to the life of a playboy. Johan and LL has made a long list of classical songs over the years and even had collaborations with some of the members in the UK cult band Japan (Mick Karn and Richard Barbieri). Stereoklang wanted to catch up with Johan now that LL has a new album out and they are ready to hit the road again.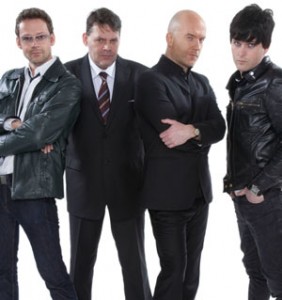 How has the new record been received and are you happy yourself with the result?
"Absolutely!!! The record has been receiving great reviews and has actually climbed to the highest position in the album charts relative to all previous LL albums. Now we are so eager to tour with the new album all across Sweden."
The album for those of you have not heard it yet, is to us a record that takes LL back to its roots, with the synthesizers more in the front, a more electronic touch, but still flirting with sounds found on more recent works like Åkersberga for example.
"In a sense you can say that we really had this ambition from the start, to right more hip songs that are more immediate and perhaps shorter, kind of more fit to be synthesizer based. We wanted them to be more up-tempo songs with more bass sounds. We even had a version of the album that was even more "synthish" – kind of like LL meets Depeche Mode. The Swedish synth pop act SYSTEM even made a remix of the song "Eld och vatten", it was almost as if Vince Clarke had been involved." More over having Jenny Silver singing a duet with Johan almost gives it kind of a "Fade to grey" – kind of feeling.
"As I see it the synthesizers actually won the war over the rockers. Just listen to today´s music scene where synths are more important then ever – Lady Gaga just to name one, even though the traditional "synth music" became more of a niche scene. I think this partly because they just became carbon copies of bands like Depeche Mode – for that reason I found it more interesting when the electro wave came about."
So what synthesizers can we find on the new album?
"It is a combination of hardware and software synths." Johan let us know that he is not very much of a synthesizer guy at all, even though he sometimes gets the lust of acquiring some of them. On the new album, however, you will find the KORG Polysix on almost all of the songs (played live in the recording sessions), coupled with some vintage modular synths kindly supplied by P. Levin from System. The fact that Johan plays most of the instruments himself on the album (not being a true keyboard guy), synthesizers and guitars, gives the album a more natural feeling and not too perfect, a live feeling kind of.
The lyrics has always been a central piece in the works of LL, so we asked Johan for the real story behind the lyrics
The life of a romantic – is probably the best description you can give to the works of Johan and LL, but are they true stories or just dreams? "Most of it is actually self-experienced. Often people say that in the early days it was dreams, but now it is self-experienced, but the truth is more that in the early days I did experience the things I was writing in my lyrics, but PERHAPS I dressed it in words that made it sound better then it was ☺. Books and movies has always inspired me. I always start with the melody and when I find a title that I enjoy I will make that the base of the remainder of the song. For example a biography by Gloria Vanderpilt had the beautiful title – It seemed important at the time.
LL has worked together with the famous UK 1980's act Japan and with the death of Mick Karn last year we wanted to ask a little about how this collaboration came about
"It was Klas Lunding, started Stranded Rekords 1979, who put us in touch with Mick Karn and Richard Barbieri. Flying in from Los Angeles the ex-Japan member joined LL in the studio for three days playing the saxophone for example on the song "Läppar tiger, ögon talar" (trans. Lips are silent, eyes are speaking), a song that we will play on the tour as a tribute to Mick Karn." We asked Johan if there still is any un-released material hidden somewhere from those early days with Japan, but unfortunately not. "Mick and Rich were very nice and we had so much fun working together."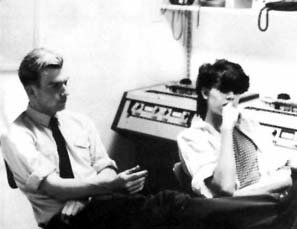 If you want to read more on this subject >>
How do you enjoy today's music scene and how has it influenced your own writing?
"There is so much good music being released and my influences come from many sources. I enjoy DJ-ing and then I kind of have a crush for something that is sometimes referred to as "new disco", kind of like synth disco, a bit slower, down tempo, pretty popular in the NEW York music scene right now. A label that enjoy is e.g. Italians do it better, with acts like Mirage and Last candy."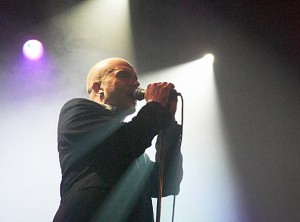 "When it comes to my own writing I think I have become a little more skillful. I always start writing the songs on my guitar and with today's studio environment I don´t need to have anyone in the band on site to make a song, which is of course both a good and a bad thing. For example on the song "Förbjuden frukt" on the new album I have used the ReDrum in Reason, not intended to stay in there but it actually gave the song something that I quite enjoyed. I believe one of my strengths is my ability to get the groove and the beat going." I have actually started to get a small studio set up; a new Mac powered with Logic is in place, so far mostly used for making early sketches, but I must say that I am getting more and more interested in purchasing more of the real stuff. Although I am afraid that if I start to get too involved in turning and twisting synthesizer knobs it will have a negative effect on the production process – the time to get the songs ready that is.
Have you ever done some more experimental stuff outside your comfort zone?
"I guess the most different things I have been up to is when I toured with a complete acoustic set up a couple of years ago. Although we played some LL songs on the tour we did them in a bozza nova type style. We might even do a full album like this some time soon." We are also interested in releasing more of LL on DVD with live performances etc – however unfortunately there is not much material left from the old days and to make live performances on video today is fairly expensive." NOTE: To readers, if you posses live material from old LL performances please let us know by sending an e-mail to info@stereoklang.se, and we will see if we can aid Johan in getting a retrospective DVD in place.
Finally we asked Johan about the Forever Young tour and when we will have the opportunity to see LL live across Sweden
"The Forever Young tour was a tremendous experience for us and we really enjoyed it. We met with several of our old friends and colleagues from the old days, like Midge Ure, Alpha Ville, Reperbahn etc. But I think one of the most fun parts was that Howard Jones had really appreciated our performance and wanted to have his picture taken with us, Howard said "You must be huge in Sweden!" ☺. Personally I think Ultravox was the treat of the night."
To wrap things up we really encourage you to watch Lustans Lakejer live this Thursday in Stockholm. Johan says that it will be a 2 hour long concert and we are all in great shape, Christer (Hellman) and Tom (Wolger) and I have rehearsed a lot before this concert.