Rifflab for NI Reaktor – new powerful step sequencer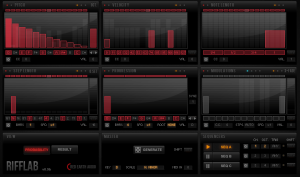 Red Earth Audio has released Rifflab for NI Reaktor. Rifflab is a probability-based step sequencer capable of generating and playing up to 3 scale locked sequences simultaneously. Each sequence is generated in accordance with the probability parameters set by the user. The Probability sliders allow control of Pitch, Velocity, Note Length, Step Length, Progression, and up to 7 Modulation lines for each generated sequence. It is designed for producing basslines, leads, melodies, chords and arpeggios.
Each click of the Generate button will create an entire new sequence based on the probability parameters a user has set. Rifflab does not output any audio itself, but sends generated MIDI data to the chosen MIDI channel (s) to drive anything that allows MIDI input.
Features:
Generates up to 3 sequences at a time.
Generate values per panel, per sequence or all 3 sequences simultaneously.
Set Key and Scale – ability to make own scale.
Scale lock on playback – all notes forced to scale.
Value lock – Keep wanted values and only generate new values for unlocked steps.
Up to 2 octaves per sequence.
Base octave per sequencer.
Variable step lengths – including dotted and triplet notes.
Rest notes (0 Velocity slider).
Variable playback speed.
Up to 64 notes per sequence.
Up to 32 bars per Progression.
Variable Note lengths from 1/4 length to full length.
MIDI output up to 3 separate channels.
MIDI CC output via 4 Modulation panels, as well as Pitch, Velocity and Note Length values.
MIDI in triggers for Progression and sequence output.
Progression sync to all sequencers.
Timing Offset per sequence.
Shift steps per panel, sequence or all sequences.
Ability to skip steps or randomize played steps.
Low CPU usage.
Price: $9 – A free Lite version is also available.
Comments