Access Virus TI Black Snow synthesizer released – all the details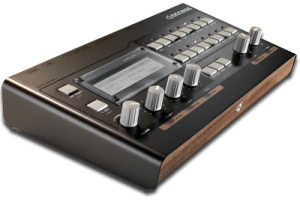 Access has officially announced the Virus TI Black Snow synthesizer.
Here's what they have to say about it:
We're celebrating 15 years of ACCESS!!
For that reason we're releasing
15 black TI Snows on this black friday!
10 are available right now in our online shop – the other 5 will be for sale at 20:00 MET.
Go to http://virus.info/shop/start if you want
to get a grip on one of those black beauties!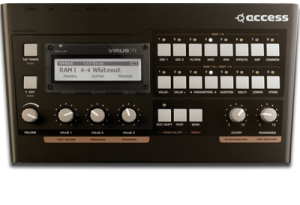 The Virus TI series comes in different flavors. You're looking for something ultra compact and yet powerful? The sturdy Virus TI Snow features exactly the same sound engine like its bigger Virus TI brothers. It fits on an issues of Time magazine and has proven itself to be an ideal companion for musicians on the road or with limited desktop estate.
The Snow features 4 multimode parts and about 50% of the polyphony in comparison to the bigger models. Those result in everything in between 10 and 50 voices cranking out the same powerful signature sound like all other Virus TIs. Each and every voice can use up to four oscillators in parallel including Virtual Analogue, Wavetable, HyperSaw and Grain Oscillator models. The filter section comprises two independent multi-mode filters with optional Mini Moog emulation and self-resonance. An extensive array of parallel effects enable you to compose highly complex sounds in virtually no time.
In Multi mode, your patches sound 100% identical and include all of the effects. The 4 independent parts can be routed to 1 Stereo Analogue or 3 USB outputs streaming audio directly into your sequencer workstation. The software suite includes a VST, RTAS and AU compatible plug-in allowing for total recall, sample-accurate timing and modern automation features.
The audio inputs and outputs can be optionally used as a sound card in your sequencer. The hardware knobs can be used to either control the Virus' sound engine or compatible third party software plug-ins.
Comments