All the details on the new workstation – AudioStation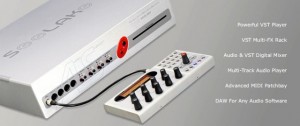 The Seelake AudioStationis a all-in-one audio workstion, combining a powerful CPU, multiple audio and MIDI inputs and outputs and microphone preamplifiers in one device. AudioStation can be used in many situations both live and in the studio, thanks to the integration of a powerful CPU, multiple audio and MIDI inputs and outputs, microphone preamplifiers and an operative system expressely built and tailored for real-time audio signal processing and compatible with every audio application written for Windows.
AudioStation functions:
Powerful Multi-Instrument VST Player
VST Multi-FX Rack
Advanced MIDI Patchbay
Performance Digital Audio Recorder
VST and audio Digital Mixer
Multi-Track Digital Audio Player
Main features:
Powerful processor
Large RAM memory
1 or 2 large hard disks
DVD writer
Main Operative System expressely built and optimized for audio signals, based on Microsoft Windows kernel and compatible with any musical application written for Windows.
AudioStation software Audio and VST Mixer-Host integrated in the operative system.
Completely independent additional operative environment, to use AudioStation like a traditional computer for word processing, graphics, web or any other, with no risk to the AudioStation audio/musical functionality.
operative environment for the maintenance of the device, where users can: restore factory defaults; clone installations into the (optional) backup hard disk and vice versa; wipe the file system in case of shocks or free falls
Audio system with 10 I/Os and high quality converters
MIDI system with 8 I/Os and ultra precise timing
Live Control remote controller for controlling AudioStation in live performances with no need for monitor, keyboard nor mouse
Specifications below. See the Seelake site for details.
Features
CPU:
Quad-core latest generation processor (updateable)
4 GB RAM Memory
1TB SATA 3 Hard disk, 7200 RPM (updateable)
Dual layer DVD writer, with slot-loading mechanisms
PS/2 connector for PS/2 keyboard and mouse (not included)
3 Video connectors for hooking up 1 or 2 displays (not included):

1 D-Sub 15 for VGA connections
1 DVI-D for digital monitor with resolution up to 1920×1200 (DVI to VGA adapter not supported)
1 HDMI for digital monitor with resolution up to 1920×1200

6 USB connectors:

4 USB 2.0 type (USB 1.1 compatible)
2 USB 3.0 type (USB 2.0 compatible)

RJ45 connector for Gigabit LAN.
Optionals:
1TB or 2TB Backup hard disk, can be used in case of fault of main hard disk (must be factory installed)
2TB main hard disk (must be factory installed)
256 GB or 500 GB Solid State Disk (SSD) (must be factory installed)
Audio/MIDI System:
4 high quality microphone preamplifiers (in analog inputs 1-4), each one with:

Adjustable gain over 60dB
Signal and clip LED
48V Phantom power with activity LED

8 analog inputs:

Inputs #1-2 with combo connector XLR+TRS 6.3mm jacks
Inputs #3-4 with combo connector XLR+TS 6.3mm jacks
Inputs #5-8 with TS 6.3mm jacks

8 analog outputs with 6.3mm TS jacks
+4dBu/-10dBV signal level can be adjusted via software individually, for inputs and outputs
Stereo digital coaxial S/PDIF input
Stereo digital coaxial S/PDIF output
Word Clock I/O for sample-accurate syncing of external digital audio devices
8 MIDI I/Os (2 I/Os on front panel and 6 I/Os in rear panel), 128 MIDI input channels and 128 MIDI output channels
LiveControl safe connection plug
Live Control:
Alpha-numeric backlighted 2×20 characters display
10 encoders:

9 endless rotative
1 endless rotative with push

22 enlighted buttons
Main unit safe connection plug
Comments