BLOW YOUR MIND – brain controlled synth module

The next module by the Italian company Soundmachines might BLOW YOUR MIND in multiple kinds of ways…
With their latest announced module you will be able to control your modular (or your synth) with your brain.
The module is compatible with the battery-operated MindWave Mobile (by 
NeuroSky
) headset.
The Mindwave Mobile was chosen for its low cost and rather good EEG capabilities.
The headset is connected to the module via a Bluetooth link, so that NO wires are running from the modular to your head.
It features:
– Attention (focus) and Meditation macro states
– Variable smoothing
– EEG Raw signal with gate generation
8 EEG power spectrum bands:
– delta (0.5 – 2.75Hz)
– theta (3.5 – 6.75Hz)
– low-alpha (7.5 – 9.25Hz)
– high-alpha (10 – 11.75Hz)
– low-beta
– high-beta
– low-gamma
– high-gamma
– Planned MIDI expansion
– Configurable (midi-channel,cc, etc…) with included serial interface
Soundmachines is expecting to release this module around June 2014.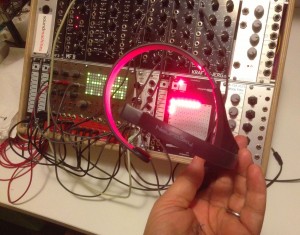 Comments