Classic cult band New Order reform for two benefit shows
New Order will reform for two benefit shows (not a full reunion though since Peter Hook will not be part of it due to some recent troubles). Instead New Order will be joined by Bad Lieutenant's Tom Chapman on bass and Gillian Gilbert on synths for two one-off gigs in Paris (La Bataclan) and Brussels (Ancienne Belgique). The Manchester band will play in Brussels on October 17 and in Paris on October 18 to raise money for film-maker Michael Shamberg, who is struggling with a debilitating illness.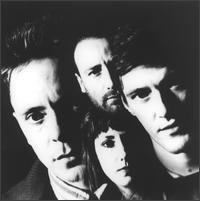 Michael Shamberg has been with the band from the very start, initially he was in charge of Factory New York. He later on became the creative producer for all New Order's early videos. He is also the one who invited New Order to check out directors such as Kathryn Bigelow, Gina Birch, Robert Breer, Peter Care, Phillipe Decouffle, Jonathan Demme, Robert Frank, Paula Greiff, Robert Longo, Bailie Walsh & William Wegman.
According to Peter Hook, this reunion isn't a reunion at all but that the cause is justified. The fighting goes on.
Via SL
Comments