Closer look at the 16 Step Sequencer Vari-Clock Quantizer
This is a demonstration of the features of the new Vari-Clock Quantizer for the MFOS 16 Step Sequencer.
"You can make one yourself but it's a very challenging project and I don't recommend it for people just getting started. Seasoned synth-diyers will have no problem with this project. PC boards will be available in a few weeks if you're interested (sometime in June 2012)."
Here is a link to the project:
http://www.musicfromouterspace.com/index.php?MAINTAB=SYNTHDIY&PROJARG=SEQ…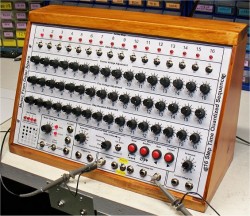 Features:
Each step's duration can be set independently.
Each step's duration is settable from 1 to 16 clock cycles.
Main clock adjustment affects all steps equally.
Clock selection: Quantized or Normal
Two gate/trigger modes: Single per step and Multi per step.
External clock supported.
Clock out supported.
Comments