Frequencies from the Serge
The Serge synthesizers are the creation of French electronic/synth designer Serge Tcherepnin. They are analog modular systems that began production in 1974, and continue to be produced to this day. The Serge concept was that a powerful, musical and great sounding analog modular system could, unlike the Buchlas, Moogs and ARPs of the time, be smaller, more compact and most importantly: cost less, making them far more accessible to musicians looking to jump into the bold new world of electronic music and sound design.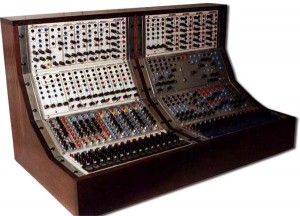 Although Serge was French, the modular systems that bore his name were orignally designed and produced in Los Angeles, CA. Initially designed in 1974 (in Serge's home), mass production of the systems began in 1975 and continued until 1986. There was a rough period between 1986 to 1993 where modules were still produced to special order (slowly), but full production resumed again in 1993 after Serge's circuit designs were sold to Rex Probe (an early collaborator) who went on to found Sound Transform Systems, who continue to produce many of the original Serge modules, plus a few new one's of their own design.
Influences of the Buchla can be seen in Serge systems, such as touch sensitive keyboards & sequencers, random voltage generators, function generators, and matrix mixers. Yet the Serge has many unique designs of its own such as the Wave Multiplier module and the use of banana plugs in lieu of traditional patch cords. Its filters are unqiue sounding but it may be the Wave Multiplier module that truly sets a Serge apart as it is a totally unique synthesizer section that sits between the Oscillator and Filter sections and allowed for external audio or control voltage signals to be used to modulate the timbre of the oscillator's tones.
Originally, Serge systems were custom built to order. Like any modular system a buyer would pick and choose individual modules they want and assemble them into a cabinet. However, to reduce the price tag and make them more accessible to musicians not interested in building a modular synth from scratch, Sound Transform Systems sells Serge systems in pre-configured systems: Shop Panels and the M-Class.
Comments