Hornet – handmade classical portable modular synthesizer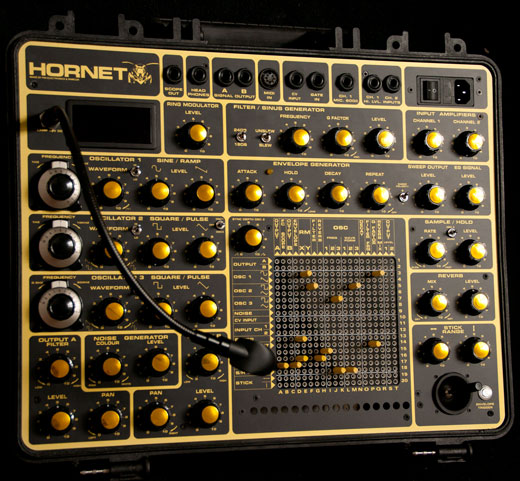 Hornet – handmade classical portable modular synthesizer with subtractive / FM analogue synthesis.
PCB design by Derek Revell.
Features
3x OCS's, switchable from hi to lo (OSC). OSC 2 with sync switch and depth pot.
1x VCF (18/24 dB)
1x Envelope Generator with inverter switch.
Ghielmetti matrix: 20 x 20 signal distributor with black panel (Sealectro look) and 16 pins.
Midi interface.
CV / Gate interface: in and outputs.
Sample & hold module
Digital frequency meter: Range 20-20000Hz.
Removable 12V BNC lamp.
Symmetrical outputs.
XY axis joystick.
Noise generator.
Spring reverb.
Suitcase with removable lid.
Additional modifications on request.
How to order?
Your Hornet will be made to order, so it is essential that we schedule its production as soon as possible.
Once your order has been placed and payment received, we'll start the production process.
4999€ net. Price does not include shipping and customs duty.
We are having a waiting list! Please send an email to pin@thesynthi.de if you are interested in purchasing/pre-order a Hornet synthesizer.
Comments