Industrial pioneers SPK are back with a field report from Frisco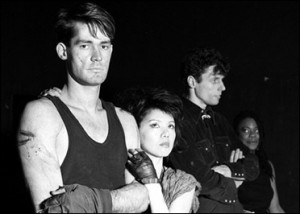 Out now is "Field Report San Francisco", the first of a series of previously unreleased soundboard recordings by the industrial pioneers of SPK. "Field Report S.F." was recorded at the Odd Fellows Hall on May 16th 1981 and was the first ever SPK show in the USA. The CD features big part of the concert plus a previously unreleased studio-recording from 1982. Get it here on Amazon DE.
The second release that also hits the shop shelves is "Case Study London" which holds previously unreleased soundboard recordings from 1982 / 1983 + 2 exclusive studio tracks. You can get that one here on Amazon DE.
Here's what Brian Lustmord says about the "Case Study London" CD: "The release is interesting for me personally as it includes a show where I was at the mixing desk (London, Heaven 1982) and another from when I was more actively involved in SPK as a member, performing material I had contributed too (London, Brixton April 1982). The Brixton show is of particular interest from a historical perspective as it's one of only 2 SPK shows where all (except one) of the tracks performed have never been recorded in the studio. This is a mostly undocumented period in SPK history between the raw sound of 'Leichenschrei' and what became the "Metal Dance" direction that I really disliked and had no involvement in."
SPK were an Australian industrial music and noise music group formed in 1978. They were fronted by Graeme Revell on keyboards and percussion. In 1980 the group travelled to the United Kingdom where their debut album, "Information Overload Unit", was released on Side Effects. In 1983 Sinan Leong joined on lead vocals. The group disbanded in 1988.
Comments