KORG/KID – 2012 FALL NEW PRODUCTS DIGEST MOVIE
Brand new teaser from KORG featuring upcoming stuff – including a Hello Kitty keyboard / microPiano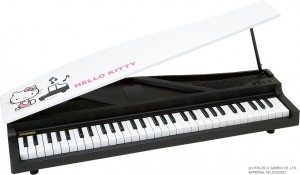 If you read the forums on KORG it seems that the end users are not all that happy with what has come out of the KORG labs recently, check out the quote below:
"First, let's come out with a really awesome workstation. We'll call it the Kronos. But let's make it out of really cheap, recycled computer compenents. Then, let's release an X version of this keyboard, and use slightly better, crappy computer compnents. Let's slap on a laggy touchscreen interface and sell it for $4000. Then, right when everybody is thinking we won't need to release another workstation for awhile, we can hit them right where it hurts, with a shittier version of the same workstation we have been working on for the last 5 years. How are we going to make it shittier? No worries, we'll just take out all the cool sounds! But we'll call it revolutionary, we'll call it the answer to all their problems, and they'll have to buy it! Best of all, we'll give it a different name! Instead of something like Kronos LE, we'll just call it Krome and make them think they're getting a whole new product! It's BRILLIANT!"
2012年秋〜冬にかけて、コルグ/KIDから発売予定の新製品、ならびにKID取扱ブランドのイチオシを一挙ご紹介。In Googlish: Autumn and winter 2012, once the jewel of the brands introduce KID handling, as well as new products will be released from Korg / KID.
*KORG
http://www.korg.co.jp/
KROME, microPIANO Hello Kitty Model, kaossilator 2 PW, microKORG XL+, microSeries Color Variation, TMR-50,pitchblack Color Variation
*VOX
http://www.voxamps.jp/
amPhones Series, AC4C1/15C1/30C2-BRG, StompLab IG/IB/IIG/IIB, APACHE-I/II BASS, ELEUKU
*PRS
http://www.prsguitars.jp/
PRS SE Amplifier Line
*Kemper
http://www.korg.co.jp/News/2012/091402/
Profiling Amplifier
*SONTRONICS
Microphones
Comments