Ladytron is back with a treat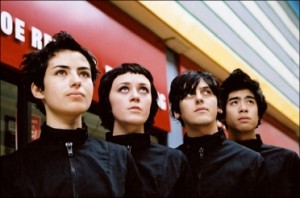 Fans of Ladytron are in for a triple treat in 2011. The English dark-synthpop act will release a greatest hits collection, a new EP and their fifth studio album. The best-of album, "Ladytron 00-10", will hit the shops in March and as the title suggests, it will consist of singles from their last four studio albums during that period. Among those will be their biggest US dance hit "Runaway" and "Destroy Everything You Touch". This will be followed up by their as-yet untitled EP, out on 14 March, and will contain a selection of remixes of their latest single "Ace Of Hz". You can download one of the tracks right here.
The new studio album will be the Liverpool quartet's first since 2008's "Velocifero". Since its release, Ladytron have toured the world, while band members Mira Arroyo and Reuben Wu have played DJ sets in clubs all across the globe. They also turned their hand at writing for other artists, most notably Christina Aguilera, whose last album "Bionic" featured the Ladytron-penned song "Birds Of Prey".
Comments