LIVE REPORT: Kraftwerk
The Quietus has a nice live report on their site featuring a recent gig by Kraftwerk, the first part can be found below, if you get inspired head over to the main article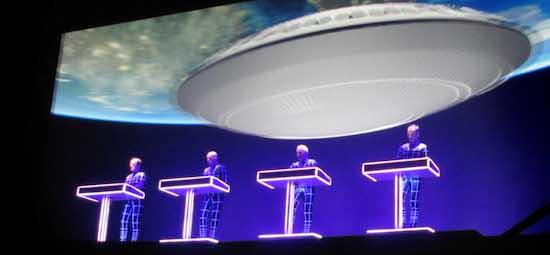 In opener 'Spacelab' an image of the Evoluon flies over the heads of the audience. To be honest, the UFO shaped building in the Dutch city of Eindhoven is appropriate for visuals that attempt to express the ultimate challenge of space: being infinite and yet ready to be explored. Incorporating the venue in the opening visuals of the show could easily be mistaken for something that is merely a nice touch; a credit to the remarkable place where the group are playing. Truth is, the Evoluon is the only place where Kraftwerk's music really makes sense.
Let's go back to the 50s, the decade of the Marshall Plan, which guaranteed the reconstruction of Europe. In 1952 The European Coal and Steel Community was created, the first step to the federation of Europe that was established after the Treaty of Rome in 1957. The Second World War seemed far away and despite the the Iron Curtain splitting Europe in half, the future looked bright. The optimism cumulated in the World Fair in 1958 (called Expo 58) in Brussels, the new capital of Europe. One of the most, perhaps the most, astonishing contribution was the Philips Pavilion, designed by Le Corbusier. The idea for the building came from Iannis Xenakis, specifically his composition 'Metastaseis'.
The pavilion turned out to be one of the first real multimedia installations. Within the building, which consists of nine hyperbolic paraboloids, Edgar Varèse's 'Poème Électronique' could be heard through speakers set into the walls. Rapidly changes images of technologic progress and the horrors of mankind were projected on the walls, creating a rich spectacle that the Canadian media theorist Marshall McLuhan would describe as an acoustic space: time and space disappearing in a non-linear story. At the entrance and exit Xenakis' 'Concret PH' was heard.
One of the 41 million visitors of the expo was Ralf Hütter, one of the founding members of Kraftwerk. The Philips Pavilion made quite an impression on the young Hütter, who was twelve at the time. It is not that difficult to the the connection between the naive belief in the future at the end of the 50s and the work of Kraftwerk MK II and MK III – the Kraftwerk of Autobahn, Radio-Aktivität, Trans Europa Express and the Kraftwerk of Die Mensch-Machine and Computerwelt. Although the music sounded astonishingly new and fresh, Kraftwerk was in fact trying to regenerate the future, thus the 50s.
Comments