Moog Sub 37 – all the details with Amos from Moog
This video captures an overview of the newMoog Sub 37 analog synthesizer by Moog Product Development Specialist, Amos Gaynes,
The Sub 37 is in the same 'synth family' as the Sub Phatty, but it offers 40 knobs, 74 switches, and has a dedicated LCD display.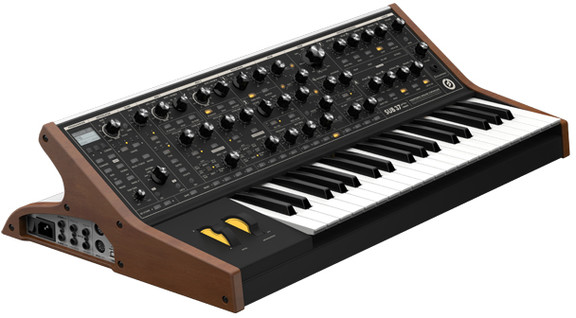 In the video, Gaynes covers the Sub 37′s features in depth and also demos the new synth.
The Sub 37 Tribute Edition is a limited edition (2-note) paraphonic analog synthesizer built on the award winning Sub Phatty sound engine.

Its panel features 40 knobs, 74 switches, and has a dedicated LCD display – placing each critical sound creation element and live performance tool quickly at your command.
Sub 37 Tribute features
Perform in Monophonic or Duo-Paraphonic modes.
37 note velocity sensitive keyboard w/ after touch.
2 modulation busses w/ assignable source and destinations.
DAHDSR (Delay, Attack, Hold, Decay, Sustain, Release) looping envelopes with sync.
256 Presets -16 banks of 16 patches.
Standalone and DAW Plugin editor included.
Syncable Arpeggiator and Step Sequencer.
Classic Moog Ladder Filter with resonance, MultiDrive, and selectable filter slopes.
The Sub 37 will be available to purchase for $1,579 USD.
Comments