New album from 16VOLT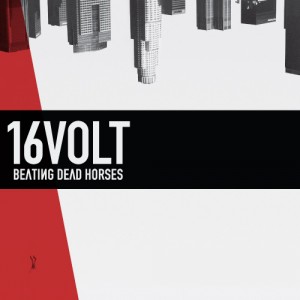 US based 16 Volt presents the band's seventh studio album this spring. New full length album "Beating Dead Horses", a typical 16-volt cocktail spread over 13 tracks, with distorted guitars on top of layers of synths and samples. The band has also been supported by Clint Carney (formerly of System Syn and God Module) and Bill Sarver (from Lance Herbstrong and Ohn) as guest appearances on "Burn", which will be the first single release from the new album. Produces makes front man Eric Powell and help with the final mix, he has been given by none other than the former Front Line Assembly-producer Shaun Thingvold.
The band will be in late spring to go out on a two-month U.S. tour with legendary My Life With The Thrill Kill Kult.
"Beating Dead Horses" released May 10 via Metropolis Records (USA etc.) and Trisol (Europe).
Track listing:
1. Beating Dead Horses
2. The Wasteland That Is Me
3. Fight or Flight
4. Burn
5. You Will All Go Down
6. Breathing Water
7. Ghost
8. We Disintegrate
9. Dissembler
10. Sick Sick Sick
11. The Carrion
12. Veins
13. Somewhere New
Via ES
Comments