Nice Cubase 6 promo video
Enhanced transient and tempo detection for easier, glitch-free drum editing and more musical detection
Phase-accurate audio quantization and drum replacement. (Actually, a key point here – without phase accuracy, you can create some nasty artifacts quantizing audio.)
Track edit groups turn comps quickly into tracks. That we've seen before, but Cubase does have a nice feature for editing those groups simultaneously.
A built-in set of guitar effects called VST Amp Rack.
64-bit support on both Mac and Windows.
New time-stretching algorithms.
The only limitation is your imagination. Well, that and you do need a VST-compatible instrument. But remember, we invented VST, so we've got you covered.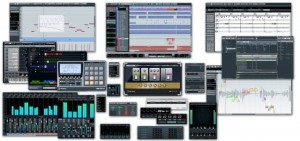 Comments