Oddity2 – synthesizer instrument modelled on the legendary ARP Odyssey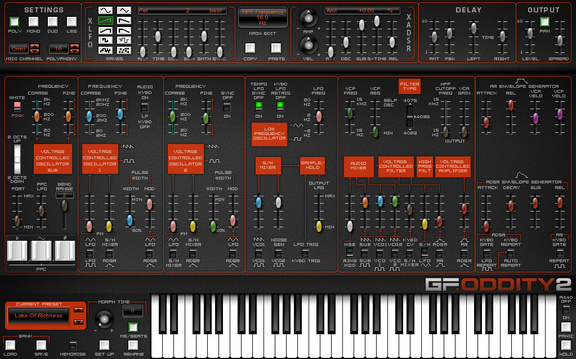 GForce has announced the release of Oddity2, a synthesizer instrument modelled on the legendary ARP Odyssey, manufactured between 1972 and 1981.
Sporting a new livery based on the final revision Odyssey, Oddity2 takes the character and operational architecture of the original and, via a wave of enhancements, transports the spirit of the original into a new dimension.

While the duophonic and monophonic modes have been retained, Oddity2 now also offers a monophonic legato mode which wasn't evident on the Odyssey, plus a Polyphonic Mode. Now finally it's possible to stop wondering what the Odyssey's classic tones would sound like within the context of chord based structures, and put it into practice. Everything from spiky and resonant textures to lush and warm pads sounds can either be programmed from Oddity2's intuitive controls or simply dialled up via the accompanying presets.

Furthermore, via three filter modes and an additional oscillator, Oddity2 can sound as versatile and punchy as its main rival back in the day.

Oddity2 doesn't stop there either, in order to overcome the original instrument's limitation of a single LFO, they've also added the ability to apply an additional LFO and ADSR to almost any of the main Oddity2 sliders, which gives the instrument almost unrivalled versatility and depth when it comes to sound design options.

Additional improvements over its predecessor include an on-board delay, spread or random pan modes, patch morphing via beats or seconds, program change recognition and implementation of the two octave transpose switch for dynamic real-time performances.
Oddity2 for Windows and Mac (VST/AU/RTAS) is currently on sale for £99 GBP inc VAT. The upgrade from Oddity is £49 GBP inc VAT.
Comments