OMD announce 'History of Modern Tour – Live in Berlin' CD/book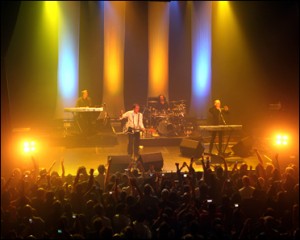 OMD will release a live album (and book) recorded at The Tempodrome, Berlin on November 18th 2010. This limited edition collectors CD and hardback (silver embossed) book includes exclusive images from the OMD tour, never seen before hand written notes by the band, recent letters from the band to the fans and a selection of lyrics.
The CD/Book will be released on August 8th 2011 and is available exclusively from the OMD Store and on tour. If you pre-order now via the band's website you will receive a digital e-booklet of the book to view on your computer and portable devices on the day of release.
Here's a preview of "History of Modern (part I)", taken from the live album:
History of Modern (part I) – Taken from 'OMD Live in Berlin' by 100% Records
Voa SL

Comments