Only for hard core Apoptygama Berzerk fans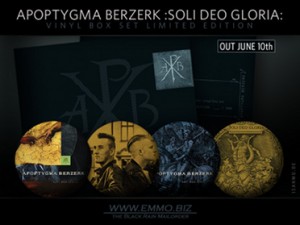 After 18 years later Apoptygama Berzerk will release their debut Black Rain as an exclusive Double-Picture LP. In addition to the regular tracklist, this special limited edition also comes up with the tracks "Seven Signs" (taken from the MCD "Bitch") and "Lidelsens Mening" (taken from the CD "Apocalyptic Manifesto"). The LP also contains the ultra-rare live recordings from 17th December 1994 in Lund. It is the first time that these recordings are officially released.
The release comes packaged as a collector's edition including a certificate, the sold-out Picture-LP "7" (Black Rain) and enough room for further Apoptygma Berzerk Picture-LP releases. This box is strictly limited to 500 copies, so you better order it now. The first 50 copies of this box are signed by Stephan, you can order this special edition here.
Track list below:
A:
1. Like Blood From the Beloved (Part 1) (1:31)
2. Bitch (4:24)
3. Burning Heretic (Album Version) (5:33)
4. Stitch (3:06)
5. Walk with me (1:40)
6. Backdraft (4:20)
19:54
B:
7. ARP (808 Edit) 2:08
8. Spiritual Reality (4:38)
9. Skyscraping (Schizophreniac) (7:13)
10. All Tomorrows Parties (5:05)
11. The Sentinel (1:12)
20:16
C:
12.Ashes to Ashes `93 (4:18)
13. Like Blood From the Beloved (Part 2) (1:53)
14. Seven Signs (4:24)
15. Lidelsens Mening (4:41)
16. Wrack´em To Pieces (5:18)
19:54
D:
17. Dust Do Dust (1:49)
18. Our Souls Will Remain (Outro) (2:31)
19. Borrowed Time (Live in Lund 17.12.94) (4:03)
20. Deep Red (Live in Lund 17.12.94) (4:03)
21. Electronic Warfare (Live in Lund 17.12.94) (5:34)
17:20
Comments