Playing the Thereglyph within the radiopool of a plasma globe
The Radiopool Thereglyph combines circuit bending with Theremin like  radio wave interaction. Exact principles at work here are still wrapped in mystery. Very interesting sounds.dio interference, traditionally a problem in audio, can be used to our advantage. By means of the Thereglyph instrument I would like to introduce to circuit-bending a concept I call radiopool.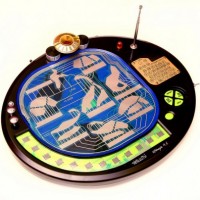 While Leon's Theremin looks to onboard RF generation and sounds the same played anywhere, immersing a radiopool instrument to various depths within the RF field (the radiopool) yields changing results… similar to differing the length of the air column within a flute.
For more info on this instrument and building one yourself, check-out the flickr gallery:
http://www.flickr.com/photos/moonbear3325/sets/72157626396557545/
Comments