Radio transmission – Der kalte Krieg by Welle: Erdball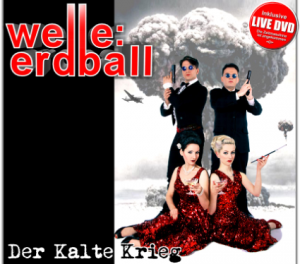 After last year's album "Operation Zeitsturm", shipped with the accompanying film produced by the band themselves, Welle: Erdball returns with their new album "Der Kalte Krieg". As the title suggests, the theme this time is the Cold War – with James Bond themes, the red phone, atomic bombs, SDI war in space, double agents, Russian spies and everything that belongs to it! Besides the new songs on the album, they have also recorded covers of a classic James Bond theme, Cat Stevens "If You Want To Sing Out" (from the movie Harold & Maude), Stahlnetz and The Cabinet's classic "The Cabinet" . Addition, even remakes of some of the band's earlier songs, a remake of "America" ​​by Hertz infarction and a remix of the hit "Starfighter S-104" (2000), which is signed Welle: Erdball-band member Plastique's side project The Girl & The Robot .
Don't forget to read the interview we made with Welle:Erdball just a couple of weeks ago >>
The album comes in addition to the regular edition, even in a limited first edition that includes bonus DVD with a selection of the best live recordings from the band's long career.
"Der Kalte Krieg" is released October 28 via SPV / Synthetic Symphony.
Track listing:
Welle: Erdball (Hörspiel-Intro)
James Bond-Thema
Deutsche Liebe (C=64)
Feuerwerk
Eine Neue Zeit
Amerika (Compact Phasing "A"merika – Remake by Hertzinfarkt)
Kabinett
If You want to sing out, sing out
Vor all den Jahren
Starfighter F-104S (The Girl & the Robot-Remix)
Der Kalte Krieg (Beweg Dein Gehirn…JETZT!)
Karl der Käfer (C=64)
Hab ich dir heute schon gesagt, daß ich Dich liebe
Ein bisschen Frieden
Sendeschluss (Hörspiel-Austro)
Comments