Reaktor User Library Harvest week 44
Here's a brief summary of what's been uploaded to the Reaktor user library this past week.
NuReed by Gabriel Mulzer
The NuReed is a physical model of the vintage Hohner Pianet T. Although it uses a hammer instead of lifting action as the real thing uses and also offers different pickup options. There's 18 faders and switches to control the sound. All but the volume is related to the physical model, like mass, impact, pickup off set etc. So unless you are familiar with physical models it's little trial and error to get started but all parameters has a good tool tip description. The GUI has a nice vintage feeling to it. I'm not really familiar with the Hohner Pianet but to me this is a real welcome addition to the Reaktor as there are not that many electric pianos and no Pianets. If it sounds exactly like a real Pianet I don't know but it sounds like a vintage electric piano to my ears. Only 3 snap shots are provided so there a lot of room for tweak exploration to find out the sonic possibilities.
Repitch by Shane Higgins
This is a multi band re-pitcher effect. Multi band means that you can treat different frequency bands with unique repitch settings. There are 4 bands so it adds up to quite a few controllers but most parameters have tool tips every this is quite straight forward to use the effect. The sounding result depends obvisously on the input but I generaly got a kind of low-fi grainy sound character. Adding the revers option and the input is seriously mutilated. There's only 5 snapshots so you need to be prepared to tweak on your own to make the most out of it.
Phaser MF 1.0 by Jim Hurley
Phaser MF (Metaphysical Function)is a self propellering drone machine for making soundscapes.
The Metaphysical Function originaly part of the Electronic Intruments Vol 2 and then added to the R5.5 library This edition has been modified first by Simon Stockhousen and then by Jim Hurley. There's now a number of version uploaded to the library. The majority of the modification are tidying things up and polishing but also making the audio path fully stereo. This version replaces the distortion effect with a phaser.
There's no snapshots provided but to explore the ambient/eiirie/noisy/pulsating soundscapes just press the randomize button at the low right. To get some more instant results increase the random amount as it's set to a quite low level. Also Jim has uploaded 16 snapshots previously. Don't forget to add your own sample map, or buy one from Simon Stockhousen, as no samples are included in this ensemble. http://www.patchpool.de/Sounds/reaktorshop.html
Stereo Compressor by Lex Nowak
Just like it's called, a stereo compressor with a saturation option. All the standard parameters available like attack, threshold, ratio, release, knee and saturation for some character sounds. All sounds processing is made in Core.
klagetron003 by Wataru Owaki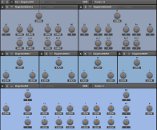 This is some kind of audio effect but I'm not really sure what is does. The description in the user library is only two words: Simple Noizer. The download is includes three ensembles that appears to be the same but the sounding result is quite different. The versions 001 and 002 gives some kind of wave shaping noise effect but the 003 version seem to be just straight bypass, more or less… The controls are just labeled with one letter not giving away much. No snapshots included. I haven't spent much time with this so this is a secret to uncover!
Also Tomoaki Otaka has uploaded a number of user manuals for ensembles in Japanese. I don't know Japanese but it looks like thorough work.
Comments