Reaktor User Library Harvest week 47
This past week there's fair batch of effects added to the user library but also a vintage drum machine and a nifty little synth. The level goes and bit up and down on the sound bytes but your ears should be safe unless you crank up the volume on the low parts too much!
Sound bytes week 47 by Stereoklang Produktion
Böhmy by Karl Friederich Meis
Böhmy is a carefully made emulation of a drum machine unit from a Dr Böhm organ. I'm not really sure which though as the rear Doctor made a huge numbers of instruments including stand alone drum machines and some mono organ/drum machine hybrids.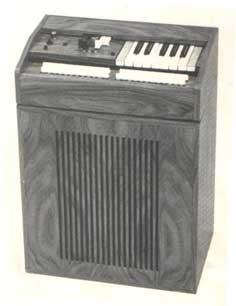 In this ensemble you get all the sounds carefully sampled and all the rhythm patterns from the original! But then you can program you own patterns as well as play the individual sounds via midi or clicking some pads. If you are looking for Langsamer Walzer, Happy Beat pr BeatMarsch look no further! It even smells vintage…
Bernd Keil have been generous to upload a bank of 65 snapshots.
Little Sister by John Bleech
Little Sister is the kid sister to Sidewinder by John Bleech. It's a pretty simple two oscillator synth with a LP filter attached to each oscillator and a LFO per filter to control the frequency of the cut off. Then each oscillator uses multi-ramp to create a controlled amount of overtones. There aren't not many multi-ramp synths in the user library. 45 snapshots are included.
Audio 2 Midi-Notes with Velocity by Tobiasz Kozlowski
This is an effect that can send midi gates triggered by an audio signal. You then set manually which note you want to send. The velocity of the gate can be depending of the audio signal amplitude. No instructions included but some parameters do have hover tool tip.
Slick Compressor by Miro Pajic
Here's a straight forward compressor with saturation and a stereo widener added. You get threshold, ratio, knee, attack, release, gain and auto gain parameters to play with. Nice gui. 10 snapshots included.
Slick EQ by Miro Pajic
Slick EQ is a straight forward 4 band eq with gain, frequency and band control per band. Nice knobs! No snapshots.
Nasty Q by Miro Pajic
Nasty Q is a equalizer that is not transparent. It will change the sound a bit, as soon as it's inserted in the signal chain. It can do strong boosts but will not go crazy when peaking, even at quiet extreme settings.
The built in tube saturation is very audible (especially when boosting the bands) but doesn't too harsh.
No snapshots. Again, as for the other FXs by Miro a pretty set of knobs.
Summary of previous week.
Comments