Sandman – new delay and loop-mangler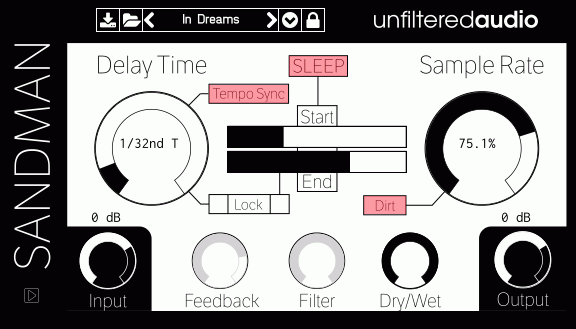 Unfiltered Audio has launched Sandman, a delay and loop-mangler capable of creating beautiful, dreamlike ambient textures or busy, hyper-stuttered glitch beats.
Sandman blends many time-manipulation paradigms into one inviting interface, giving you the ability to use it as a traditional delay, a flanger, a granulator, a wavetable oscillator, or something completely different.

A feature-packed modulation system keeps everything animated, while a special de-clicking algorithm ensures that your loops are mix-ready.
Sandman features
"Sleep" mode freezes your delay buffer, creating locked loops. Loops can be further manipulated by changing the start and end points or manipulating the buffer size.
Variable Sample Rate expands your delay times (up to eight minutes!) while enabling amazing creative possibilities. Use it to repitch a frozen buffer, add a bit of grittiness and warmth to a delay line, or simply decimate everything.
Wide-ranging tempo-syncable delay times (down to 5 milliseconds). At its smallest settings, you can use Sandman as a flanger, a wavetable oscillator, a micro-delay, or to turn percussion into string tones.
Dual LFOs with bipolar modulation destinations. Keep your loops from going stagnant and explore some wild modulation opportunities.
Optional de-clicking algorithm makes your loops invisible. You can automate this algorithm's state, giving you glitchy clicks and cuts when you want them.
Feedback filtering helps you control more intense patches or add a bit of murk to your loops.
Intelligent "Lock" modes keep your delay length and loop lengths intact, even with a modulated sampling rate.
"Dirt" switch adds some nastiness to the heart of the delay line for that extra-vintage feel.
Preset locks allow you to keep specific parameters frozen on preset change.
DRM Free. When you buy it, you own it. No serial numbers, dongles, or forced internet connections.
Steam Cloud Support means that if you use G8 Gate through Steam, all of your presets will be automatically backed up to the cloud and synced between your computers. Every purchase of G8 includes a Steam Key. If you are unfamiliar with Steam, please see Steam's homepage.
Sandman for Windows and Mac (VST/AU) is available for purchase for the introductory price of $14.99 USD until November 21st, 2014 (regular $19.99 USD).
Comments