May 26, 2012 · Posted in
Uncategorized
·
Comments Off

on Jean-Benoît Dunckel (AIR) meets the Arturia MiniBrute
"We had the great pleasure to meet Jean-Benoit Dunckel, one half on the talented french electronic duo AIR and early fan of MiniBrute, for a live improvisation and a video interview !"
February 3, 2012 · Posted in
Uncategorized
·
Comments Off

on AIR – Sonic Armada (A Trip To The Moon)
From AIR's forthcoming soundtrack to the recently restored and colourised Georges Méliès' 1901 classic film 'Le Voyage dans la Lune'.
AIR comments on the approach on the making of this album:
Jean-Benoît Dunckel: "We were watching the film constantly and searching for something that can fit. It was a constant battle to try and get things down as fast as we can and synchronize the music. Once we had the main scenes then we could start then to make them thicker, more interesting and add melodies and other musicians."
NG: "Many times, because I do the bass guitar I try to say to my self how can I do something differently? For instance on Talkie Walkie I decided not to do the bass. For this project we decided to use the Timpani's a lot for the bass. It's very cool because you have a pedal for tuning so you can play any note you want. But then it's hard to mix it because it takes up so much space.
"When we saw the film for the first time in colour we really got all of these images of Sergeant Pepper in our mind. It was as if adding the colour had taken the movie from Paris 1902 to London 1967. We weren't directly trying to sound like Sergeant Pepper, it was just as soon as we saw the colour on the movie, we knew it had to have that element. We explored this with the styles of the drums particularly."
New album out on February 6th: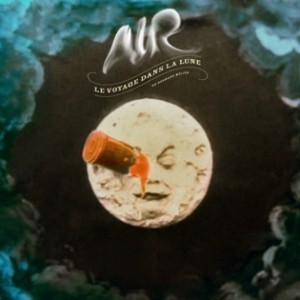 'Le voyage dans la lune' (A Trip To The Moon) is a classic black & white and color (hand painted) silent film by revered French director Georges Méliès.  Released in 1902,  this legendary 16-minute film is widely considered one of the most important works in film history, and the very first to use science fiction as its theme, incorporating special effects that were very state-of-the-art at the turn of the 19th century.  It was loosely based on  two popular novels of the time: Jules Verne's 'From the Earth to the Moon' and H. G. Wells 'The First Men In The Moon'.
The color version, considered as lost during several decades, is then found in 1993 in Spain, however in desperate condition. As of 1999, highly delicate work began to rescue and digitize the elements. In 2010, a complete restoration could be launched,  in order to enable the audience to rediscover this major cinema work.
Eager to put a contemporary spin on this classic silent film and enable access to new audience, the two foundations acting in cinema preservation,  Fondation Groupama Gan and Fondation Technicolor, decided to approach AIR's Nicolas Godin and Jean-Benoit Dunckel, to compose an original modern soundtrack, an enormous honour for French musicians, considering the film's place in the canon of French cinema. With the aim of premiering at the 2011 Cannes Film Festival, AIR set themselves a tight deadline, locking their studio doors and working around the clock to serve these classic images with brave new sounds.  Complete with a new soundtrack by AIR, the film debuted at Cannes on May 11, 2011, to immediate and unanimous acclaim.
Spurred on by their work on this short movie, AIR decided to develop the project into a full album inspired by the film. Expanding the original musical themes beyond cinematic instrumentals, the album also features the vocal talents and lyrics of Au Revoir Simone and Victoria Legrand (Beach House). of Au Revoir Simone and Victoria Legrand (Beach House). The band's lunar fascinations have been evident since the beginning of their career with the release of the seminal 1998 classic "Moon Safari". Now in 2012 Nicolas and JB have returned to explore the further regions of their very unique musical 'space'. Nicolas explains: "'A Trip to the Moon' is undoubtedly more organic than most of our past projects. We wanted it to sound 'handmade,' knocked together', a bit like Méliès' special effects. Everything is played live … like Méliès' film, our soundtrack is nourished by living art."
The 3 producers of the restored version have agreed to let Virgin release a special Limited Edition version of AIR album 'Le voyage dans la lune'. This will consist of the album + a bonus DVD or Digital Download of the restored colorized film with AIR's original film score, strictly limited to 70,000 global copies.