"Brumes d'automne" (1928) – Re-scored by Plastikman (2014)
Subscribe for the latest videos: http://bit.ly/1ftTGvn
Plastikman re-score of Dimitri Kirsanoff's silent film "Brumes d'automne" (1928). Commissioned as part of Bertrand Bonello's 'Résonances' exhibition at the Centre Pompidou in Paris, September 2014.
"I'm pleased to present the score I produced for the the silent film "Brumes d'automne" (Dimitri Kirsanoff, 1928). It was premiered on September 19th at Centre Pompidou in Paris as part of the Bertrand Bonello exhibition 'Résonances'.
Bertrand asked me to be involved after he began to question how we would view the film differently if there were to be different music to accompany it. The 1920's movie is a 12 minute collection of breathtaking and poignant scenes that uses its music to convey what words can't. It was originally scored by Paul Devred and features his Kirsanoff's wife Nadia Sibirskaia who played the lead in many of his films.
It was a great honour to be asked and to be involved in the premiere evening which featured performances from the legendary Ingrid Caven (wife of Yves Saint Laurent), and also a screening of the short film 'Where Are You, Bertrand Bonnello?'"
-Richie Hawtin
Video of the full premiere evening can be viewed here: http://www.centrepompidou.fr/id/c4b7X…
The exhibition runs until October 19th, 2014 (free entrance).http://www.centrepompidou.fr/en
CONNECT
Richie Hawtin
Web: http://www.richiehawtin.com
Facebook: http://www.facebook.com/RichieHawtin
Twitter: http://www.twitter.com/RichieHawtin
Instagram: http://www.instagram.com/RichieHawtin
Plastikman Live – EXhale (Sonar 2014, Barcelona)
Free MP3 Download: bit.ly/EXhaleMP3
AIFF version: bit.ly/EXhaleAIFF
Taken from the Plastikman live performance at Sonar, Barcelona June 2014.
Original version appears on the album 'EX' (OUT NOW)
Digital: po.st/EXdigital
CD: po.st/EXCD
LP: po.st/EXLP
Limited SubPac bundle: bit.ly/1pfllUF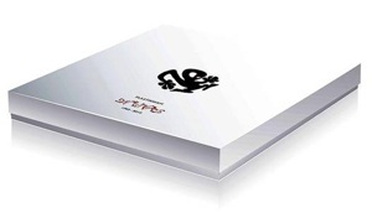 Mute announce the release of Plastikman's new album, "EX", his first album release since 2003's "Closer". Plastikman, aka Richie Hawtin recorded EX at the Guggenheim, New York's art museum. This performance was at the invitation of the Belgiumfashion designer and artistic director at Dior, Raf Simons, for the Guggenheim's annual fundraiser, performed around a specially constructed LED obelisk.

"EX" will be released on 10 June.
EX (Live at the Guggenheim NYC) by Plastikman
Download available June 10th; Vinyl, CD, and a limited edition SubPac bundle on July 14th (11th DE, 15th USA).
Plastikman, aka Richie Hawtin, recorded EX at the Guggenheim, New York's iconic art museum. This very special performance was at the invitation of influential Belgium fashion designer and artistic director at Dior, Raf Simons, for the Guggenheim's annual fundraiser, performed around a specially constructed LED obelisk.
Richie Hawtin explains, "I knew that Raf was a long time Plastikman fan so by accepting his offer to perform at the Dior event at the Guggenheim I knew I'd set myself up to a huge challenge. Although Raf was happy to have the already complete Plastikman Live 1.5 show, I locked myself away in a series of intense studio sessions and quickly recorded enough new material for the performance and realized I might also have enough for a complete new album. The music came out of me effortlessly as I was very inspired by the opportunity to play in this beautiful architectural space renowned more for art than music. The location also allowed me to step far away from the dancefloor, giving me a huge amount of freedom to EXplore any sonic ideas that I had. Art, music, architecture, painting, sculpture — these mediums are supposed to live together."
TRACKLISTING
EXposed
EXtend
EXpand
EXtrude
EXplore
EXpire
EXhale
CONNECT
http://plastikman.com
http://facebook.com/PlastikmanOfficial
http://twitter.com/PlastikmanLive
Subscribe for the latest videos: http://bit.ly/1ftTGvn
Burn Studios caught up with minimal tech legend Richie Hawtin during the Burn Studios summer program in Ibiza.
Background data:
Richard (Richie) Hawtin (born June 4, 1970, Banbury, Oxfordshire) is an English-Canadian electronic musician and DJ who was an influential part of Detroit techno's second wave of artists in the early 1990s and a leading exponent of Minimal techno since the mid 1990s. He is best known for his abstract, minimal works under the alias Plastikman, a pseudonym he still uses today.
Hawtin is known for DJing minimal techno sets making use of laptop computers and digital mixing equipment. In May 1990, Hawtin and fellow second-waver John Acquaviva founded the Plus 8 record label, which they named after their turntable's pitch adjust function. In 1998, Hawtin launched Minus records

Richie Hawtin's iconic alter-ego Plastikman will embark on a full live tour in late-2011 in a new upgraded 1.5 format as it continues to evolve and push technology & live performance forward.
Plastikman is arguably one of the only live shows around where all aspects of the performance – music, lighting, audio, visuals and real-time audience interaction via the SYNK App – are controlled by a single on-stage performer. The Plastikman live experience has been developed by the electronic visionary Richie Hawtin, Derivative & his production team over the past ten years. In 2010, readers of the largest electronic music portal Resident Advisor voted Plastikman as the ʻnumber one' live electronic show of the year.
Richie Hawtin's Plastikman creation returned in 2010 and debuted its new look at Timewarp in Mannheim in March of that year. This version toured festivals the world over, establishing an unrivalled reputation as one of the most spectacular electronic live shows of all time, and quickly united a new generation of music fans with those who had followed the Plastikman project from its groundbreaking innovations in the 1990s. The Plastikman logo once again has returned to the forefront of the electronic movement as EDM (electronic dance music) fever gripped North America and Plastikman performed acclaimed shows at Electric Daisy Carnival and Canada's Mutek.
Hawtin and his team have continued to develop and evolve the show – incorporating brand new Plastikman music, visuals and interactive technologies. Plastikman Live 1.5 appears next with a debut show in Ibiza at Amnesia for the 'I Want My MTV' concert series (August 5 2011), followed by a performance in New York City for the Electric Zoo festival on Memorial Day weekend (September 2 2011) before the European tour begins in Budapest at Hungary's Bonusz festival in October.
The updates of the show have once again been created within Hawtin's fully-collaborative lighting, visual and interactive team: Ali Demirel & Jarrett Smith of Derivative (TouchDesigner visuals); Matthias Vollrath (lighting integrations); Jeremy Jacobs (JPLS) & Johannes Kramer (sonic upgrades); and Robert Hexler & Bryan McDade (interactivity).
As with all previous dates, Plastikman Live will be fully interactive for any fans with the free SYNK iPhone application, which itself has been relaunched with new features including a live chat, live behind-the-curtain camera feed and more interactive elements, making the show one of the only genuinely interactive concert experiences in the world today.
Richie Hawtin aka Plastikman states: "I'm incredibly excited to finally take Plastikman on its first standalone tour. These dates will represent the last opportunities for fans to catch Plastikman Live in its current form: the 1.5 version of the show we've spent nearly a year of fine-tuning. After that, Plastikman will be returning to the shadows to begin work on a brand new 2.0 concept. The fall tour will be full of surprises, and the performance will continue to be spontaneous and unique for every show — the way I believe live music should be performed in 2011."
Support on the tour will come from Minus artists including Marco Carola, Magda, Gaiser and Ambivalent – with full line-ups for each date to be announced shortly.
The Plastikman Live 2011 tour is in proud association with media & ticket partner Resident Advisor.
TICKETS GO ON GENERAL SALE ON WEDNESDAY 20 JULY FROM
HTTP:/​/​RESIDENTADVISOR.NET/​PLASTIKMANTOUR
AUG 05: I Want My MTV Ibiza at Amnesia, Ibiza, Spain
SEP 02: Electric Zoo festival, New York, USA
OCT 15: Bonusz Festival, Budapest, Hungary
OCT 21: Heineken Music Hall, Amsterdam, Netherlands
OCT 22: Dekadance at Komplex 457, Zurich, Switzerland
OCT 28: LX Factory, Lisbon, Portugal
OCT 29: Fabrik, Madrid, Spain
NOV 05: BerMuDa at Flughafen Tempelhof, Berlin, Germany
DEC 01: Manchester Academy, Manchester, UK
DEC 02: O2 Academy Brixton, London, UK
DEC 03: Glasgow Barrowlands, Glasgow, UK
DEC 07: Pala Isozaki, Turin, Italy