TENORI-ON at the Fushimi-Inari Shrine
Fushimi-Inari Shrine in the evening played TENORI-ON.
Fushimi Inari is an important Shinto shrine in southern Kyoto. It is famous for its thousands of vermilion torii gates, which straddle a network of trails behind its main buildings. The trails lead into the wooded forest of the sacred Mount Inari, which stands at 233 meters and belongs to the shrine grounds.
Fushimi Inari is the most important of several thousands of shrines dedicated to Inari, the Shinto god of rice. Foxes are thought to be Inari's messengers, resulting in many fox statues across the shrine grounds. Fushimi Inari Shrine has ancient origins, predating the capital's move to Kyoto in 794.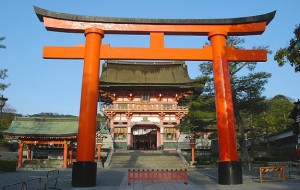 While the primary reason most foreign visitors come to Fushimi Inari Shrine is to explore the mountain trails, the shrine buildings themselves are also attractive and worth a visit. At the shrine's entrance stands the Romon Gate, which was donated in 1589 by the famous leader Toyotomi Hideyoshi. Behind stands the shrine's main building (Honden) and various auxiliary buildings.
At the very back of the shrine's main grounds is the entrance to the torii gate covered hiking trail, which starts with two dense, parallel rows of gates called Senbon Torii ("thousands of torii gates"). The torii gates along the entire trail are donations by individuals and companies, and you will find the donator's name and the date of the donation inscribed on the back of each gate. The cost starts around 400,000 yen for a small sized gate and increases to over one million yen for a large gate.
Comments