The Monotribe in action
To accompany you with some background, since the video is in japanese. In a world seemingly ruled by digital, Korg created an analog sensation with the palm-sized monotron Analogue Ribbon Synthesizer. Korg has once again raised the analog banner with the amazing monotribe Analog Ribbon Station; a new form of synthesizer that packs an amazing array of features and technology into its compact body. Korg's monotribe shares the monotron's analog DNA, yet quickly delves deeper into the rich, organic, and often chaotic world of analog synthesis. In addition to analog synthesis, monotribe brings together intuitive ease of use and a three-part discrete analog rhythm section, plus the proven appeal of Electribe-style sequencing. Complete with a built-in speaker and battery power, monotribe is self-contained and highly portable.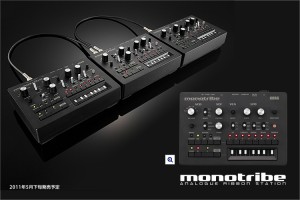 Monotribe highlights:
* The powerful sound of true analog synthesis
* 3-part analog drums, using discrete analog circuitry
* Popular Electribe-style sequencing.
* Active Step and Flux features for realtime dynamic loop manipulation
* Advanced multi-function ribbon keyboard; Chromatic, Continuous, & Wide modes
* Auto-tuning provides stable pitch for accurate chromatic playability
* Selectable oscillator waveform, noise generator, and versatile LFO
* Uses the same VCF (filter) circuit as the classic MS-10/MS-20
* Sync In & Out jacks allows synchronized integration with multiple units
* Battery operation, built-in speaker and compact size deliver on-the-go groove-making
Comments