Theremin jam
The theremin, originally known as the aetherphone/etherophone, thereminophone or termenvox/thereminvox is an early electronic musical instrument controlled without discernible physical contact from the player. It is named after its Russian inventor, Professor Léon Theremin, who patented the device in 1928. The controlling section usually consists of two metal antennas which sense the position of the player's hands and control oscillators for frequency with one hand, and amplitude (volume) with the other, so it can be played without being touched. The electric signals from the theremin are amplified and sent to a loudspeaker.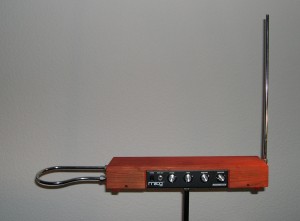 The theremin is associated with a very eerie sound, which has led to its use in movie soundtracks such as Miklos Rozsa's for Spellbound and The Lost Weekend and Bernard Herrmann's for The Day the Earth Stood Still and as the theme tune for the ITV drama Midsomer Murders. Theremins are also used in concert music (especially avant-garde and 20th- and 21st-century new music) and in popular music genres such as rock. Psychedelic rock bands in particular, such as Hawkwind, have often used the theremin in their work.
In this video:
"OK, I have always wanted a Moog theremin, I finally scored one and it is an Etherwave Plus model to boot. This was constructed as a kit by the guy I bought it from, he did a great job although his finishing of the case is not to my satisfaction so I will be re-doing that someday.
I need to practice, and these things require practice, as with any other musical instrument. What a brilliant instrument it is, Thank You Lev and Bob.
Korg Z1 providing backround chaos, Theremin, that is all."
Comments