UK synth pop act Client goes full circle
In December last year it was known that Sarah Blackwood, the front woman of the London-based electro duo Client left the band to focus on other projects.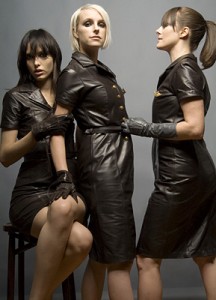 Recently it was announced that Kate Holmes got a replacement in Technique-member Xan Tyler.
A funny thing here is that Client actually evolved out from the ashes of Technique, who was created in the mid-90′s featuring Kate Holmes and Xan Tyler. Named after the 1989 New Order album with the same name they were signed to Creation Records, owned by Kate's husband, Alan McGee.
An album was recorded but did never see the light of day as McGee decided to close the label. However, two singles was released in 1999, "Sun Is Shining" and "You & Me".
And it was out of this, a couple of years later, Client was formed when Xan Tyler was unable to participate in a tour supporting Depeche Mode and Kate replaced her with Sarah Blackwood, that time in Dubstar, and shortly after renamed the group to Client.
Now the duo is back in the form it was all started in.
In related news, it's rumoured that a "Best of" album is planned with material taken from the band's first two albums.
Via BV
Comments