Video from Monospore – New World Order + new album from Nachtmahr
From the Debut album Control the Game…Regain control!
Order at our monoStore at www.monospore.com
And as promised check out the new album from Nachtmahr (AND then I do not mean visually check out LOL!!)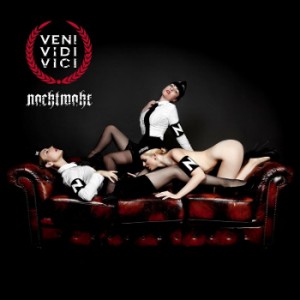 After the last album "Semper Fidelis" (from 2010) and The EP "Can You Feel the Beat?" (Released last year), it is once again time for Thomas Rainer and his uniformed ladies marching delivering a new Nachtmahr album. Austrian Thomas Rainer, who in the second half of the nineties debut with L'ame Imortelle together with (the now-defected) Hannes Medwenitsch and singer Sonja Kraus Hofer, started his solo project Nachtmahr during the mid 2000's.
After the hit "Boom Boom Boom," which also was part of the soundtrack to the fourth SAW film, made Nachtmahr official debut with The EP "Kunst ist Krieg" in 2007, followed by the first album, "Feuer Frei!" Was released the following year . "Alle Lust Will Ewigkeit" was released in 2009 and "Semper Fidelis" came two years ago (2010).
On the upcoming album "Veni Vidi Vici", whose title is taken from Julius Caesar's alleged exclamation after the victory against Pharnaces II of Pontus in the Battle of Zela 47 f.Kr, continues Thomas Rainer its imperialist crusade through 17 new tracks including two guest appearances signed Skyla Vertex and Xe-None.
In addition to the regular edition in digipak,there is also a "Veni Vidi Vici" in a massive "ELITE edition" (limited to 2000 copies) with in 28 × 28 centimeters book formats including t-shirt. The lavish hardcover book is 72 pages and contains, besides all the lyrics from the album, even erotic art in the true spirit of Nachtmahr highest quality printed on 150 gsm paper. In addition, also included bonusdiscen "Archivum Imperialis" containing six exclusive tracks.
"Veni Vidi Vici" will be released on December 7th via TRISOL Music Group.
Comments