Watch the new video from New Order – Restless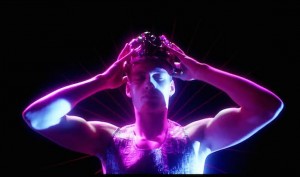 New Order has unveiled the official video for "Restless", the first single to be taken from their new album "Music Complete". The video was directed by Spanish filmmakers NYSU, who have previously worked with Wild Beasts, Radiohead's Philip Selway and VCMG (the project by Vince Clarke and Martin Gore).
The video depicts the legend of Excalibur for the 21st Century including scenes of debauchery, raves, and food fights.
Restless – The official video
#MusicComplete
Directed/Produced by NYSU
Pre-Order Music Complete & get an instant download of 'Restless':
iTunes – http://po.st/NewOrderiTunes
Amazon (US only) – http://po.st/NewOrderAmazon
Download / Stream 'Restless' here:
Amazon – http://po.st/NewOrderRAmazon
Apple Music – http://po.st/NewOrderRAppleMusic
Deezer- http://po.st/NewOrderRDeezer
Google Play – http://po.st/NewOrderRestlessGP
Spotify – http://po.st/NewOrderRestlessSpot
Music Complete: CD, Double LP (limited edition clear vinyl or standard black), MP3, Hi-Def Audio plus 8 x Vinyl Box Set available from the band's store: http://po.st/NewOrderStore
European Tour Dates: November 2015. Access tickets and packages: http://po.st/NewOrderTour
Sign up to the New Order mailing list for updates: http://po.st/NewOrderMailingList
Facebook: http://po.st/NewOrderFacebook
Twitter: http://po.st/NewOrderTwitter
Instagram: http://po.st/NewOrderInstagram
Spotify: http://po.st/NewOrderSpotify
Youtube: http://po.st/NewOrderYouTube
Comments