Win a MiniMoog Voyager signed by 20 famous artists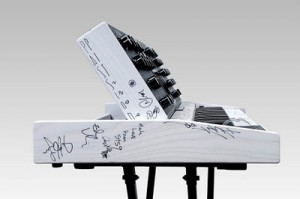 Moogfest Minimoog Voyager signed by over 20 Moogfest artists including Moby, Chromeo, Brian Eno, Edgar Froese, Terry Riley, STS9, Beak, TV on the Radio, Ghostland Observatory, Passion Pit, Holy F@*k, Suicide and more.
Find out more about the raffle to win this synth at:" [link]
The Bob Moog Foundation ignites the creative and innovative spirit through Dr. Bob's Sound School, our educational outreach program that teaches the science of sound through the magic of music. We aim to inspire generations of children nationwide. Join us by participating in our SoundSchool campaign at Indiegogo.com: http://www.indiegogo.com/Bob-Moog-Foundation-Dr-Bobs-SoundSchool.
Comments