A new exploration of the John Bowen Solaris synth – Demo

Here is the second demo of the Solaris synth by John Bowen (www.johnbowen.com). Everything is played live using the keyboard, mod wheel, pitchbend and joystick.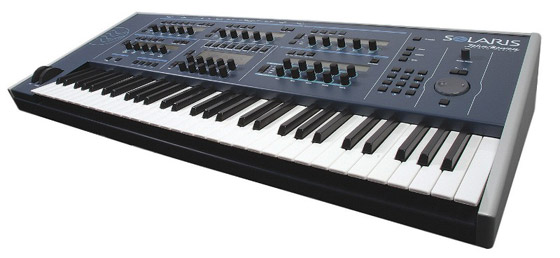 At the recent Musikmesse in Frankfurt, John was asked how the Solaris was conceived. He told us, "When I was at Korg, we were working on the software for the original OASYS card and I noticed that Creamware were essentially doing the same thing. I saw the virtual Minimoog come out on Scope and went to try a system in Canada, and when I realised that Korg was probably not going to continue with our little group, I jumped ship. After a year with Creamware and some consultancy work elsewhere, I decided to go it alone and see whether I could make it writing plug‑ins for the Scope platform. My first plug‑in had been called the Orion and, because people kept asking me to add things, it just grew and grew until, around the fourth iteration, I went bonkers and added lots of new stuff and then realised that it wasn't the same product any more. So I gave it a new name and the Solaris plug‑in was born. I thought it wouldn't be too shabby as a hardware instrument, and since the ex‑Creamware guys and I had remained friends and said that someday we would do something together, we decided to develop what is now the Solaris keyboard. By this time, the plug‑in had grown to over 1200 parameters, so I had to figure out a way to translate its user interface into a physical control panel. I had wanted to try multiple displays on a hardware synth for some time, and at first we were thinking of the Solaris as something with a small keyboard, but when I mocked things up to fit the available width, the front panel looked too 'deep'. Arranging everything across a wider keyboard, it became clear that this was how the Solaris needed to be."
Alternatives to Solaris:
One alternative to the Solaris is the Arturia Origin, which also offers vintage synth emulations and complex modulation capabilities in a flexible architecture. Indeed, the Origin is in some ways even more flexible than the Solaris because it is truly modular, in the sense that you can create whole new architectures by choosing the number and type of modules used. Another alternative is the Access Virus TI Keyboard, a synthesizer powerhouse that offers fewer programming options but a huge number of voices, a vast number of effects, and a 16‑part multi mode with dedicated effects per part.
In relation to the video:
For better audio quality go to SoundCloud: http://soundcloud.com/insanic4/solari…
Comments