Absynth version of Aphex Twin's "Rhubarb"
http://youtu.be/exsuWe6Beds
ABSYNTH 5 is an exceptional synthesizer with unique sonic potential and 1,800 preset sounds. Its speciality is a limitless spectrum of unusual, evolving sounds created using the powerful, hybrid synthesis architecture and sophisticated modulation and effect system – resulting in sounds far removed from the everyday. What's more ABSYNTH 5 is not just a synthesizer, but a powerful effect plug-in for treating audio tracks using the unique ABSYNTH 5 effects bank.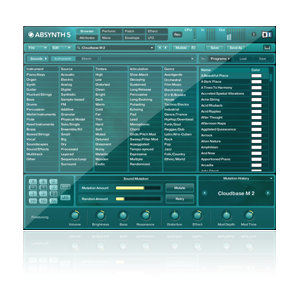 ABSYNTH 5 is unrivalled as a tool for creating unique sounds. The hybrid architecture features three oscillator channels and a semi-modular signal flow combined with diverse sound generating methods such as subtractive synthesis, FM, wave-table, granular sampling, and sampling with wave-morphing, filters, modulators and effects. In addition, a uniquely flexible envelope control with 68-stage envelopes allows for sounds to be subtly or radically animated. From softly undulating pads to aggressive rhythmic synth attacks – everything is possible with ABSYNTH 5.
In this video:
My Absynth version of Aphex Twin's "Rhubarb " from Selected Ambient Works Vol. 2.
Comments