Afterglow version 3 – Soundcells explores new colors in the Reason rack!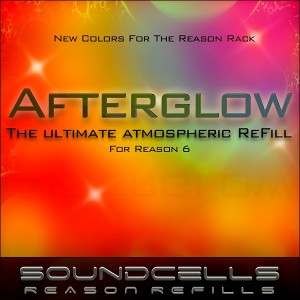 "Afterglow v3" – the ultimate atmospheric resource ReFill for trance producers, jungle heads and ambient artists. It's analog, it's digital, it's tender and raw, glitchy at times but above this all: Extremely Atmospheric !
All sounds have been meticulously designed to be combined with eachother in the exact way the user would like it to be heard. Get great malstroem-, suprising subtractor- and fantastic thor patches, furthermore 280 samples from analog and digital gear, physical modeling synths and also field recordings.
Version 3 adds 25 inspiring combinator patches mainly based on the new field recordings which are included in this version (the patch name addition "v3" makes clear which patches are the new ones).
A lot of awesome tracks are available on the website to demonstrate the stunning quality of this ReFill.
Afterglow version 3 Contents:
• 279 combinator patches in 6 folders: Atmospheres & Textures, FX Style, Keys, Miscellaneous, Pads, Rhythmic.
• 120+ NNXT patches, 60+ Malström patches, 50+ Thor patches and 15 Subtractor patches.
• Analog leads and basses, lots of atmo textures and pads, bleeps, glitches and field recordings.
• Especially great for designing / composing game and film scores.
• 11 great demo tracks included.
A web address to link to for more info and many "Afterglow" only MP3s:
Offering price per Unit is 29,90 ,- EUR (normally 39,90 ,- EUR)
Comments