Akai EWI4000s plays SampleTank and Addictive Synth on iPad
Playing SampleTank on my iPad2 with my Akai EWI4000s via iRig MIDI. (Note: I meant to say CC74 for "Cutoff" not CC64). Be sure to watch the last minute (from 10:55).
Playing Addictive Synth on my iPad 2 with my Akai EWI4000s thru iRig MIDI. Here's a first look at this breath control freindly, fun and powerful synth! Breathy Flute 00:39 Solo 8:00 Tribal 12:54 Bernzilla Brecker EWI 15:33
Via Bernie Kenerson on Youtube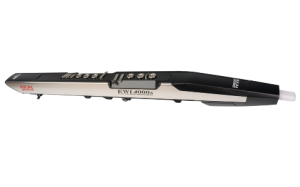 EWI stands for electronic wind instrument; this one is basically an analog modeling synth within a wind controller, so don't expect realistic sounds without hooking the MIDI out to another sound generator that has high quality samples or physical modeling.
Comments